NYU denies it is evicting China dissident Chen Guangcheng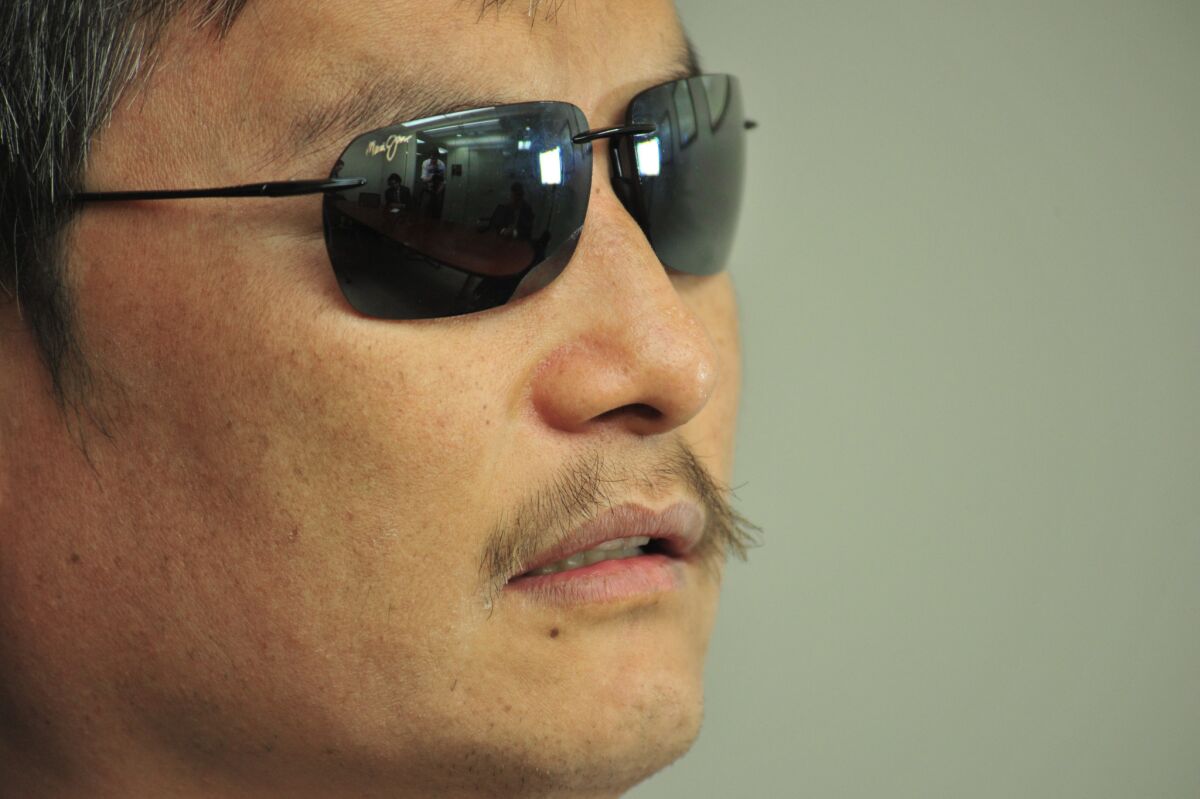 NEW YORK -- The relationship between New York University and Chinese dissident Chen Guangcheng--whose flight from his homeland last year came amid a major diplomatic tangle--has soured as the university denies claims it is evicting Chen from his campus apartment.
Chen, a blind, self-trained lawyer who arrived in New York amid a blaze of publicity in May 2012, said in a statement released early Monday that pressure from the Chinese government had led the university to tell him he has until July to find another place to live.
"As early as last August and September, the Chinese Communists had already begun to apply great, unrelenting pressure on New York University," Chen said. "The work of the Chinese Communists within academic circles in the United States is far greater than what people imagine."
NYU responded with its own statement, which said that Chen had been welcomed onto the NYU campus for a one-year fellowship and that the year was up.
"We are very discouraged to learn of Mr. Chen's statement, which contains a number of speculations about the role of the Chinese government in NYU's decision-making that are both false and contradicted by the well-established facts," the statement from NYU spokesman John Beckman said. "Mr. Chen's fellowship at NYU and its conclusion have had nothing to do with the Chinese government. All fellowships come to an end."
The university said it had been discussing new living arrangements with Chen and his family -- his wife and two children -- for months and had offered them help in looking for a new apartment.
"NYU believes it has been generous in supporting this family, and we are puzzled and saddened to see these false claims directed at us. We will, nonetheless, continue to work with the Chens to help them with their transition," Beckman said.
Thousands of onlookers and cheering supporters, some bearing flowers, greeted Chen as he arrived at the university campus in Manhattan's Greenwich Village last year after a harrowing journey that began with Chen escaping his house arrest and seeking refuge at the U.S. Embassy in China.
The situation tested U.S.-China relations, but a deal brokered by the two countries eventually allowed the family to come to the United States for study, not necessarily to seek permanent asylum.
ALSO:
A more complete tally of military suicides: 524
Whitey Bulger trial resumes with an ex-hit man due on stand
In 30 days, Border Patrol rescues 177 people from Arizona desert

tina. susman@latimes.com
---
Must-read stories from the L.A. Times
Get the day's top news with our Today's Headlines newsletter, sent every weekday morning.
You may occasionally receive promotional content from the Los Angeles Times.