Rich liberal donors throw weight behind Obama agenda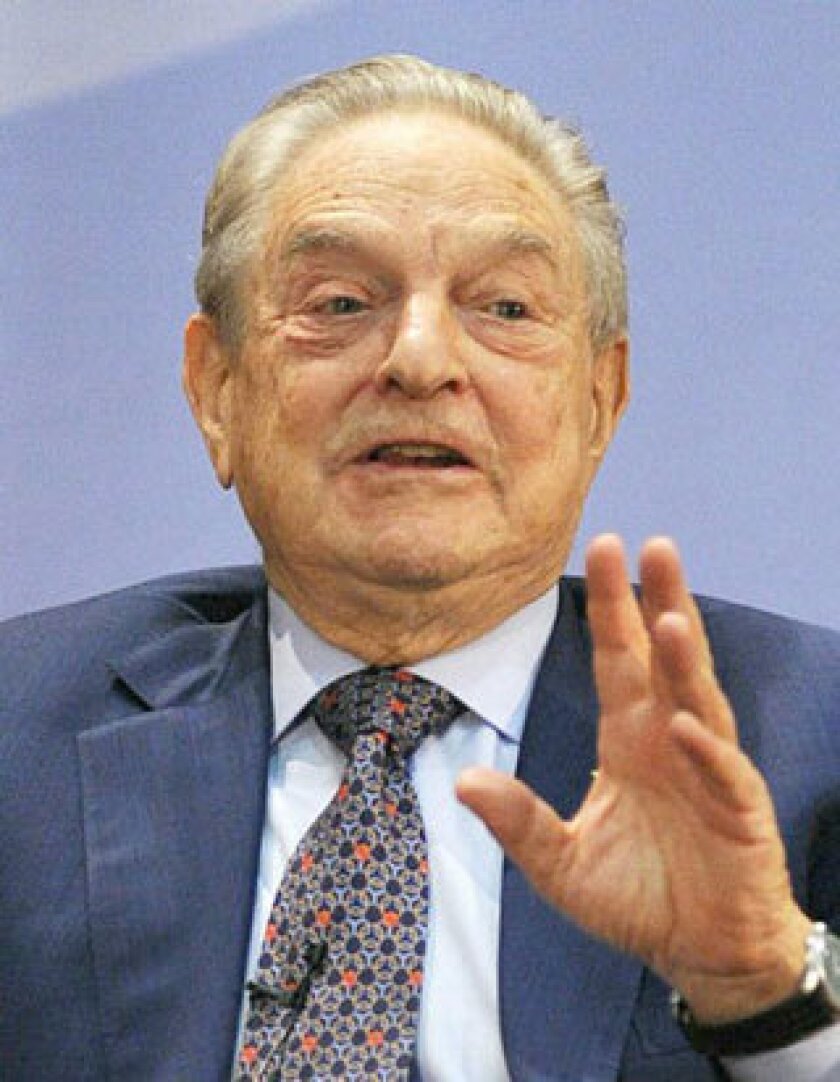 WASHINGTON — An influential network of some of the country's wealthiest liberal political donors is steering resources to an advocacy group backing President Obama's agenda and to organizations working to pass immigration reform, providing a surge of money that could boost the president's legislative goals.
Democracy Alliance, an invitation-only group that makes funding recommendations to its members, selected the pro-Obama Organizing for Action and immigration reform groups such as the National Immigration Forum as some of its top 2013 priorities at its spring conference in Laguna Beach last week, according to leaders of the organization.
The group has a low profile but carries significant sway on the left, with deep-pocketed members that include billionaire investor George Soros and Facebook co-founder Chris Hughes.
The endorsement could deliver a cash infusion for Organizing for Action, a nonprofit group formed by the president's top political aides that has been pressing for Congress to pass a universal background check for gun buyers, among other issues. After setting a goal to raise $50 million this year, it brought in less than $5 million in the first quarter.
The nod from the network will allow immigration reform advocates to step up lobbying and media campaigns to push a bipartisan bill in the Senate.
The decision to embrace groups seeking political victories in Congress is a shift from the main focus of Democracy Alliance, which was founded by strategist Rob Stein in 2005 with the goal of building a bulwark of progressive organizations to take on well-established think tanks and advocacy groups on the right.
Rob McKay, a San Francisco-based philanthropist and chairman of the group, said the vast majority of the estimated $500 million distributed so far has gone to help finance such organizations, including the Center for American Progress, a liberal think tank; Media Matters for America, which aims to debunk conservative claims; and Catalist, which maintains a voter database used to help campaigns target potential supporters.
Directing a small share of resources to specific political issues does not deter from the broader strategy, McKay said. "You've got to do both," he said. "Every dollar that we're putting into this is into groups that are part of the permanent infrastructure."
The organization provided The Times with a rare look at its plans. Democracy Alliance does not make donations. Rather, the staff recommends recipients to its roughly 100 members, who pay annual dues of $30,000. Members are required to contribute at least $200,000 a year to organizations in the group's portfolio.
The recent retreat, held over five days at a luxury oceanfront resort, drew more than 150 donors and activists for sessions on topics such as the economy, gun control and climate change. Speakers included Gov. Jerry Brown, Lt. Gov. Gavin Newsom and Robert Reich, who was President Clinton's labor secretary.
By the end of the conference, members had pledged to distribute $50 million this year to an array of groups on the left, a sum leaders said was particularly impressive in light of last year's costly election campaign.
"We were really pleased with the way people stepped up," McKay said.
Among those on hand to pitch to the donors was Jon Carson, executive director of Organizing for Action, who stressed the ways in which his group is partnering with other liberal advocacy organizations.
"One thing we've made very clear to everyone is we're going to work very collaboratively with everyone out there in the progressive infrastructure," Carson said. "We're going to focus on the pieces we bring to the table and not duplicate things."
McKay said Carson assuaged worries that Organizing for Action, run by former Obama campaign officials, would compete with other groups. "The biggest concern would be if OFA was just going to try to re-create the wheel in a bunch of areas where we felt significant investments have been made," he said.
The pro-Obama group, which had already received some donations from Democracy Alliance members, was recommended for funding for one year. It will be reconsidered next year but was not included in the three-year portfolio.
The hottest topic of the conference was immigration reform, as leaders of the Service Employees International Union and other advocates emphasized that comprehensive legislation could pass this year.
"The partners were really impressed with how close we are on this, and yet how tenuous it is, even at this stage," McKay said. "We've got to get this done."
Democracy Alliance held its spring meeting just as a similar conclave of conservative donors organized by the billionaire industrialists Charles and David Koch was wrapping up about 70 miles away in Palm Springs.
The timing was apt, McKay said, because the alliance was formed in part to respond to organizations on the right that the Kochs have helped finance.
"We keep an eye on what they're doing," McKay said. "The thing that I think keeps everyone on edge is the overwhelming dollars that they can throw at stuff. I'm proud of the numbers we've generated over time, but we all know we're going to have to be successful with less."
---
Must-read stories from the L.A. Times
Get all the day's most vital news with our Today's Headlines newsletter, sent every weekday morning.
You may occasionally receive promotional content from the Los Angeles Times.