Obama administration backs use of race in college admissions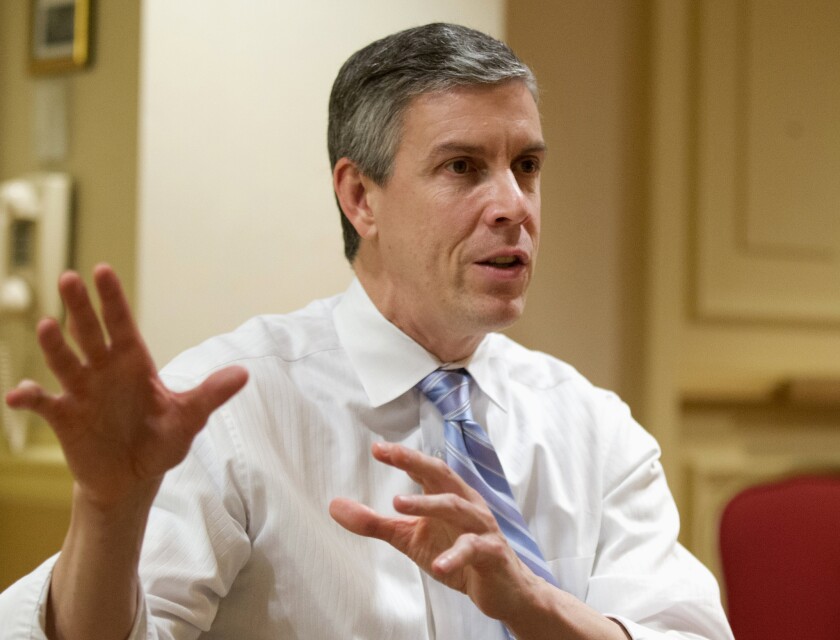 In the wake of a recent Supreme Court ruling that narrowed but did not do away with affirmative action in college admissions, the Obama administration has reaffirmed its commitment to using race as a factor in college admissions to help increase campus diversity.
In a letter to college and university presidents, the departments of Education and Justice reminded educators that the Supreme Court in June ruled that race could still be used as a factor in admissions, as long as the race-based policies were necessary to achieve diversity.
In its 7-1 decision in Fisher vs. University of Texas, the court held that race could be used if "no workable race-neutral alternatives would produce the educational benefits of diversity."
Civil rights advocates and many university officials were relieved that the high court continued to allow race to be used in considering admissions, while opponents argued that there was still enough ground for further suits to challenge such policies.
The use of affirmative action has divided Americans since the 1970s. In college admissions, supporters have used such policies to give opportunities to qualified minority students to help them overcome the effects of long-term discrimination. Opponents have contended that affirmative action is really reverse discrimination. The Obama administration has supported the use of race to help improve diversity.
"The Departments of Education and Justice strongly support diversity in higher education. Racially diverse educational environments help to prepare students to succeed in our increasingly diverse nation. The future workforce of America must be able to transcend the boundaries of race, language and culture as our economy becomes more globally interconnected," the letter sent to educators says.
The letter goes on to say that the 2011 policies on voluntary use of race in admissions remains available and that the agencies "stand ready to support colleges and universities in pursuing a racially and ethnically diverse student body in a lawful manner. We look forward to working with you on this important goal."
The letter was signed by Catherine Lhamon, the Education Department's assistant secretary in the Office for Civil Rights, and Jocelyn Samuels, the Justice Department's acting assistant attorney general in the Civil Rights Division.
In the Texas case, Abigail Fisher, a white woman who was not offered a spot at the university's Austin campus, asked the courts in 2008 to look at whether the school had misused the racial criteria for making such admissions decisions. The Supreme Court did not deal with the broader question of whether race should be a factor but asked a lower appeals court to look at Fisher's case again.
Fisher has since received her undergraduate degree from Louisiana State University.
ALSO:
Gov. Christie to appeal ruling backing same-sex marriage
Airline pilot dies after apparent heart attack forces emergency landing
Prison: O.J. Simpson not caught stealing cookies, oatmeal or otherwise
---
Must-read stories from the L.A. Times
Get all the day's most vital news with our Today's Headlines newsletter, sent every weekday morning.
You may occasionally receive promotional content from the Los Angeles Times.