Islamic State claims responsibility for attack at Texas cartoon event
Neighbors watch as authorities search an apartment in North Phoenix believed to be the home of two gunmen who were fatally shot at the Garland, Texas, center hosting the exhibit and Muhammad cartoon contest.
(Ross D. Franklin / Associated Press)
An FBI crime scene investigator works May 4 at the scene in Garland, Texas, where two gunmen were shot and killed after they opened fire on a security officer outside a provocative contest for cartoons of the prophet Muhammad.
(Brandon Wade / Associated Press)
FBI investigators stand near an apartment being searched on Monday in Phoenix, believed to be the home of one of two gunmen who were shot and killed the night before outside a venue hosting an exhibit about the prophet Muhammad in Garland, Texas.
(Ross D. Franklin / Associated Press)
An FBI agent views the area where a car linked to a shooting incident in Garland, Texas, was blown up by police as a precaution on May 4.
(Jared L. Christopher / AFP/Getty Images)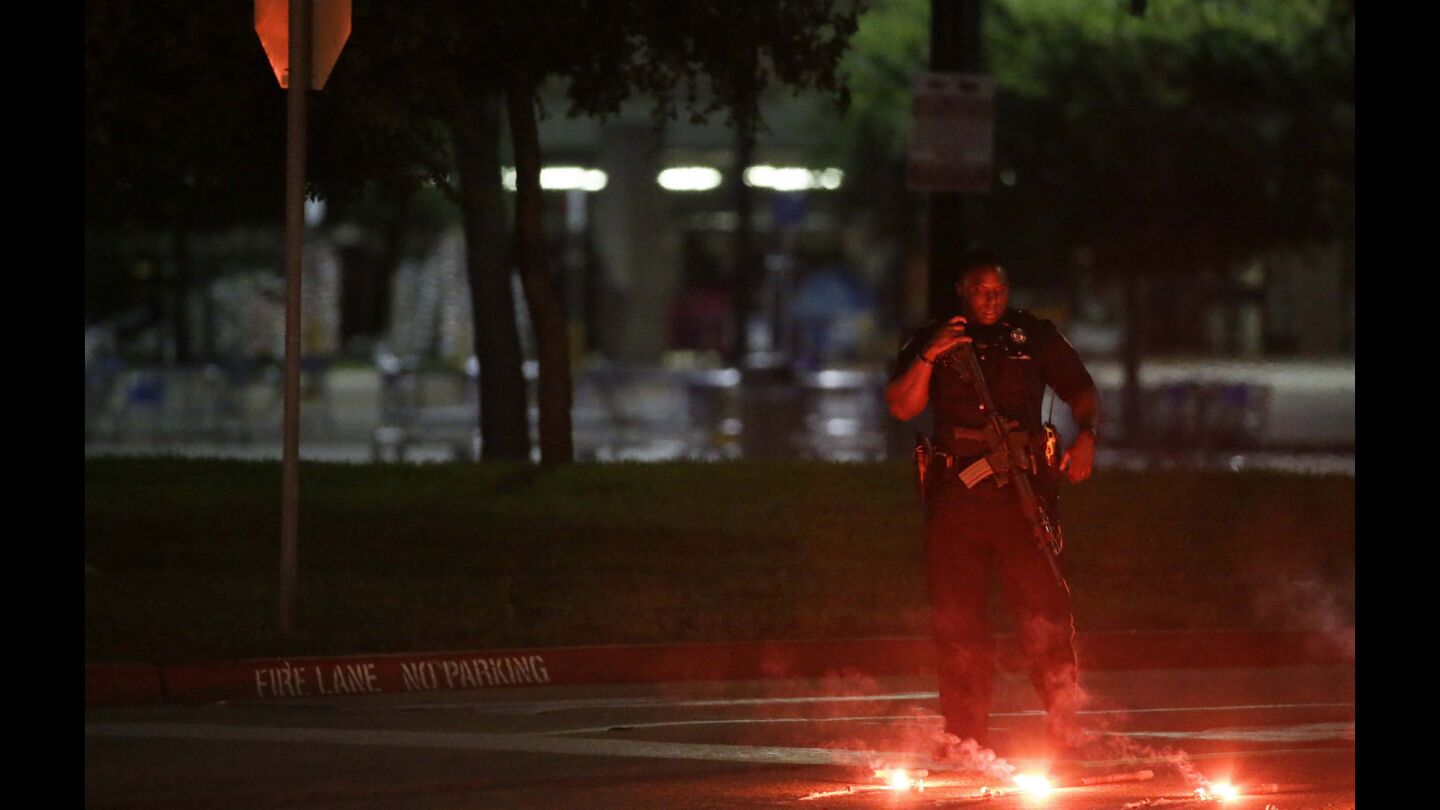 A police officer stands guard at a parking lot near the Curtis Culwell Center.
(LM Otero / Associated Press)
Reporting from Garland, Texas —
The Islamic State extremist group claimed responsibility for Sunday night's attack at a controversial cartoon contest, deepening the mystery about what motivated two men to drive across two states and embark on a violent terrorist attack in this quiet Dallas suburb.
But the White House cautioned Tuesday that it was too early to say whether the group's claim was accurate.
Islamic State, also known by the acronyms ISIS and ISIL, had never affiliated itself with an attack on U.S. soil. The statement, issued via the group's Iraq-based radio station, Al Bayan, raised questions over its influence far beyond its territory in Iraq and Syria.
The gunmen, whom Islamic State referred to as "two soldiers from the caliphate," had driven more than 1,000 miles from their home in Phoenix to Garland. They opened fire outside the contest site, wounding a security guard before being shot dead by police.
Whether the militant group had any contact with the gunmen remains unclear. The statement hinted of more attacks. "The coming ones are worse and more bitter, and you will see from the soldiers of the Islamic State what will hurt you. Tomorrow comes soon to those who look for it."
White House spokesman Josh Earnest downplayed the claims.
"At this point, this is still under investigation by the FBI and other members of the intelligence community to determine any ties or affiliations that these two individuals may have had with ISIL or other terrorist organizations around the world," Earnest said. "So it's too early to say at this point.
"The thing that we can say definitively is that, because of the quick and professional and brave work of local law enforcement officers, an attempted terrorist attack was foiled."
Experts say Sunday's shootout marked the latest in a recent string of "lone wolf" terrorist attacks involving violent, unstable or radical individuals who pledge allegiance to extremist groups or ideologies, even in the absence of material support.
"'Soldiers from the caliphate' could be interpreted to mean that they are fellow travelers, they share a common mind-set, they're all in it for the same cause," said Daniel Benjamin, a former coordinator for counter-terrorism at the State Department who is now a scholar at Dartmouth College. "Which is exactly how these lone wolves want to be thought of — as people who are part of the same historic movement as ISIS."
Sunday night's event was hosted by the American Freedom Defense Initiative, a New York-based extremist group led by anti-Islamic political commentator Pamela Geller. The event offered a $10,000 prize for the top cartoon rendering of the prophet Muhammad; images of the prophet are taboo throughout much of the Muslim world. About 200 people attended.
The two gunmen, Phoenix residents Elton Simpson and Nadir Soofi, stepped out of a vehicle at the Curtis Culwell Center in Garland, northeast of Dallas, on Sunday evening armed with assault rifles. They shot a security guard in the leg before a traffic officer shot them both dead with his service pistol.
In September, amid ongoing airstrikes against Islamic State by a U.S.-led coalition in Iraq and Syria, Islamic State spokesman Abu Mohammad Adnani called for the group's supporters to kill Australian, American, French and Canadian people "in any manner."
"Smash his head with a rock, or slaughter him with a knife, or run him over with your car, or throw him down from a high place, or choke him, or poison him," Adnani urged.
Over the last year, such calls have apparently precipitated so-called lone-wolf attacks in Canada and Australia. In October, Canadian Michael Zehaf-Bibeau killed a police officer near the Parliament in Ottawa before security officers shot him dead. Two months later, lone gunman Man Haron Monis held 18 people hostage at a cafe in downtown Sydney, precipitating a 16-hour siege that left two hostages and Monis dead.
The Garland attack "falls precisely at the intersection of two important trends," Benjamin said. "Trend No. 1 is a high priority on combating the insults to the prophet, insults to Islam. … The other trend is this perception that ISIS has achieved historic gains — that it's holding territory, that it reestablished the caliphate. I think a lot of militants who were previously pretty dormant or subdued now feel like they have to get into the act."
Lone-wolf terrorist attacks had occurred before Islamic State rose to power, including the November 2009 shootings at Ft. Hood in Texas; a March 2011 shooting at the Frankfurt, Germany, airport; and the May 2013 killing of British soldier Lee Rigby in London.
Perhaps the most deadly lone-wolf killer in recent history was a far-right Christian — Norwegian Anders Breivik, who killed 77 people in Oslo and the island of Utoya in 2011.
The Texas attack was reminiscent of January's deadly shooting at the Paris headquarters of the satirical weekly magazine Charlie Hebdo, which had published cartoons of Muhammad. Twelve people were killed, including eight magazine staffers. The two gunmen in that assault, French-born Said and Cherif Kouachi, identified themselves as members of Al Qaeda's branch in Yemen.
Anthony Cordesman, a security expert at the Center for Strategic and International Studies in Washington, said links between lone-wolf terrorism suspects and the groups they support can be difficult to discern.
"The fact is, what you have not seen, in most cases, is a clear connection between affiliation and any substantive role on the part of ISIS from its headquarters in Syria," he said.
"This creates a great deal of confusion, because people see ISIS [as] ... expanding its role, whereas it's simply expanding its affiliation. We get cases where people will affiliate themselves with ISIS, and somehow conclude the next week that Al Qaeda or the Taliban is more attractive, and change."
Authorities suspect that Simpson, 30, posted a Twitter message before Sunday's attack saying, "May Allah accept us as mujahideen," adding a hashtag, #texasattack. The post also said that the two had pledged allegiance to "Amirul Mu'mineen," an Islamic title that means "Commander of the Faithful," and may have referred to Abu Bakr Baghdadi, Islamic State's self-declared leader.
Soofi, Simpson's 34-year-old accomplice and roommate, was a former pizza parlor owner and pre-med student at the University of Utah. Born in Texas, he was the son of a Catholic nurse and a Pakistani American engineer. He left a 9-year-old son and a vast expanse of questions.
"He was outgoing, he was intelligent, he did well in school; he just had a normal American upbringing," his mother, Sharon Soofi, said in a telephone interview.
"He was a good parent," she said. "He loved spending time with his son. For him to do this sort of thing and leave him behind, you know, I still can't figure it out. ... How he could leave him with ... something that's always going to haunt him?"
Times staff writer Matt Pearce in Los Angeles contributed to this report.
---
Must-read stories from the L.A. Times
Get the day's top news with our Today's Headlines newsletter, sent every weekday morning.
You may occasionally receive promotional content from the Los Angeles Times.