Alaska governor says he quit reelection race to boost Democrat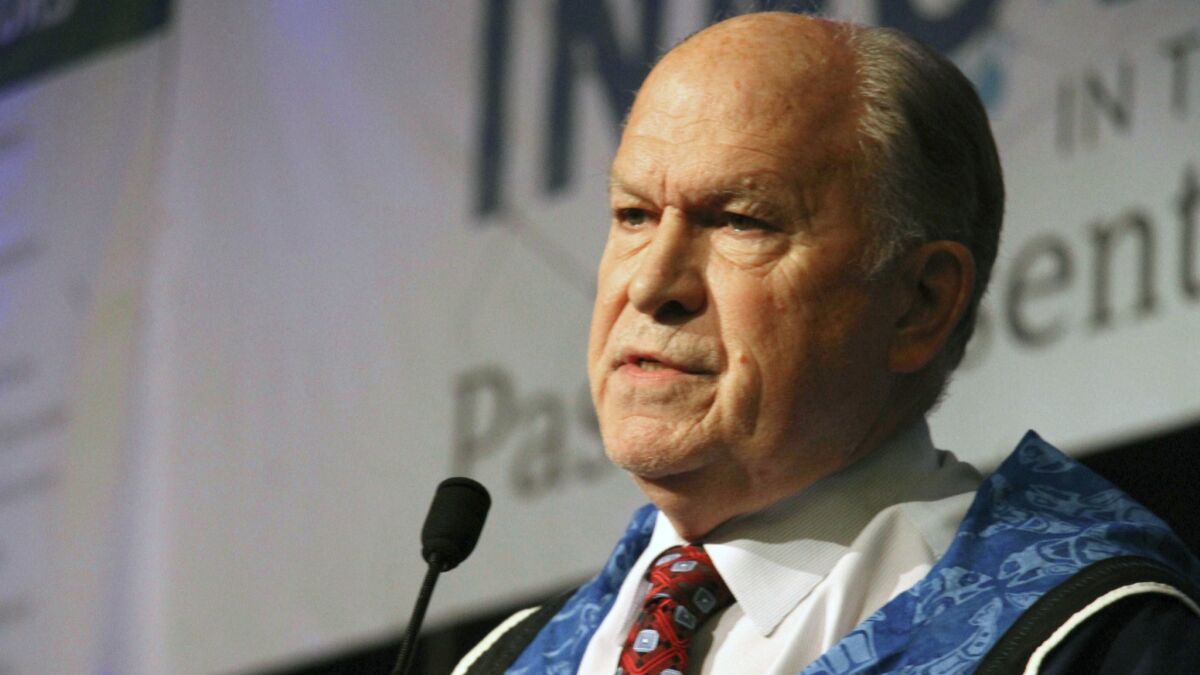 Reporting from JUNEAU, Alaska —
Alaska Gov. Bill Walker's surprising announcement that he was quitting his bid for reelection with less than 21 days to go was an effort to boost Democratic rival Mark Begich's chances of beating Republican Mike Dunleavy.
Walker, the only independent governor in the country, said Friday he could not win a three-way race and that Alaskans deserve a choice other than Dunleavy. Although he and Begich don't agree on many things, Walker said Begich would be better for Alaska.
Whether Begich can overtake the presumed front-runner remains to be seen with 2½ weeks before the election. Begich, who said his campaign was "inundated" with calls after Walker's announcement, thinks he can win.
Some Democrats and independents had long worried Walker and Begich would split the vote, handing the race to Dunleavy. Walker, a former Republican, was elected in 2014 with Democratic support. The clincher for Walker's decision to leave the race, it appears, was his lieutenant governor's abrupt resignation days earlier over an inappropriate overture to a woman.
After his announcement Friday, Dunleavy campaign manager Brett Huber blasted Walker's "bitter, partisan attack" on Dunleavy. In a statement, Huber said Walker's decision to drop his re-election bid will provide voters "a clear choice."
Key issues in the race are crime, the economy and the future of the annual check Alaskans receive from the state's oil-wealth fund, the Alaska Permanent Fund.
Walker worries Dunleavy could undo actions he's taken as governor, such as expanding Medicaid. Dunleavy has expressed concerns with the program.
Dunleavy, a former state senator, wants to reduce state spending and supports a full payout of Permanent Fund dividend checks. Alaskans should get a say on any proposed change to how the dividend is calculated via an advisory vote, he said.
The size of the checks has been capped since 2016, first by Walker, then by legislators, amid budget deficits. Lawmakers this year began using Permanent Fund earnings to fill much of the deficit after going through billions of dollars in savings amid gridlock and rejecting Walker tax proposals. Fund earnings also are used for dividend checks, setting the stage for a political fight.
Begich, a former U.S. senator, has supported constitutionally protecting the dividend and using bonds for infrastructure projects. He also has noted his support of abortion rights, which distinguishes him from Dunleavy and Walker.
Walker's announcement came three days after his lieutenant governor and close friend, Democrat Byron Mallott, resigned. Walker told reporters there wasn't any one thing that caused him to abandon his campaign now, though he said it was a tough week. He said conversations he'd had with Begich about Begich's positions and the dynamics of the race also were considerations.
"There was no, quote, deal as such on anything like that," he said.
Begich said there were talks with Walker about Alaska's future, born of shared concerns about Dunleavy.
"So we'd continue to have conversations to try to figure out, 'Is there a path forward to move Alaska and unify in a way that makes sense?' And we are where we are," he said.
Jay Parmley, executive director of the state Democratic Party, said he expects additional help from the Democratic National Committee. The Republican Governors Assn. already has been a major contributor to a third-party group backing Dunleavy.
Pollster Ivan Moore said people are starting to pay closer attention to the race. But he said the effect of Walker's decision remains to be seen. He said Dunleavy also could pick up some Walker votes.
Stephen Gasche, a Juneau independent, leaned toward Walker before Mallott's resignation and toward Begich afterward. On Friday, he said he would vote for Begich. "I am so glad I don't vote early!" he said via Facebook Messenger.
Lindy Jones, a Walker supporter from Juneau, blamed Begich for creating a three-way race but said he'd "reluctantly" vote for him.
Alaska Democrats opened their primaries to independents, and Walker, who wanted to run with Mallott, flirted with entering the primary. He backed out when it appeared Begich would run and instead gathered signatures to appear on the ballot, a move that ensured he and Mallott could be running mates.
Jones said Walker's decision to abandon his campaign was another example of tough decisions he's made.
"I think that he realizes that there's going to be a spoiler if it's a three-way race, and this is the only hope," Jones said. "And frankly I don't know if it's going to be enough."
Libertarian Billy Toien also is running.
---
Must-read stories from the L.A. Times
Get the day's top news with our Today's Headlines newsletter, sent every weekday morning.
You may occasionally receive promotional content from the Los Angeles Times.