Man charged in Atlanta overpass fire had just discussed smoking crack, documents show
Reporting from atlanta —
The man accused of starting the raging fire that destroyed part of Interstate 85 north of downtown Atlanta was talking about smoking crack just before the blaze began, according to his arrest affidavit.
Basil Eleby told city and federal investigators that he had discussed smoking crack cocaine with two companions under the highway overpass before deciding to do the drug alone, The Atlanta Journal-Constitution reported Saturday.
Jail records show Eleby has been arrested 19 times since 1995, mostly on drug charges. Accused of starting the fire below the elevated highway, Eleby now faces charges of first-degree arson and first-degree property damage.
Sophia Brauer and Barry Thomas were arrested along with Eleby on Friday, both charged with criminal trespass in the area used to store state-owned construction materials and equipment.
"We believe they were together when the fire was set and Eleby is the one who set the fire," Deputy Insurance Commissioner Jay Florence said.
Flames and smoke billowed high above Atlanta's skyline Thursday. The fire burned so hot that the concrete and steel overpass disintegrated, crippling traffic in a city known for dreadful rush-hour congestion.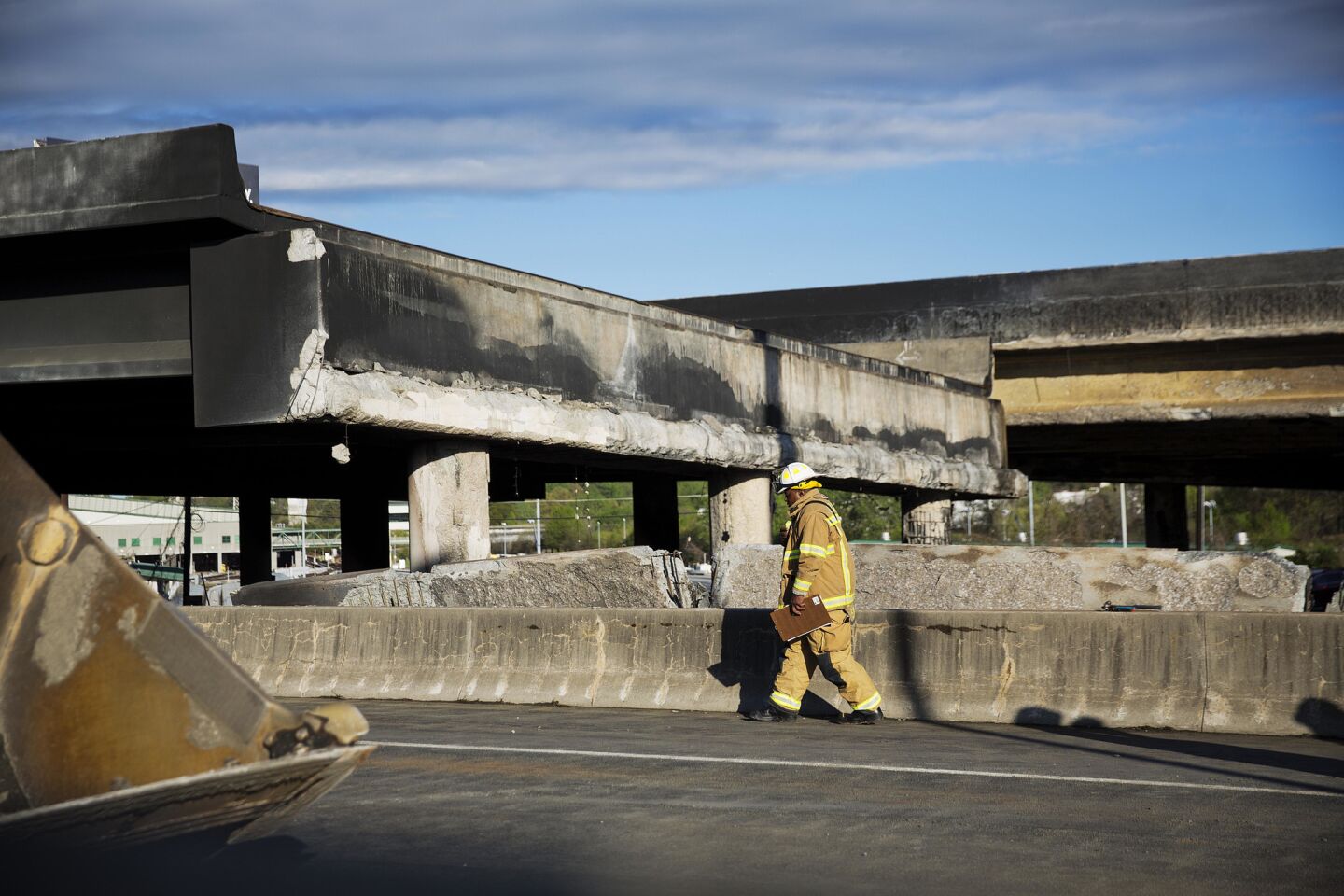 A firefighter checks out the collapsed I-85 overpass in Atlanta.
(David Goldman / AP)
Pedestrians try to cross detoured traffic as Piedmont Avenue is closed after an I-85 overpass collapsed in Atlanta.
(David Goldman / AP)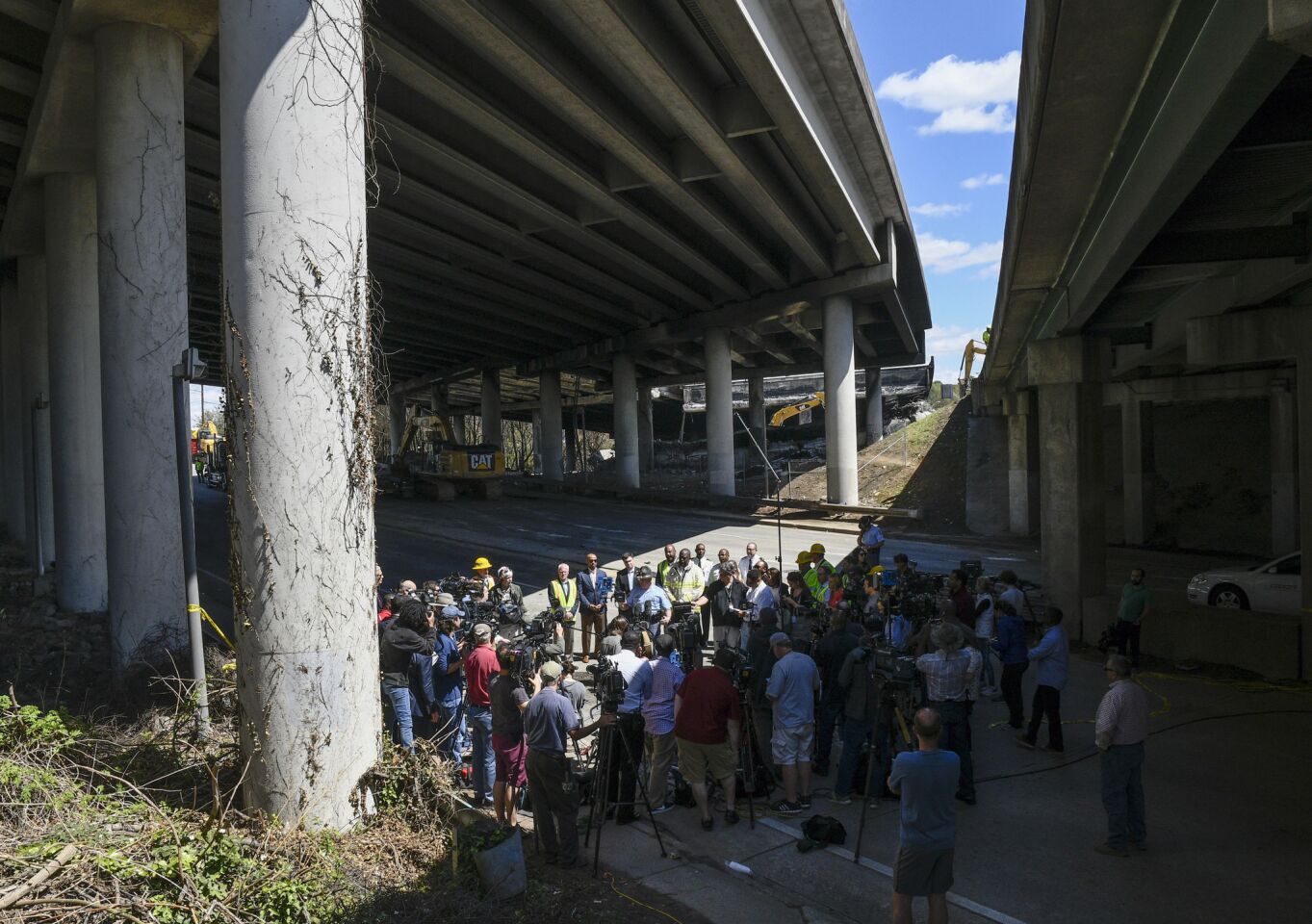 Reporters gather on a blocked street beneath I-85 in Atlanta a day after the fire.
(John Amis / EPA)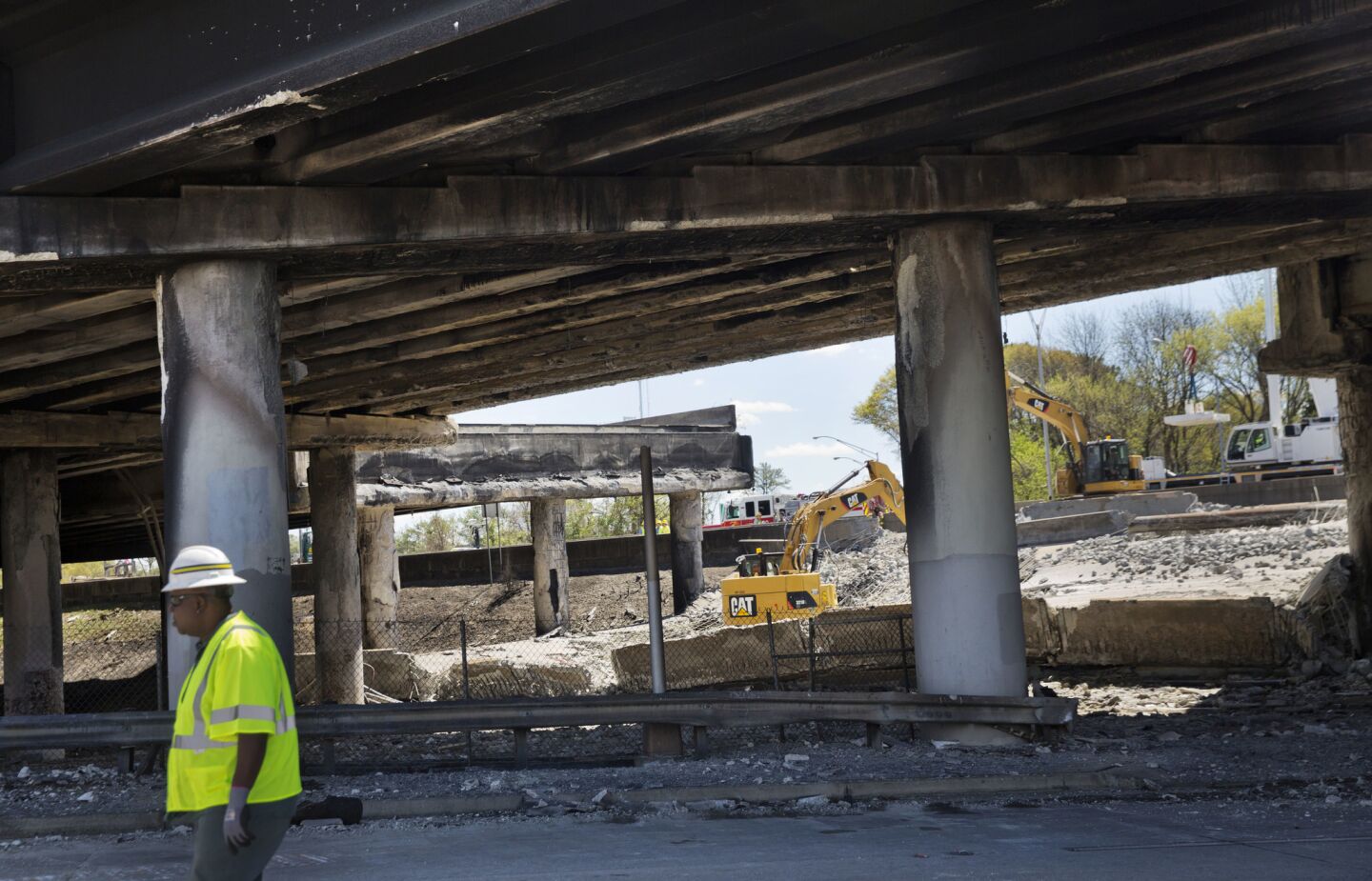 Construction crews work on the collapsed overpass a day after the fire.
(David Goldman / AP)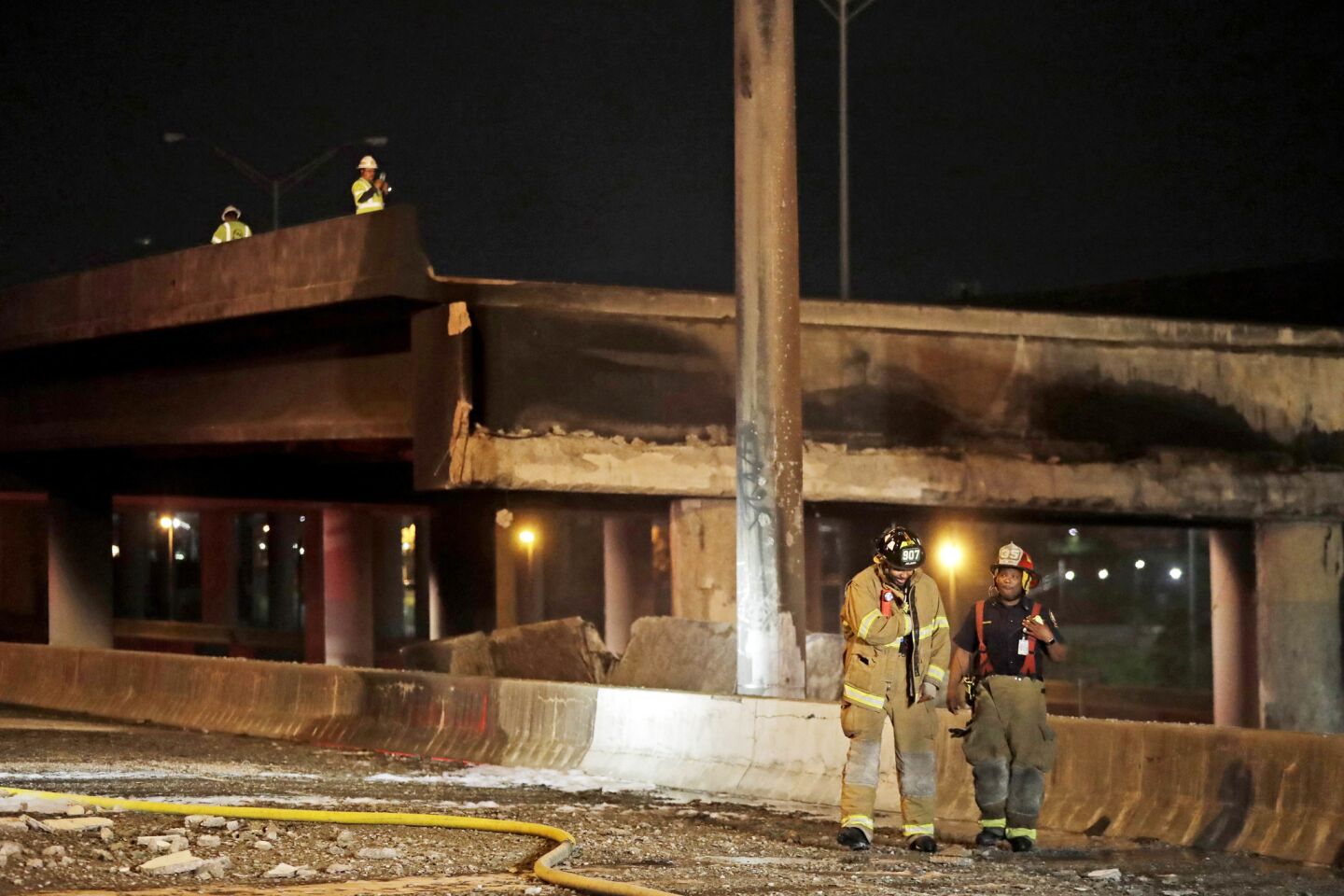 Firefighters survey the collapsed section of an I-85 overpass in Atlanta.
(David Goldman / AP)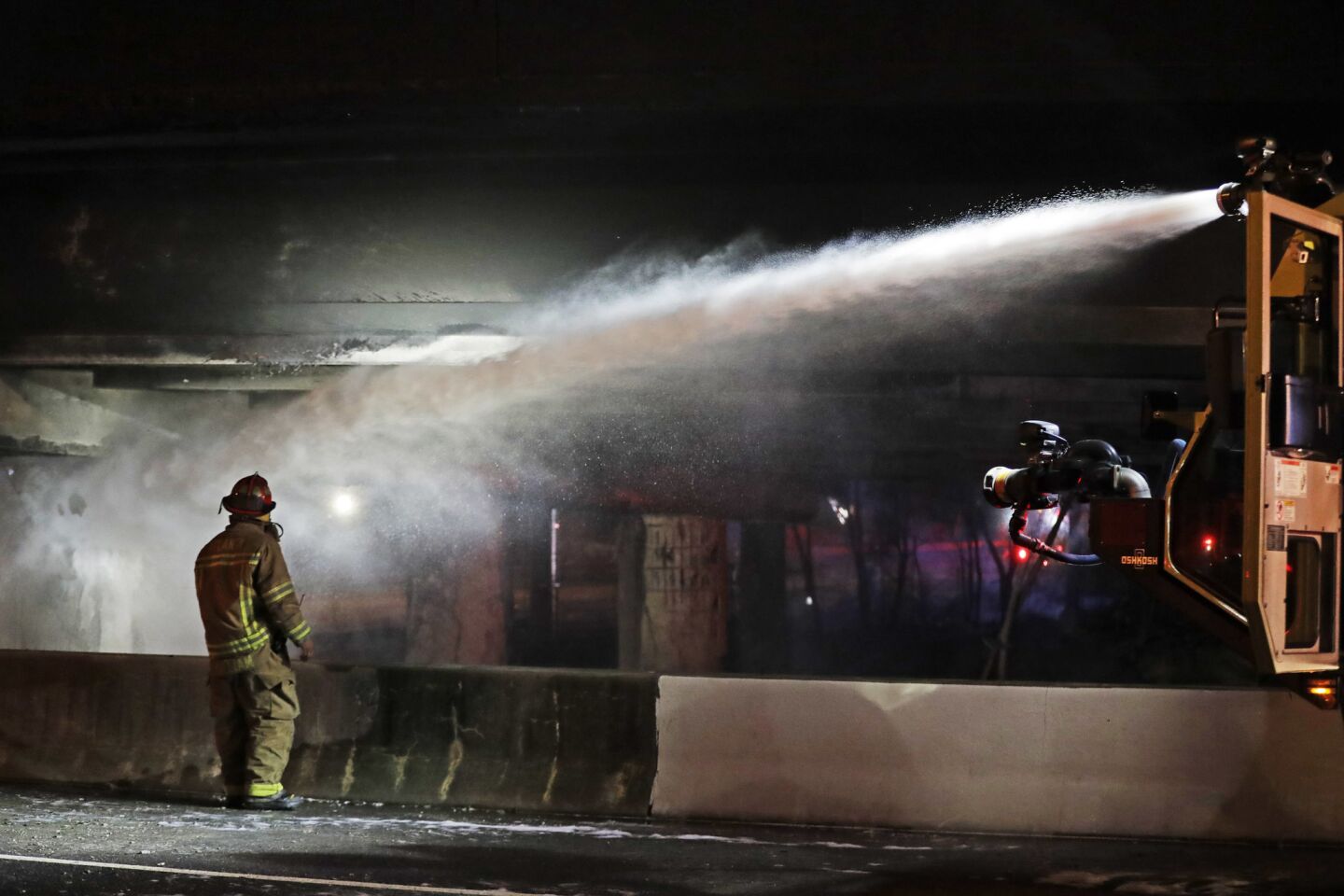 An Atlanta firefighter surveys the I-85 overpass section that collapsed because of a fire.
(David Goldman / AP)
Police vehicles head north on Interstate 85 in Atlanta as traffic flows south in the northbound lane after a fire collapsed part of the freeway.
(John Amis / EPA)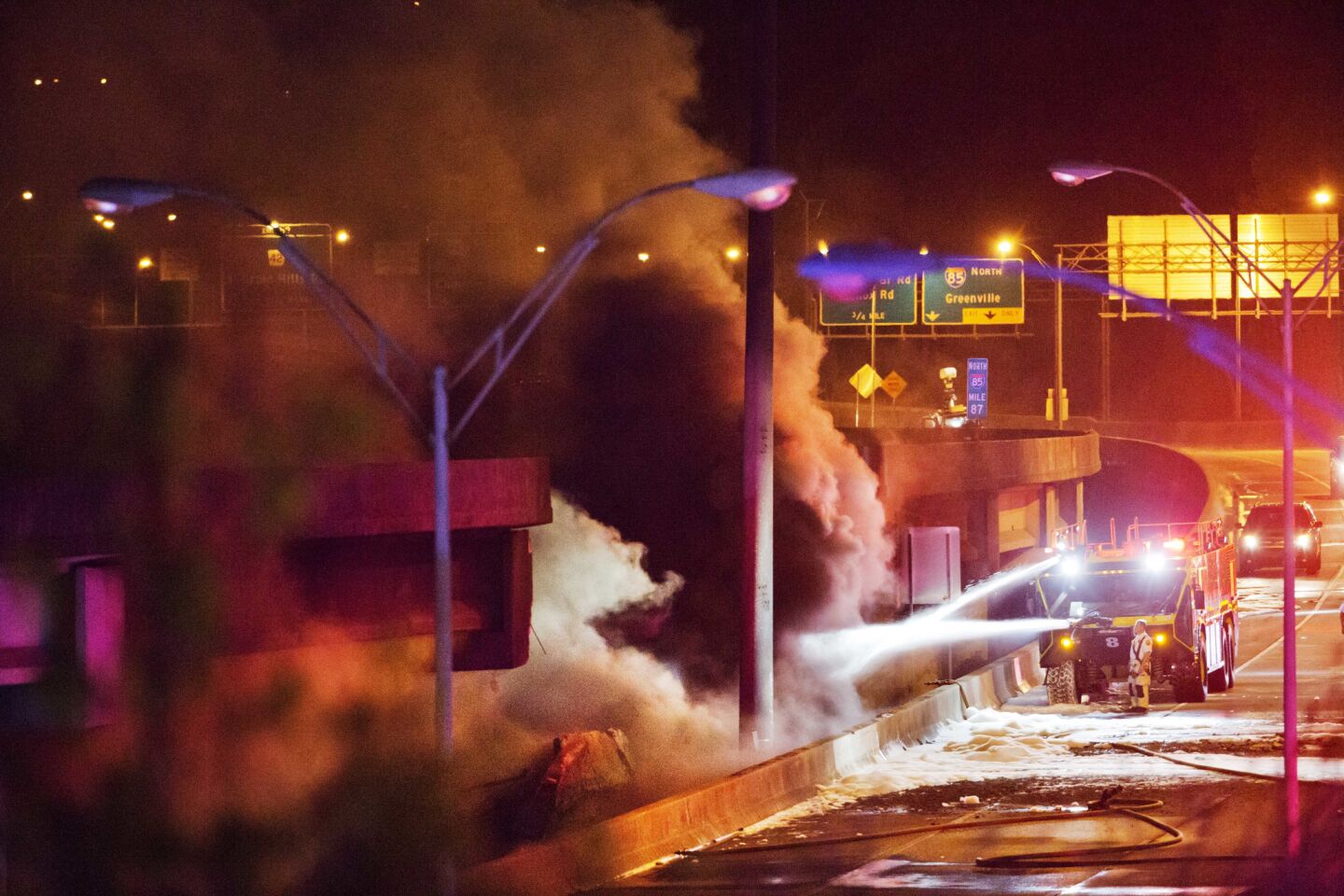 Smoke billows from a collapsed overpass on Interstate 85 in Atlanta.
(David Goldman / AP)
Thomas told investigators a different story, the paper reported. "Mr. Thomas watched Basil Eleby place a chair on top of a shopping cart, reach under the shopping cart and ignite it," the affidavit says.
Both Eleby and Thomas said they fled the scene before the fire became a roaring blaze that disintegrated the concrete and steel overpass.
Police and firefighters kept motorists out of harm's way and retreated when they saw telltale signs of an imminent collapse.
"They heard the cracking of the concrete," Atlanta Fire Chief Joel Baker said. "They could see concrete was flying all over the place toward firefighters."
Experts in structural engineering said fires on highways and bridges rarely burn long enough or hot enough to cause a complete collapse — but it has happened. Intense heat can compromise even steel-reinforced concrete, said Lauren Stewart, director of the Structural Engineering and Materials Laboratory at Georgia Tech in Atlanta.
"With fires, especially fires that burn for long periods and with high heat, you can see structures, anything from buildings to bridges, can have their material properties degrade," Stewart said.
Atlantans struggling to find different routes or use mass transit had better get used to longer commutes: Repairs will take "at least several months," said Russell McMurry, commissioner of the Georgia Department of Transportation.
McMurry announced Friday that 350 feet of highway will need to be replaced in both directions on I-85, which carries about 400,000 cars a day through Atlanta. Demolition crews were working around the clock to pound through tons of melted rock and twisted metal.
U.S. Transportation Secretary Elaine Chao released $10 million for initial repair work, and the Federal Highway Administration promised more in emergency funds.
Eleby's bond was set at $200,000 pending his next court appearance on April 14.
Judge James Altmon said he had considered setting a higher bond to match the damage inflicted, "but in this case, that would amount to hundreds of millions of dollars."
ALSO
Pickup driver was texting before Texas church bus crash that killed 13, witness says
Coffee shop brews up backlash with loyalty card: 'Punch' 10 conservatives, get a free cup of joe
Strongest winds in five years lash Las Vegas, toppling trucks and wrecking a casino sign
---
UPDATES:
11:35 p.m.: Updated to correct co-defendant's last name as Brauer.
This article was first published at 10:15 a.m.
---
Must-read stories from the L.A. Times
Get the day's top news with our Today's Headlines newsletter, sent every weekday morning.
You may occasionally receive promotional content from the Los Angeles Times.