Dakota Access pipeline protester may lose her arm after small explosion, activists say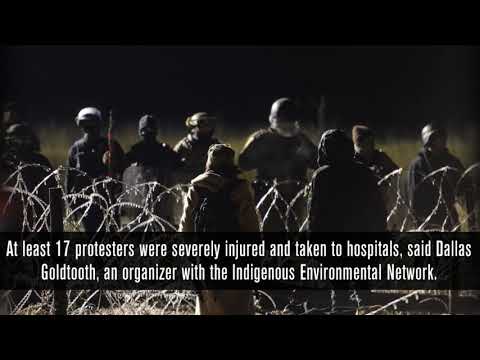 On Nov. 21, Authorities defended their decision to douse protesters with water during a skirmish near the Dakota Access oil pipeline.
Activists said a Dakota Access pipeline protester could have her arm amputated after suffering an injury from a small explosion Sunday night, and protesters and law enforcement officials accused each other of being responsible.
Images shared by activists on Facebook showed a young woman sitting in a vehicle with a gory arm injury. A bone was visible.
The woman was one of 26 people that activists said Monday had been taken to the hospital for their injuries after a clash between protesters and police Sunday night. Police had doused protesters with a low-pressure water cannon as temperatures dipped below freezing.
One of the pipeline protest leaders, Dallas Goldtooth, said on Facebook on Monday that a young woman named Sophia Wilansky "was struck directly by a concussion grenade last night on the front lines" of a protest on a bridge near Cannon Ball, N.D.
But a Morton County, N.D., Sheriff's Department spokeswoman said police had not used any concussion grenades during a clash with pipeline protesters on Sunday, contradicting several reports from activists.
"It wasn't from our law enforcement, because we didn't deploy anything that should have caused that type of damage to her arm," said sheriff's spokeswoman Maxine Herr, who said medical officials first encountered the injured woman away from the action, at a nearby casino. "We're not sure how her injury was sustained."
Herr suggested that the woman may have been injured while protesters were "rigging up their own explosives" — propane bottles to be thrown at police. None of those propane bottles exploded, and "the only explosion the officers heard was on the protesters' side," Herr said.
No one was arrested for making or throwing explosives, she said.
Sunday night's clash was the latest in a months-long confrontation between protesters and police over an oil pipeline being built near tribal lands, where hundreds of Native Americans and others have gathered to protest.
The showdown centered at Backwater Bridge, which has been blocked by burned-out vehicles from a previous protest. Police have said the vehicles are not safe to move until the bridge is examined for damage, and activists have complained that the lack of bridge access is blocking travel for local residents.
Activists said more than 200 protesters had to be treated for hypothermia after the Sheriff's Department doused them with a low-pressure water cannon as temperatures hovered in the 20s.
Footage of the protest from the independent news outlet Unicorn Riot showed officials specifically targeting protesters with the water cannon, though the water pressure was not turned up high enough to knock anyone down.
"Aside from a couple water protectors throwing water bottles and live tear gas canisters back at the police, almost everything I saw was peaceful," Rafe Scobey-Thal, an independent filmmaker and photographer who has been documenting the protests, said in an email. "It was freezing and the escalation from the police was completely out of proportion."
Water cannons have not often been used for crowd control in the U.S. in recent years.
"It's a fairly nonstandard application," said Richard Odenthal, a former L.A. Sheriff's Department captain who helped develop some of the department's crowd-control policies before retiring 16 years ago and who still consults police on crisis situations.
Odenthal said the L.A. Sheriff's Department had once discussed whether to adopt a water cannon for crowd control, but decided against it, citing famous footage from the 1960s of Southern police officials turning high-powered fire hoses on black protesters. "We decided that wasn't an image we wanted to portray," Odenthal said.
Herr, the Morton County sheriff's spokeswoman, said that a fire department had brought a water hose to help put out a brush fire and that officials at the scene decided to repurpose it against the protesters, citing "aggression from the agitators in the camp [who] continued to raise their level of resistance against law enforcement."
"It was used to keep distance between the officers and the criminal agitators and to put out the fire," Herr said.
Angela Bibens, a coordinator with the Water Protector Legal Collective, which monitors the group, said activists were appalled.
"Here's why this is so particularly egregious," Bibens said. "I am Dakota. Water is my first medicine. We believe it to be our first medicine. They used our medicine as a weapon. The temperature here last night was 23 degrees. They knew what they were doing…. They used it to inflict pain and suffering on the water protectors."
ALSO
Rolling out Obamacare was chaotic, but a repeal could be much worse
Hard times for Kansas and its schools as economic 'experiment' creates gaping budget hole
Democrats ask themselves: Now what? Who'll lead the party from the wilderness, and how?
---
UPDATES:
5:25 p.m.: The story was updated throughout with staff reporting.
The story was originally published at 8:15 a.m.
Sign up for Essential California for news, features and recommendations from the L.A. Times and beyond in your inbox six days a week.
You may occasionally receive promotional content from the Los Angeles Times.