Judge says immigrant families should be released from detention: What happens now?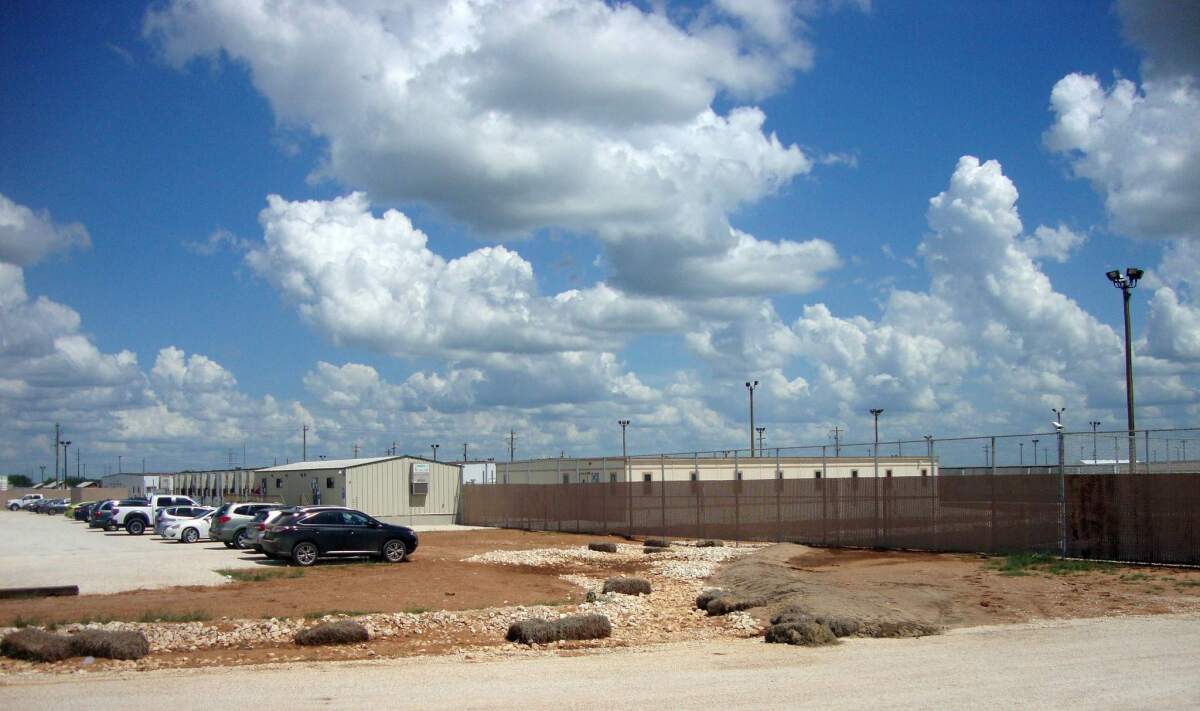 Reporting from Houston —
A federal judge has ruled that hundreds of immigrant women and children held in U.S. detention facilities should be released because their detention violates conditions of a 1997 court settlement that put restrictions on how migrant children are held.
The Friday ruling was the latest blow to the Obama administration's family detention policy, which members of Congress and advocacy groups have condemned as inhumane. The administration has been expanding family detention during the past year in response to an influx of families who crossed the border last summer, mostly mothers and children from Central America.
But a sudden release of hundreds of detainees is probably not going to happen. Here's a look at the immediate effect of U.S. District Judge Dolly Gee's ruling.
How many immigrant families are affected?
More than 55,000 family units were caught crossing the southern border last fiscal year, and nearly 25,000 so far this fiscal year, according to U.S. Customs and Border Protection.
During the past year, the federal government as expanded family detention from what was a single 95-bed facility in Leesport, Pa. It added a facility in New Mexico last summer that has since closed. Two more massive detention centers opened south of San Antonio in Dilley and Karnes City. Dilley has 2,400 beds; Leesport and Karnes City are further expanding to 200 and 1,100 beds, bringing the total to 3,700.
But not all of those beds are occupied.
U.S. Immigration and Customs Enforcement, or ICE, interviews immigrants applying for asylum and handles their cases in immigration court. They have faced increased pressure from members of Congress and recent court decisions to grant reasonable bonds and release them. Advocates have seen bonds decrease in recent weeks, although much still depends on whether families have attorneys (public defenders are not provided in immigration court).
------------
FOR THE RECORD
4:39 p.m.: A previous version of this article referred to Immigration and Customs Enforcement as Customs and Immigration Enforcement.
------------
Earlier this month, there were 2,172 immigrant mothers and children detained at the three family detention centers, the bulk of them--1,979--at Dilley.
Does the judge's decision mean all of those families will get released?
The short answer is no.
The judge gave the administration until Aug. 3 to file a response to her intended order, and the administration can still appeal. A Homeland Security spokeswoman said they plan to file a response.
The pro bono lawyers who work with families in detention said they were encouraged by the ruling, but did not expect mass releases Monday.
"This could change how the kids are treated but there is some language in there that is concerning that may allow ICE to keep these families detained, either together or separately," said Jonathan Ryan, an immigration lawyer and executive director of RAICES, an immigrant legal advocacy group based in San Antonio that works with families at Dilley and Karnes City.
Ryan and other lawyers do not expect the government to shutter its massive detention centers next week.
"They're going to continue to detain families. This sets minimal standards for how they detain those families," he said of the judge's order.
"I think that we're looking at a future where the government is going to continue to use detention as a deterrent," he added.
Earlier this year another federal judge, in Washington, D.C ., ruled that the government should not use detention as a deterrent, leading to the release of some immigrant mothers and children.
So what happens to the immigrant families who are detained?
Ryan said it appears that under the conditions the judge suggested in her order, the government could still detain mothers if their children were placed with relatives or other sponsors. "Things could move forward for the children and backward for the moms," he said, adding, "The only thing I can think of that's scarier than being locked up as a child is being locked up and then sent away and your mom is still there. This is going to continue to be an exercise in cruelty."
Administration officials have defended the family detention facilities.
Gillian Christensen, an ICE spokeswoman, said that for immigrants awaiting court decisions, the detention centers are a "humane alternative for maintaining family unity."
She also emphasized that Homeland Security has announced added case reviews and oversight in recent months intended to improve family detention.
What else could the administration do?
ICE officials have recently been releasing women on bond with ankle monitors, and advocates expect to see more of that.
"They've been shifting towards ankle monitors" in recent weeks, Ryan said, "in anticipation of a ruling like this."
Many immigrants hate the ankle monitors, which carry a stigma, making them appear to be criminals. They say the ankle monitors are burdensome, heavy and require frequent battery recharges.
What do immigrant attorneys and other advocates plan to do now that the judge sided with them?
Pro bono lawyers' groups working at Dilley and Karnes plan to continue sending groups of volunteer lawyers to represent women and children, coaching them before their ICE asylum interviews and representing them at court. They plan to show up as usual Monday at the makeshift trailer courthouse at Dilley, where a judge in Miami appears via video, and in San Antonio, where women detained at Karnes City appear via video.
"When our lawyers go into video court in Miami and San Antonio on Monday, judges may say we'll let your clients out on bond, so it could have an immediate impact on individual cases," said Rachel Tiven, executive director of the New York-based Immigrant Justice Corps, which is sending pro bono lawyers to Karnes City in two-week rotations.
But in terms of sweeping effect, she said, "I think it's too soon to tell."
molly.hennessy-fiske@latimes.com
Twitter: @mollyhf
Sign up for Essential California for news, features and recommendations from the L.A. Times and beyond in your inbox six days a week.
You may occasionally receive promotional content from the Los Angeles Times.