Trump administration cancels program to protect immigrant parents from deportation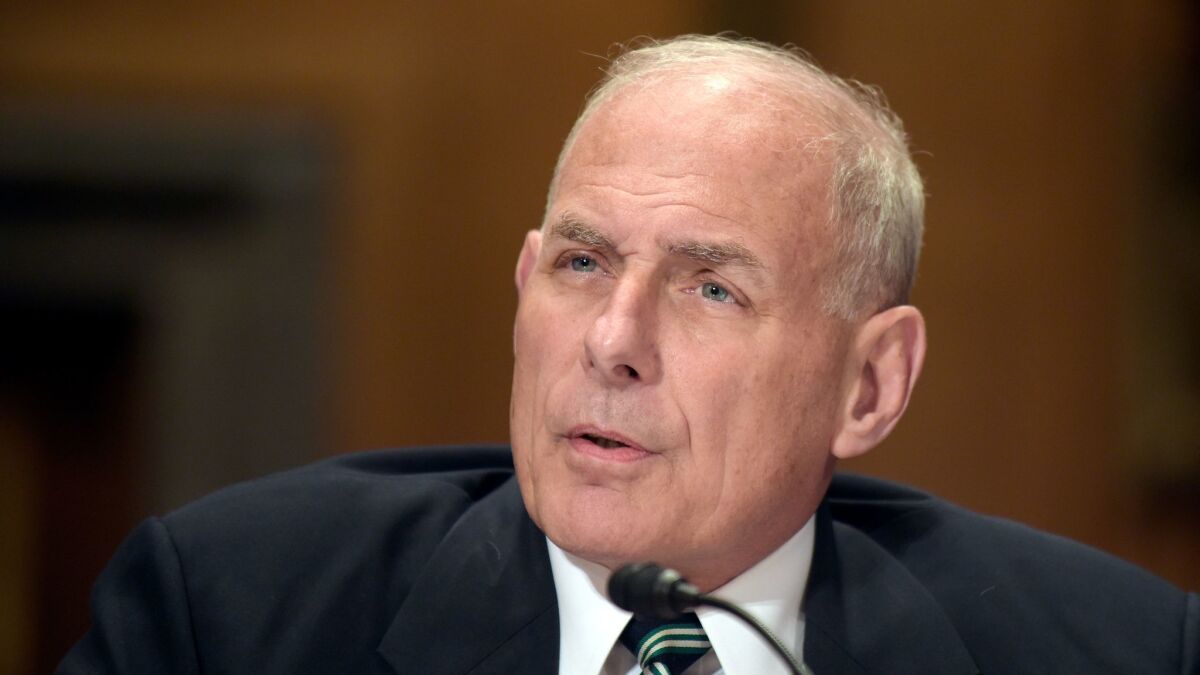 Reporting from WASHINGTON —
Homeland Security Secretary John F. Kelly formally revoked a policy memo that created the Deferred Action for Parents of Americans program. The revocation came on the fifth anniversary of another effort that has protected hundreds of thousands of young immigrants from deportation.
The program to protect parents was announced by President Obama in November 2014 but was never fully launched. It was intended to keep the immigrant parents safe from deportation and provide them with a renewable work permit good for two years, but it was blocked by a federal judge in Texas after 26 states filed suit against the federal government and challenged the effort's legality.
Republicans decried the effort as "backdoor amnesty" and argued that Obama overstepped his authority by protecting a specific class of immigrants living in the United States illegally.
The protection program for parents, like the one for young immigrants, was created with a policy memo during the Obama administration. Both programs required that participants meet certain conditions, including not having a criminal history. As part of the expansion to protect immigrant parents living in the United States illegally, the Obama administration also sought to provide the young immigrants with work permits good for three years at a time. That provision was also blocked by the Texas judge.
Revoking the memo and ending the stalled program fulfill a key campaign promise by Trump, who pledged to "immediately" cancel both efforts. Trump has not said what he plans to do about the Deferred Action for Childhood Arrivals program, but so far most immigrants protected by the effort have not been targeted by stepped-up efforts to find and deport immigrants living in the country illegally.
As of March 31, about 787,000 young immigrants have been approved for the Deferred Action for Childhood Arrivals program, according to government data.
Arrests of immigrants in the interior of the country have increased under the Trump administration, but deportations are slightly down as fewer people have been caught crossing the Mexican border into the United States illegally.
Trump has made immigration enforcement a top priority and has vowed to continue a crackdown on those living in U.S. illegally and those trying to sneak into the country.
ALSO
Decision time at the Supreme Court: Rulings expected soon on religion, free speech and immigration
Detainees end brief hunger strike at Adelanto immigration facility, officials say
U.S. citizen detained by immigration authorities asks California lawmakers to support 'sanctuary state' bill
Must-read stories from the L.A. Times
Get the day's top news with our Today's Headlines newsletter, sent every weekday morning.
You may occasionally receive promotional content from the Los Angeles Times.