Detainees end brief hunger strike at Adelanto immigration facility, officials say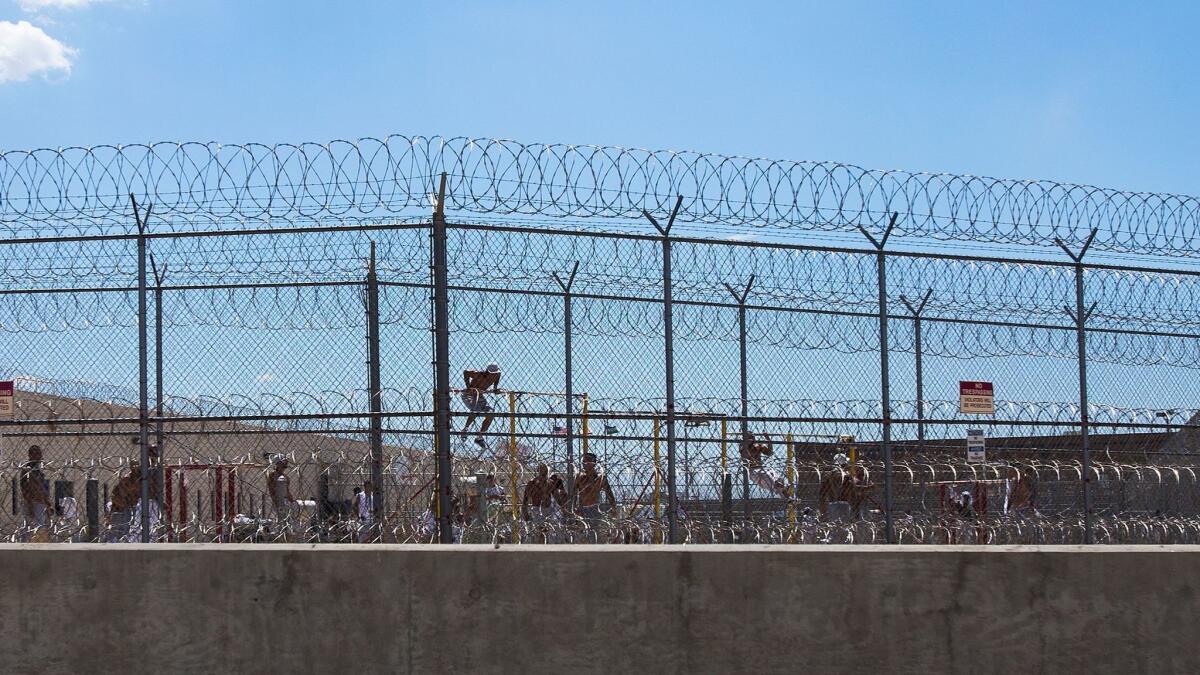 Immigration detainees launched hunger strikes this week at the Adelanto Detention Facility in San Bernardino County to bring attention to what they say is excessively high bail, inadequate medical care and bad food, among other complaints.
A half-dozen asylum seekers from Central America stopped eating Monday and resumed at lunch Wednesday, U.S. Immigration and Customs Enforcement spokeswoman Virginia Kice said in a statement.
About 30 female immigration detainees told officials Wednesday they planned to start a hunger strike and refused breakfast and lunch, Kice said.
"ICE personnel at the facility have been meeting with the women to get a better understanding of their concerns and this afternoon the women indicated they intended to resume eating beginning with dinner [Wednesday] evening," Kice said in a statement.
In a news release, the women said they are striking for better medical care, lower bond amounts, more respect from guards and for mothers at the facility to be reunited with their children.
The male asylum seekers from Central America said that bail for detainees had been set "impossibly high" and that they have faced "humiliation and discrimination," bad food and incompetent medical staff. The strike began with eight detainees, but two resumed eating Tuesday, officials said.
Tristan Call, a spokesman for Sureñxs En Acción, a Nashville-based activist organization that has been working with the detainees, said he has not heard from them and could not confirm that the strike had ended.
The privately run Adelanto facility has long faced scrutiny from immigrant advocates over alleged neglect, lack of adequate medical care and other issues. It faced increased attention this year after the deaths of three detainees.
Detainee Isaac Lopez Castillo said in a statement that the hunger strikers hoped to bring outside attention to conditions at Adelanto. The facility is operated by the GEO Group, a private contractor that owns and runs dozens of private prisons and detention centers across the country.
"We are from El Salvador, Honduras and Guatemala," Lopez Castillo said in the statement released through Sureñxs En Acción. "Adelanto is one of the prisons which exists for those who are seeking political asylum, and in reality our records are clean, none of us have prior criminal records. The bail is set impossibly high, and it's a humiliating joke because we are poor, we don't have that kind of money."
The detainees issued demands that included reduced bail, political asylum, new uniforms, more time for religious services and clean water at all hours of the day.
They came to the United States as part of a caravan fleeing violence in Central America, Call said.
In late 2015, 26 asylum seekers wanting to be released from custody while their cases were processed launched a hunger strike at Adelanto that lasted nearly two weeks.
Earlier that year, more than two dozen members of Congress wrote a letter to the U.S. Justice Department and ICE officials expressing concerns about reports of medical neglect at Adelanto.
Three Adelanto detainees have died since March.
Osmar Epifanio Gonzalez-Gadba, 32, of Nicaragua, died at a local hospital six days after he was found hanging in his cell on March 22.
In April, Sergio Alonso Lopez, 55, of Mexico, died several days after he was taken to the hospital after vomiting blood. Immigration officials said he had a history of serious medical issues. The preliminary cause of death was internal bleeding, officials said.
Vicente Caceres-Maradiaga, 46, a Honduran national, died in late May in an ambulance on the way to the hospital. The preliminary cause of death was listed as acute coronary syndrome, immigration officials said in a statement.
Twitter: @palomaesquivel
ALSO
Decision time at the Supreme Court: Rulings expected soon on religion, free speech and immigration
U.S. citizen detained by immigration authorities asks California lawmakers to support 'sanctuary state' bill
Trump administration will press Central American countries and Mexico to keep their people at home
---
UPDATES:
5:35 p.m.: This article was updated with details of a hunger strike by female detainees.
This article was originally published at 2:25 p.m.
Sign up for Essential California for news, features and recommendations from the L.A. Times and beyond in your inbox six days a week.
You may occasionally receive promotional content from the Los Angeles Times.