ACLU challenges Kentucky's new ultrasound abortion law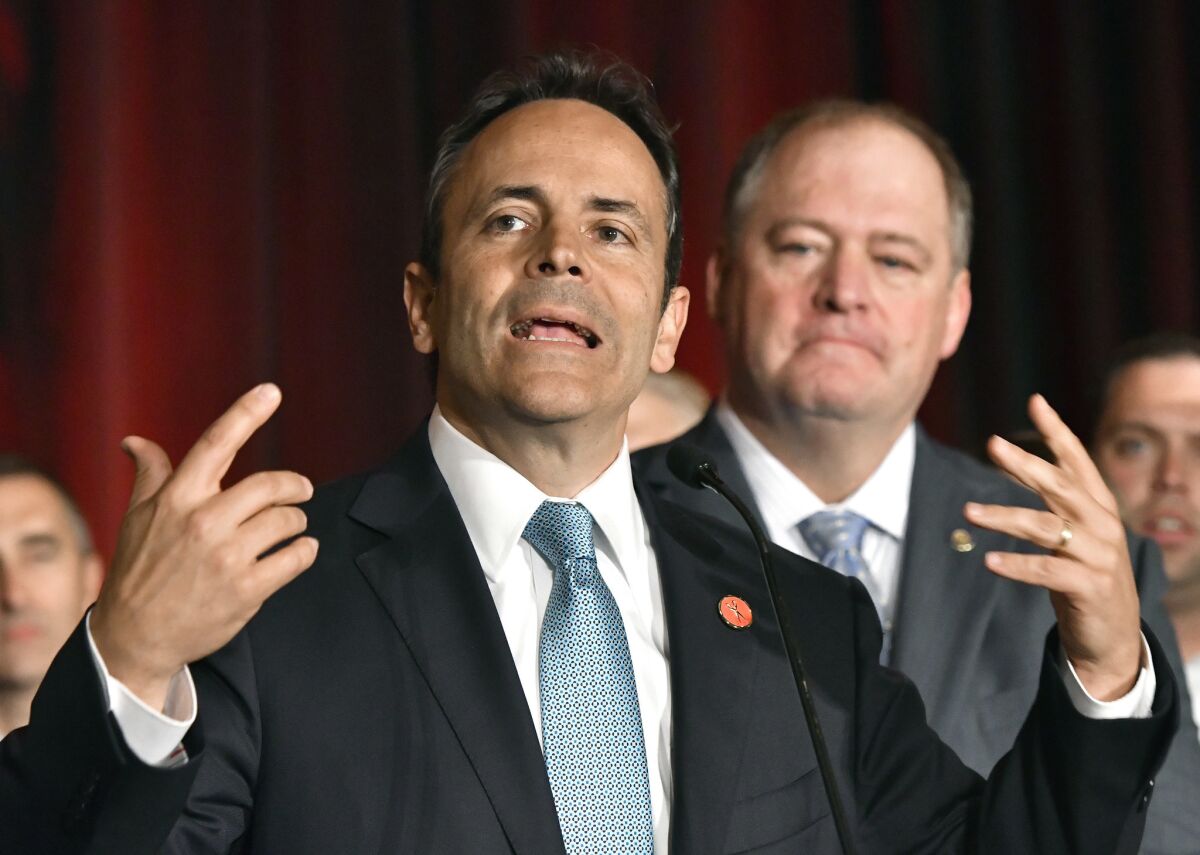 Reporting from LOUISVILLE, Ky. —
Fighting back against the Republican majority in Kentucky's Legislature, abortion rights supporters filed a federal lawsuit Monday aimed at blocking a new state law that requires women to get an ultrasound and have the fetal images described to them before having an abortion.
The American Civil Liberties Union went to court soon after Republican Gov. Matt Bevin signed the ultrasound bill into law — one of two abortion measures put on a fast track to passage last week from the GOP-led House and Senate in the first week of the 2017 session.
The ACLU said the ultrasound law violates privacy and 1st Amendment rights by requiring abortion providers to show and describe the ultrasound images to pregnant women, even if the women avert their eyes, which is permissible. The procedure also would seek to detect the fetal heartbeat, but women could ask that the volume of the heartbeat be reduced or turned off, if audible.
The law "compels women to listen to this government-mandated speech while lying captive on the examination table," according to the lawsuit, filed in U.S. District Court in Louisville.
Bevin called it "sound legislation" and predicted it would hold up in court.
"This was crafted in a way to comply with existing law and to still exercise the sovereignty that this state has and this legislative body has to do certain things," Bevin said after an event at the state Capitol in Frankfort.
The ultrasound legislation was one of two abortion bills sent to Bevin during a rare Saturday legislative session that capped an action-packed week as Republicans acted decisively to start putting their imprint on Kentucky. Lawmakers also voted to ban abortions after 20 weeks of pregnancy unless the life of the mother is in danger. Bevin signed that legislation into law too.
The ACLU said it is reviewing the 20-week ban law. That measure's sponsors, anticipating a potential challenge, included a provision allowing contributions to a trust fund that would pay for any possible legal defense of the law.
Both measures had emergency clauses, meaning they took effect immediately. The laws do not include exceptions for rape or incest.
Republicans already in charge of the Senate took complete control of the Kentucky General Assembly in the November election, when they seized the House for the first time in nearly a century. The GOP now has sizable majorities in both chambers.
Democrats routinely stopped abortion bills when they ran the House, but some Democrats voted for the abortion measures last week.
The ACLU said it filed the lawsuit on behalf of an outpatient abortion facility, its three physicians and their patients.
"The law is an example of political interference operating in its most perverse form," said Alexa Kolbi-Molinas, senior staff attorney of the ACLU's Reproductive Freedom Project. "This law puts politicians in the exam room — squarely between a woman and her doctor."
The ultrasound law provides no exception for circumstances when a doctor believes the procedure would have a traumatic effect on patients, including women who became pregnant as a result of rape or incest, the ACLU said.
Any doctors or medical imaging technicians violating the law would be fined up to $100,000 for a first offense and up to $250,000 for subsequent offenses. Any physician violation would be reported to the state's medical license board for possible disciplinary action.
Kentucky's ultrasound law is nearly identical to a North Carolina law struck down by a federal appeals court, the ACLU said.
Bevin predicted it wouldn't be the last time the ACLU took Kentucky to court to challenge its laws.
"They sue often," he said. "It's not just this state, that's what they do. They are a bunch of liberal lawyers. They try to find resolution for everything they don't like in the courts."
ALSO
Manhunt underway for suspect in killing of Orlando officer
White Texas police officer suspended for 10 days after wrestling black woman and daughter to the ground
Florida airport shooting suspect makes initial court appearance
Must-read stories from the L.A. Times
Get the day's top news with our Today's Headlines newsletter, sent every weekday morning.
You may occasionally receive promotional content from the Los Angeles Times.