Methodist court ruling a setback for openly lesbian bishop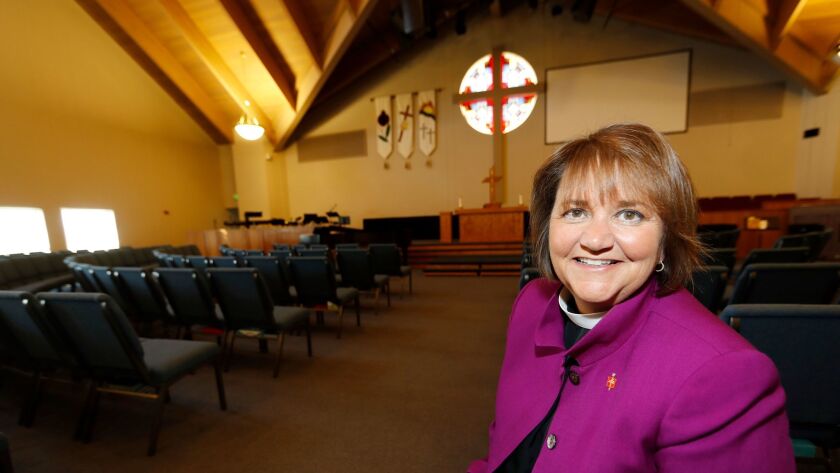 Reporting from NEW YORK —
The first openly lesbian bishop in the United Methodist Church can stay on the job for now, but she is subject to a disciplinary review that could lead to her removal, the top church court ruled.
Bishop Karen Oliveto's civil marriage to another woman violates church law that bars clergy who are "self-avowed practicing homosexuals," the Judicial Council said. However, a decision over whether she can remain in the position must come from a separate disciplinary process, the court ruled.
Oliveto was elected last year to lead a Denver-area church region that is part of the Methodist Western Jurisdiction, which has rejected the denomination's position that "the practice of homosexuality is incompatible with Christian teaching." Within minutes of her election, a challenge was filed by the Oklahoma-based South Central Jurisdiction, leading to Friday's ruling.
The case is the latest chapter in an intensifying fight over LGBT recognition that is fracturing the 12.8 million-member denomination — the third-largest faith group in the U.S. Days earlier, bishops announced a special 2019 meeting of its top legislative body, or General Conference, expressly to address church law on sexuality and find ways the denomination can avoid schism.
LGBT advocates in the church have stepped up pressure to lift prohibitions on gay clergy. Bishops have conducted same-sex weddings in defiance of church policy and dozens of LGBT clergy have come out, risking being defrocked.
Evangelical Methodists, who have gained strength in the denomination in part through growth of Methodist churches overseas, have responded by pushing to enforce church policies. The court said Friday that bishops who consecrate an openly gay bishop were considered in violation of Methodist law and also subject to church discipline.
The Methodist policy making body has upheld the church's stand on same-sex relationships since 1972, even as other mainline Protestant groups, including the Episcopal Church and the Presbyterian Church (U.S.A.), have approved same-sex marriage.
MORE NATIONAL NEWS
The death penalty has long divided Americans. Here's why those who oppose it are winning
Babies and children listed in Homeland Security's immigrant database of alleged criminals
How some of the Supreme Court's conservative opinions may lead to a liberal victory on 'sanctuary' cities
---
Must-read stories from the L.A. Times
Get the day's top news with our Today's Headlines newsletter, sent every weekday morning.
You may occasionally receive promotional content from the Los Angeles Times.