Mother impaled by rebar after falling from border fence during illegal crossing with kids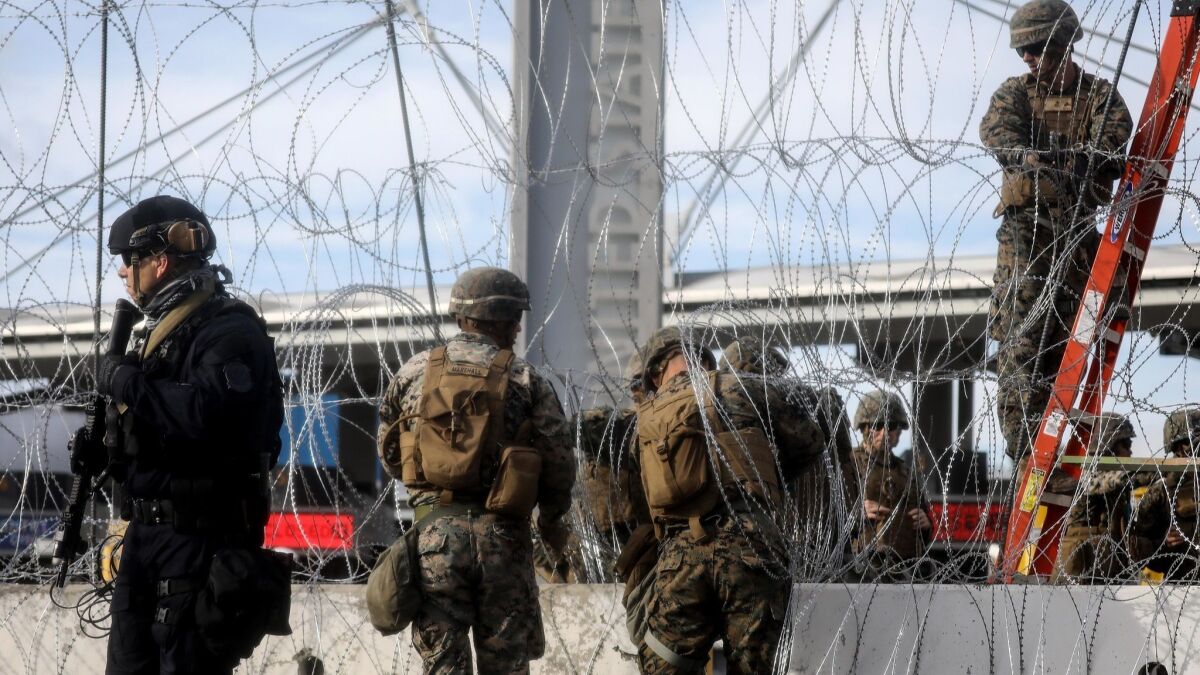 Reporting from San Diego —
A mother who scaled the U.S.-Mexico border fence near the San Ysidro Port of Entry fell and was impaled by pieces of rebar Friday night, Border Patrol said Saturday.
The 26-year-old Guatemalan woman was with her two children, ages 3 and 5, when she crossed illegally, said Border Patrol Agent Tekae Michael. The woman told agents she was not part of the massive migrant caravan camped out in Tijuana, Michael said.
The mother climbed the fence east of the border crossing, where construction crews have been working to replace decades-old primary fencing with a new barrier. When she fell, pieces of rebar pierced her side and buttocks.
Border Patrol arrived to render medical aid about 8:25 p.m. and requested assistance from the San Diego Fire-Rescue Department. She was taken to a hospital with non-life-threatening injuries.
Her children were also evaluated at the hospital for potential fall trauma and, showing no injuries, were released back to Border Patrol custody.
"Entering our country illegally, particularly over our walls, is not only dangerous, but also very foolish," San Diego's chief Border Patrol agent, Rodney Scott, said Saturday. "This woman placed her own life and her children's lives in peril. She could have easily died if not for the quick response by our agents and EMS."
Authorities said the rebar was part of the ongoing border fence construction and not related to the military's recent mission to fortify the fence in response to the caravan. The military has primarily been stringing concertina wire across the top of the fence. It was unclear whether there was concertina wire where the woman and her children crossed.
kristina.davis@sduniontribune.com
Twitter: @kristinadavis
Davis writes for the San Diego Union-Tribune.
---
Must-read stories from the L.A. Times
Get the day's top news with our Today's Headlines newsletter, sent every weekday morning.
You may occasionally receive promotional content from the Los Angeles Times.