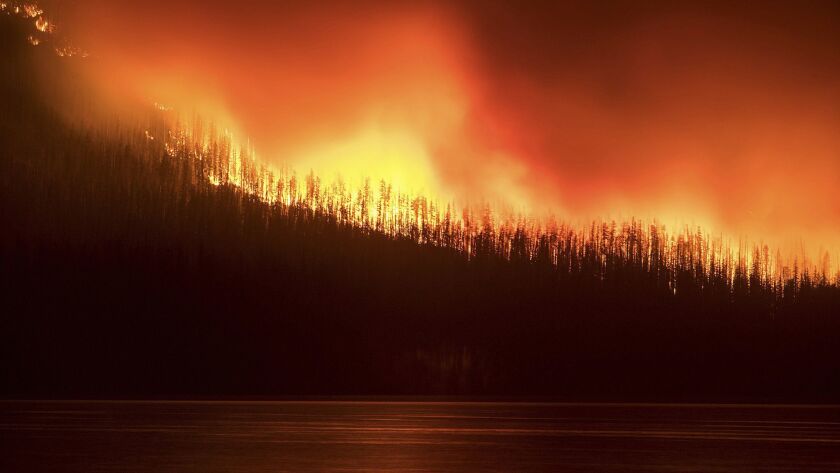 A wildfire destroyed structures and forced evacuations Monday from the busiest area of Montana's Glacier National Park.
Glacier's Sprague Creek campground was closed and evacuated a day after a fast-moving fire triggered the evacuation of dozens of guests from the historic Lake McDonald Lodge late Sunday.
Park officials said structures on the north end of Lake McDonald were lost, but they did not provide details on the number and type. The fire grew to 2 to 4 square miles by Monday afternoon.
"It just completely exploded. Yesterday we were watching it grow all day, and now it's so smoky you can't see anything," said Kyersten Siebenaler of Glacier Outfitters, which rents boats in Apgar, a small community at the south end of the lake.
The outfitting company was trying to help tourists find places to stay on the east side of the park, where it was not as smoky, Siebenaler said.
A second campground, a motel and private residences inside the park's boundary also were evacuated. A 30-mile stretch of the scenic Going-to-the-Sun Road was closed to traffic. The road, with breathtaking views of the park's mountainous interior, is a major draw for tourists.
Triple-digit temperatures across parts of the state — paired with lightning from passing thunderstorms — set the stage for several new large fires to take hold in Montana in recent days.
Among them was a 3-square-mile fire that triggered an evacuation order for residents of 15 houses southwest of the town of Ennis. The fire was burning in challenging mountain terrain with a mix of pine, fir and spruce trees, said fire information spokesman Dave Sabo.
Montana had a slow start to this year's fire season after a record-setting 2017 in which more than 2,400 square miles burned. This year's fires so far have charred a combined 30 square miles of the state.
More than 400,000 visitors last month passed through the west entrance of Glacier, near McDonald Lake. That was almost half the park's total. August is typically just as busy, and a protracted shutdown of part of the park could hurt the tourist-driven local economy.
"We're hoping this is short-lived," said Danny McIntosh, marketing manager for Glacier Park Collection by Pursuit, which operates Motel Lake McDonald. McIntosh said all of the guests in the motel's 28 rooms were relocated to other accommodations run by the company.
Two planes from Canada were brought in to help battle the blaze, but officials said high winds prevented their pilots from flying close enough to the fire to be effective.
The lake was partially closed to boaters while the planes were scooping up water to drop on the fire, Siebenaler said.
Crews were expected to stay on scene through the night to protect houses and other structures from the flames.
It's the second year in a row that wildfires prompted evacuations around Lake McDonald. A blaze in the area last year destroyed the Sperry Chalet, a famed backcountry lodge built in 1914. Work recently started on rebuilding the chalet. It was not immediately known whether construction had to be halted because of the fire.
---