U.S. deports former Nazi concentration camp guard to Germany
Reporting from Washington —
The last known former Nazi camp guard living in the United States was deported to Germany, an action that the White House trumpeted Tuesday in an apparent effort to show its harsh immigration enforcement policies are not just aimed at migrants on the border.
The Justice Department said that Jakiw Palij, 95, was an armed guard at a Nazi death camp in Poland during World War II, and that he helped oversee the murder of thousands of prisoners during the Holocaust, including 6,000 Jews on a single day in 1943.
Palij emigrated to New York in 1949 and became a U.S. citizen in 1957 after lying about his role in Nazi atrocities, according to the Justice Department. In 2001, however, he admitted lying about his past and was stripped of his citizenship and ordered deported in 2004. Removal efforts stalled because he was effectively stateless and Germany, Poland and Ukraine refused to take him in.
On Monday, TV cameras were on hand in Queens, N.Y., as Immigration and Customs Enforcement agents wheeled Palij, who was bearded and wearing a cap, out of his brick home on a gurney. He said nothing to reporters and later was put on a plane to Dusseldorf.
Palij, who was born in what is now Ukraine, is the 68th former Nazi to be stripped of U.S. citizenship and deported since the late 1970s, according to the Justice Department. Several of those identified could not be deported because no country would accept them, and several died while awaiting deportation.
Eli Rosenbaum, a Justice Department official who oversees the U.S. hunt for former Nazis, said the Palij case "sends yet another message of deterrence" to war criminals.
"The passage of time — even many decades — will never weaken our government's resolve," he said. He described Palij as "the last person in the U.S. who was under a court order of removal on the basis of his participation in Nazi acts."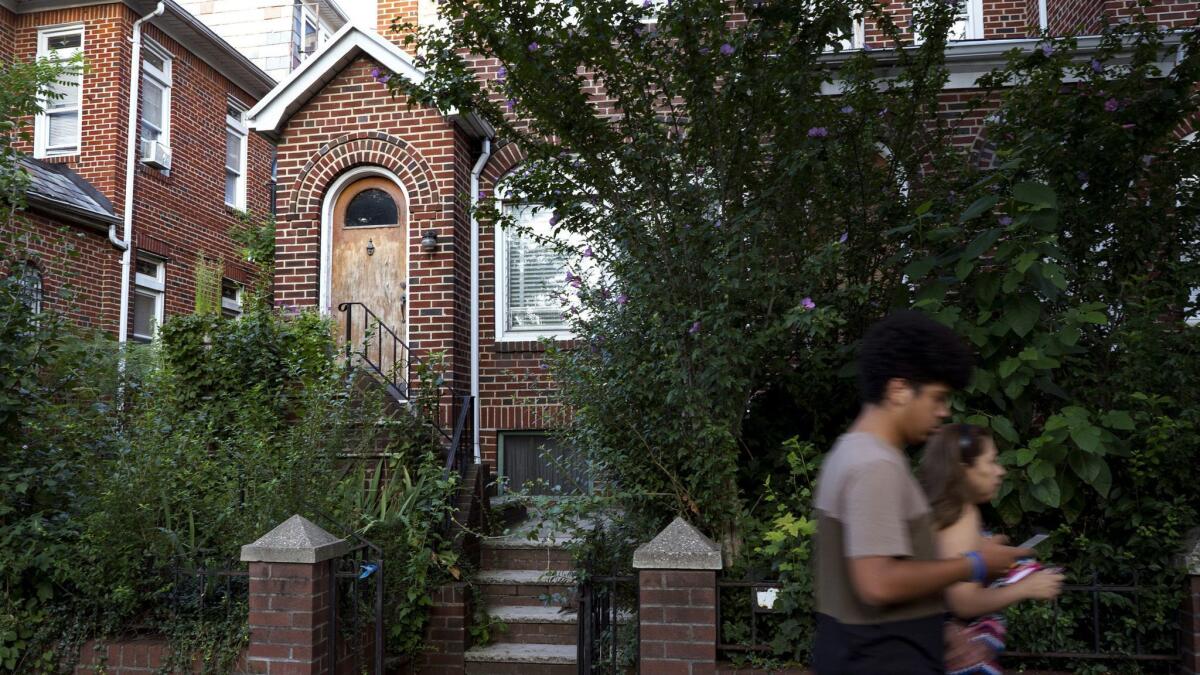 Minority Leader Charles E. Schumer (D-N.Y.) tweeted his approval for the deportation: "Nazi prison guards have no place in the USA. We must stand firmly against hate, anti-Semitism and bigotry in all its forms. Good riddance to this war criminal."
The case inevitably had political ramifications since Palij was arrested the same day that Trump hailed ICE agents as heroes at the White House, and celebrated their efforts to deport undocumented migrants from Latin America, as he also demonized Democrats.
In its statement, the White House took credit for finally expediting Palij's deportation, which came after weeks of negotiations between the U.S. ambassador to Germany, Richard Grenell, and German officials.
"Despite a court ordering his deportation in 2004, past administrations were unsuccessful in removing Palij. To protect the promise of freedom for Holocaust survivors and their families, President Trump prioritized the removal of Palij," it said.
Grennell, speaking on a conference call organized by the White House, also praised Germany, which was under no obligation to take Palij in. "They saw this as a moral obligation, not so much a legal obligation," he said.
U.S. officials did not demand that Germany commit to taking legal action against him, officials said.
Palij was little known compared to John Demjanjuk, a former guard at the Treblinka concentration camp in Nazi-occupied Poland whose case made headlines for years.
Demjanjuk was deported from the U.S. but he returned after his 1988 conviction in Germany and Israel for crimes against humanity was overturned by an Israeli court. He was deported again in 2009 to be tried in Munich, where he was found guilty. He died in 2012 while his case was being appealed.
Palij was an armed guard at Treblinka on Nov. 3, 1943, when 6,000 Jewish children, women and men were shot to death in one of the biggest single massacres of the war, according to the U.S. Holocaust Memorial Museum. Jewish laborers were brought in to burn and bury the corpses, after which they, too, were shot and incinerated.
---
UPDATES:
12:00 p.m.: This article was updated throughout with staff reporting.
7:40 a.m.: This article was updated with additional details about the deportation and about Jakiw Palij's life.
This article was originally published at 1:25 a.m.
Sign up for Essential California for the L.A. Times biggest news, features and recommendations in your inbox six days a week.
You may occasionally receive promotional content from the Los Angeles Times.