Curfew darkens Baltimore's red-light district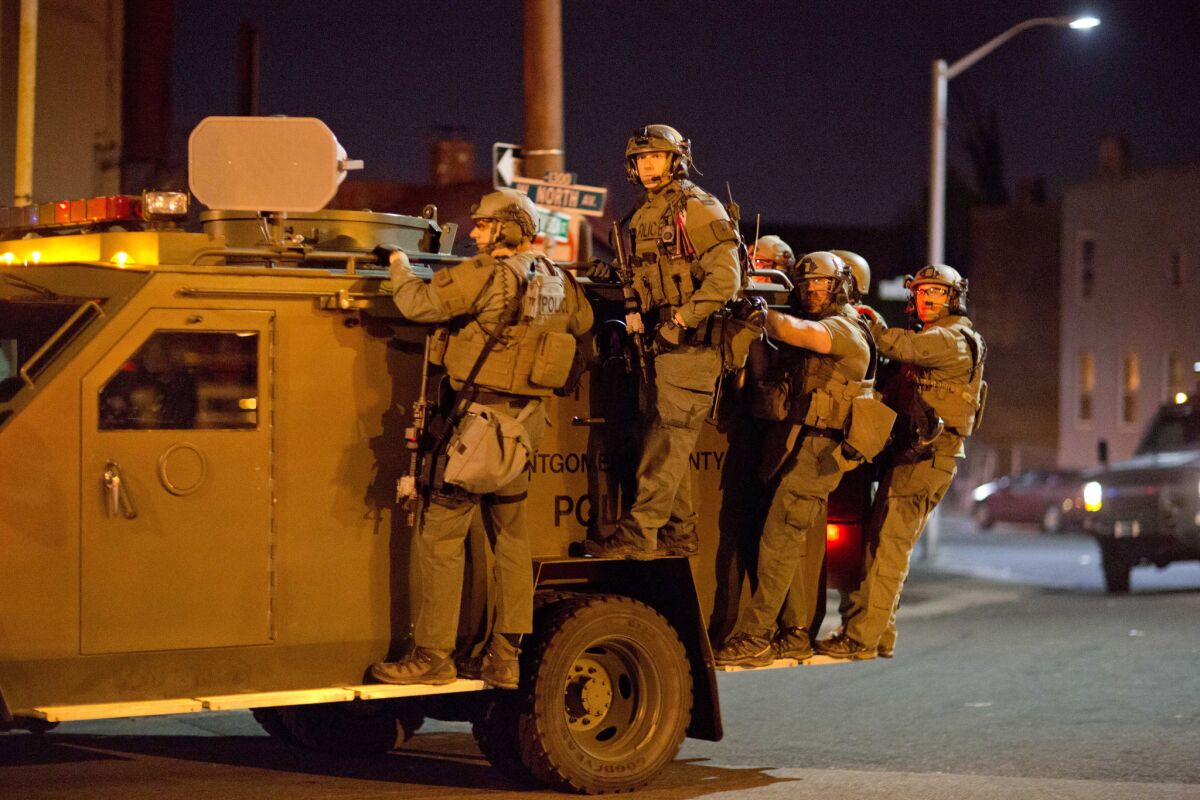 Reporting from Baltimore —
Before there was the upscale Inner Harbor, the Baltimore Aquarium or the Baltimore Convention Center, there was the Block, Baltimore's once-famous zone of strip clubs and sex shops.
But on Tuesday night, the Block -- some of whose emporiums advertise that they are open 24 hours a day -- was closed and dark by the time a 10 p.m.-to-5 a.m. curfew went into effect. It was part of the city's effort to combat the lawlessness that prevailed Monday night.
Three disappointed, tipsy soldiers in civilian clothes who said they had just returned from Afghanistan spilled out of the Diamond Lounge on Tuesday and tried to importune an exotic dancer. She rushed home to avoid a misdemeanor arrest for curfew violation.
Snow, a dancer at the lounge, said the weeklong curfew would cost her $200 a day in tips.
Next door, at the considerably more upscale Chez Joey, a woman who dances under the name Storm bemoaned the financial impact of the curfew as she casually began to cover up with bluejeans and a sweatshirt, transforming herself into a normal-looking 25-year-old.
The curfew is "horrible," she said. "Other people are allowed to go to work, but people don't realize that a lot of us girls work night times." She said she makes $200 on a slow night, and $500 or more on a good night, so a weeklong curfew could cost her "thousands."
Normally on a weeknight, she said, 10 to 20 women would be performing. Tonight, as the curfew loomed, there was one.
Storm said she was upset about the rioting. "I've lived here in Baltimore my whole life," she said. "It's embarrassing what's happening."
Melissa Glaeser, the bartender at Chez Joey, said the owner would lose $20,000 in the week. She and other bartenders would be out $400 to $900 in tips, she said. "It's going to be a bad week for the Block."
"This is my main source of income," bemoaned Angeline Cromwell, 24, who has a 15-month-old son she helps to support with her dancing money.
Like Baltimore itself, the Block has fallen on hard times. Once an entire neighborhood that attracted tourists, businessmen and locals alike, the Block is now literally just a block.
What had been a major destination for famous burlesque dancers like Blaze Star began to deteriorate in the middle of the last century.
The Block, which downtown hotels have considered good for business, has long been tolerated by City Hall and Baltimore police headquarters, which are just a block away. Prostitution, too, has been overlooked.
Snow said Baltimore is a dangerous city, an assertion backed up by police statistics.
"People are crazy in Baltimore," she asserted. "It's kill or be killed out here."
---
Must-read stories from the L.A. Times
Get the day's top news with our Today's Headlines newsletter, sent every weekday morning.
You may occasionally receive promotional content from the Los Angeles Times.