WikiLeaks case: Bradley Manning may learn sentence as soon as Tuesday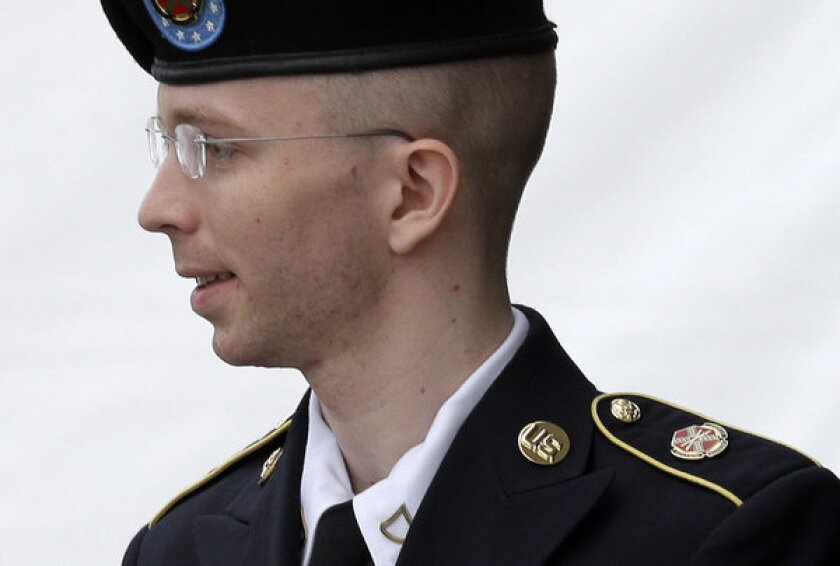 FT. MEADE, Md. — More than three years after he was placed in handcuffs in Iraq, Army Pfc. Bradley Manning is likely to learn next week how much longer he must spend in prison for the largest breach of U.S. classified material in the nation's history.
The 25-year-old soldier, who apologized that he "hurt" the United States, could be told as early as Tuesday whether he will face the maximum sentence of 90 years in prison and not be eligible for parole or clemency until he is in his 50s.
In court here Friday, the judge, Army Col. Denise Lind, issued a "Special Findings" report explaining why she convicted him last month of most of the charges against him, including six counts of violating the Espionage Act.
"Pfc. Manning's conduct was of a heedless nature that made it actually and imminently dangerous to others," she said. "His conduct was both wanton and reckless."
PHOTOS: 2013's memorable political moments
Lind will hear closing arguments Monday afternoon from military prosecutors and defense lawyers. She will then begin deliberating on a sentence for the former junior intelligence analyst who was stationed southeast of Baghdad.
The judge also acquitted Manning of the most serious charge against him — aiding the enemy, which could have sent him to prison for life. But her report did not explain how she reached that conclusion.
Although his day of reckoning is approaching, Manning remains "in good spirits," his chief attorney, David Coombs, said after court Friday.
He said Manning has been preparing himself for transfer to the chief military prison at Ft. Leavenworth, Kan., after an emotionally draining day in court on Wednesday when he read a three-minute apology to the judge.
"I am sorry that my actions hurt people," Manning said about providing more than 700,000 confidential cables, war logs and other material to the anti-secrecy organization WikiLeaks. "I'm sorry that they hurt the United States."
Coombs said reading the apology was hard for Manning, but the day was all the more difficult because of testimony from his sister and an aunt who described his terrible upbringing under two alcoholic parents.
"Wednesday was a tough day," he said.
TRANSCRIPT: Bradley Manning's apology
But, on a lighter note, Manning did get to spend about an hour and half with his relatives after court ended, Coombs said.
From London, Julian Assange, the head of WikiLeaks, criticized the U.S. government and the military court- martial process for putting Manning in the position of having to publicly express regret.
"Mr. Manning's options have run out," Assange said. "The only currency this military court will take is Bradley Manning's humiliation. In light of this, Mr. Manning's forced decision to apologize to the U.S. government in the hope of shaving a decade or more off his sentence must be regarded with compassion and understanding."
He added that "in a just court, the U.S. government would be apologizing to Bradley Manning."
Friday's session lasted for only about a half-hour. Prosecutors and defense lawyers stipulated to the findings from a computer expert who retrieved emails Manning had sent to a friend, though the emails were not read in court.
Earlier, a military psychiatrist who examined Manning testified that he felt abandoned by the friend and that, had he been able to talk to the friend, it might have kept him from leaking the secret materials.
ALSO:
At Seattle pot fest, police to protect -- and serve Doritos
RNC votes to boycott CNN, NBC over Hillary Clinton projects
Area 51 mapped: CIA shows where it is, details Cold War missions
---
Must-read stories from the L.A. Times
Get all the day's most vital news with our Today's Headlines newsletter, sent every weekday morning.
You may occasionally receive promotional content from the Los Angeles Times.