Charleston shooting updates: Suspect Dylann Roof's gun was birthday gift, official says
Dylann Storm Roof, the suspect in the shooting that killed nine people at a historic black church in Charleston, S.C., on Wednesday night, was arrested Thursday in North Carolina and taken back to Charleston. Meanwhile, the victims' identities emerged, and the community mourned.
What we know:
The shooting took place about 9 p.m. Eastern time Wednesday at the Emanuel African Methodist Episcopal Church, a historic black church.
Three men and six women were killed. Authorities said there were three survivors.
The suspect, Dylann Storm Roof, was arrested in Shelby, N.C. on Thursday morning during a traffic stop. Police believe he acted alone.
Charleston's police chief said the gunman prayed with victims for an hour before shooting. He will investigate the shooting as a hate crime.
The Justice Department's Civil Rights Division, the FBI and the U.S. attorney's office for the District of South Carolina have also opened hate crime investigations.
More: Photos from the scene and full coverage
---
Shooting suspect returns to Charleston
Memorial sprouts up at scene of carnage
(Joe Raedle / Getty Images)
At the historic Emanuel AME Church, the scene of Wednesday's carnage, there were at least 60 bundles of flowers and half a dozen balloons Thursday afternoon marking Charleston's sympathy for those who died there.
Detectives ran in and out of the church, but onlookers were mostly reporters and tourists from as far away as Brooklyn and Orlando.
Joyce Gilliard, who said she grew up in Charleston before moving away for work, prayed in a tearful, close embrace with a mother and her two daughters from Wilmington, N.C. "My heart is hurting. I wanted to be here for the community," Gilliard said.
The Rev. Al Sharpton was uncharacteristically muted in his comments after praying in front of the church, saying it was "a time for healing," not political commentary.
Cynthia Hurd was remembered Thursday as a driven librarian who strived to create literacy programs for children in some of Charleston's poorer sections, colleagues said.
"It's cliche, but Cynthia's one of those people whose goal was be better today than you were yesterday and be better tomorrow than you are today," said Douglas Henderson, executive director of the Charleston County library system.
Henderson said he met Hurd several years ago when she was working at the John L. Dart Library, a small facility in downtown Charleston. At the time, John L. Dart did not have a children's librarian, and Hurd spearheaded efforts to get one and to expand children's reading programs.
Hurd's loss, he said, "is devastating for the whole community." Asked how the library staff was handling it, he said: "Not well at all."
Hurd became the manager of the St. Andrews Regional Library in 2011. County officials said Thursday they plan to rename the library in her honor.
Shooting suspect Dylann Storm Roof's gun was a recent birthday gift from his father, according to a law enforcement source who declined to be named because the investigation is ongoing.
The firearm was recovered in Roof's car, and he was taken into custody "without incident," the source said.
AFP/Getty Images
At times of these tragedies ... people lament that we are better than this. But we are not. We are this.
Scott Martelle
EPA
The apartheid-era South African flags seen in pictures of Charleston shooting suspect Dylann Storm Roof are popular symbols among American hate groups, experts said Thursday.
At neo-Nazi rallies, white supremacists often carry, among other flags, the orange-and-blue former South African flag. It has continued to grow in popularity as more white supremacists learn what it is, and it is now listed in the Anti-Defamation League's database of hate symbols.
While the second patch worn by Roof, the Rhodesia flag, is not seen as often, it's "certainly of symbolic significance to white supremacists," said Mark Pitcavage, director of the ADL Center on Extremism.
"Those patches are not acquired by coincidence," Pitcavage said.
Shooting victim Tywanza Sanders brimmed with ambition, friend says
Tory Shaw, a close friend of Tywanza Sanders', said the two grew up together in Charleston, S.C., where his friend began attending Emanuel AME at a young age. On Wednesday night, Shaw said, Sanders was attending Bible study there with his aunt Susie Jackson, who also was killed when the gunman opened fire.
"I can't sleep," said Shaw, who had spent the night making frantic calls to find out whether his friend survived the attack. "It's like a bad nightmare."
Shaw said he and Sanders played sports together until Sanders moved to Columbia, the state capital, to attend Allen University. Sanders graduated last year and was planning to attend graduate school, Shaw said. The 26-year-old, who recently became a licensed barber, also dabbled in music and wrote poetry, he said.
"He had a lot of ambition, a lot of drive," Shaw said. "You tell him he can't walk on water and he'd try."
Mourning in the state Senate
The Rev. William D. Smart Jr., co-pastor of the Christ Liberation Ministries in Los Angeles, said the Charleston, S.C., shooting proves that ending racism in the U.S. will still take a lot of work.
"This shows that there is a race war going on in America," he said. "We still can eradicate injustice in America and racism."
The South Carolina shooting was a direct attack on the core values of the black community, he said.
"The black church is our soul," he said. "Our soul was attacked last night."
Remembering Sharonda Singleton
Victim: Daniel L. Simmons Sr., 74
The Rev. Daniel L. Simmons was shot at Emanuel AMU Church on Wednesday night and died in surgery at a local hospital, according to coroner's officials.
"We love him and we miss him," his granddaughter, Ava Simmons, told The Times, adding that his family was en route to Charleston.
Daniel Simmons was a member of the Emanuel AME ministerial staff and regularly attended Wednesday night Bible study, she said.
--Katie Shepherd
Those killed in church shooting
The Charleston County coroner named the following people as those killed in Wednesday night's shooting:
Cynthia Hurd, 54
Susie Jackson, 87
Ethel Lance, 70
Depayne Middleton Doctor, 49
Clementa Pinckney, 41
Tywanza Sanders, 26
Daniel L. Simmons Sr., 74
Sharonda Singleton, 45
Myra Thompson, 59
Victims range in age from 26 to 87
Rae H. Wooten, the Charleston County coroner, listed the names and ages of the dead at a news conference.
The youngest was 26; the oldest, 87.
It was clear that all of them died from gunshot wounds, Wooten said, adding that each would receive an autopsy.
The Times is working to confirm the spellings of their names.
--Michael Muskal and Lauren Raab
Most racially motivated crimes target blacks
In racially motivated crimes in the U.S., African Americans are targeted more than all other groups combined, according to the most recent FBI statistics.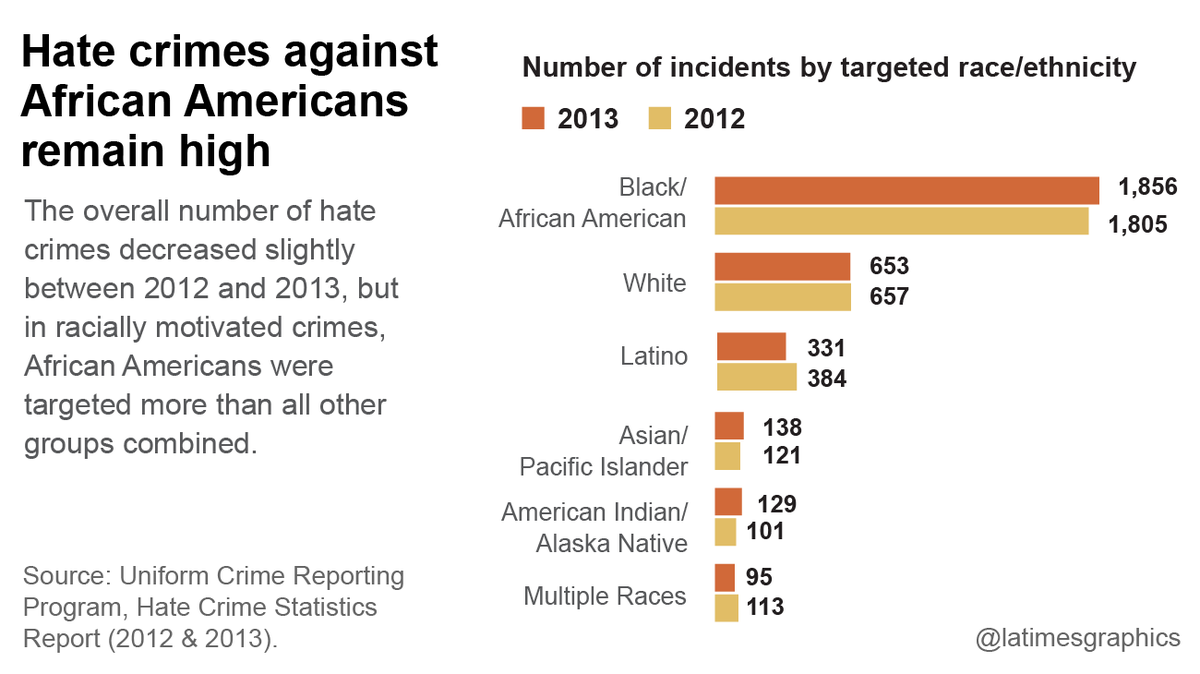 Community pulls together
Victim identified: Myra Thompson
Myra Thompson, the wife of a reverend at an Episcopal church in Charleston, has been identified as one of the victims of Wednesday night's shooting, according to the Anglican Church of North America.
Thompson was the wife of the Rev. Anthony Thompson of Holy Trinity Reformed Episcopal Church, the ACNA said in a tweet on Thursday.
A spokesman for the ACNA confirmed Thompson's death but declined to comment further.
Victim identified: Sharonda Singleton
Sharonda Singleton, who was on the ministerial staff at Emanuel AME church, is among the victims, according to her son's school, Charleston Southern University.
Her son, Chris Singleton, is a rising sophomore and plays baseball for the school, according to a statement released by Charleston Southern.
In addition to her work at the church, Singleton was a speech pathologist and track coach at Goose Creek High School, according to the school's website.
"Chris's mother was just that parent that as a coach you are proud to have as part of your program. What she brought to our team is immeasurable," said CSU baseball coach Stuart Lake.
For the record, 1:08 p.m.: An earlier version of this post gave her name as Sharonda Singleton-Coleman. Officials have since identified her as Sharonda Singleton.
David Goldman / Associated Press
Since its founding nearly 200 years ago, members of Emanuel African Methodist Episcopal Church have seen their church burned to the ground, met in secret while all-black churches were outlawed and stood in the face of racial discrimination.
One of the oldest AME churches in the South, "Mother Emanuel," as it is affectionately known, was founded amid slavery in 1816 by former members of Charleston's Methodist Episcopal Church who withdrew because of a dispute over burial grounds.
From the beginning, the new church was fraught with tumult.
Third victim identified: Tywanza Sanders
Allen University
Tywanza Sanders, a recent graduate of Allen University in Columbia, S.C., was killed in Wednesday night's attack, the school confirmed in a statement.
Sanders, who graduated with a degree in business administration last year, was a "quiet, well-known student who was committed to his education," according to the statement.
Clementa Pinckney, the pastor of the church where the shooting took place, also was an alumnus of Allen University, the school said.
"Our hearts and prayers are with the families of these two victims of this senseless act of violence," said Lady June Cole, interim university president.
Police: Still no information on motive
Authorities say they still don't know what could have driven Roof, who had two minor arrests earlier this year, to allegedly commit such an act.
"We do not have answers to that," Charleston Police Chief Greg Mullen told reporters Thursday.
Roof was arrested during a traffic stop, after a citizen called to report a suspicious car, Mullen said.
He was cooperative with authorities and was arrested without incident by Shelby, N.C., police.
Mullen declined to say whether Roof had any weapons at the time of his arrest, citing the ongoing investigation.
The shooting was reported to have occurred during Bible study at the church.
Second victim identified: Cynthia Hurd
Cynthia Hurd, a library manager, was among those killed in Wednesday's attack, according to her employer, Charleston County Public Library.
She is the second of the nine victims in the shooting at Emanuel AME Church to be publicly named.
"Cynthia was a tireless servant of the community who spent her life helping residents, making sure they had every opportunity for an education and personal growth," the library said in a statement.
"Her loss is incomprehensible, and we ask for prayers for her family, her co-workers, her church and this entire community as we come together to face this tragic loss."
Hurd had worked for the county library for 31 years, and became manager of the St. Andrews Regional Library in 2011.
To honor her, the library said, all 16 branch locations were closed Thursday.
Previously, authorities had identified only pastor and state Sen. Clementa Pinckney among the victims.
Charleston gathers at noon vigil
Church leaders in Charleston called on the community to gather for a noon vigil at the Morris Brown AME Church on Thursday.
The crowd filled the church, about four miles away from the site of the shooting, and overflowed into the street.
Inside, throngs of people packed the aisles, singing hymns in unison.
"Society has to raise the people better, particularly in this volatile situation we have here in South Carolina," said Joseph Watson, 65, who attended the service.
--Timothy Phelps and Christine Mai-Duc
Obama: 'I've had to make statements like this too many times'
President Obama said today that the U.S. has endured this situation in recent years "too many times" and urged healing for the city and for relatives of the victims, one of whom he knew.
"Any death of this sort is a tragedy. Any shooting involving multiple victims is a tragedy," Obama said. "There's something particularly heartbreaking about a death happening at a place in which we seek solace and we seek peace, in a place of worship."
"I've had to make statements like this too many times," Obama said, alternating at times between appearing mournful and frustrated. "At some point we as a country have to reckon with the fact that this type of mass violence doesn't happen in other countries. It doesn't happen with this frequency. It is in our power to do something about it."
The president said he knew the pastor gunned down in the shooting, Clementa Pinckney.
Watch live: Obama speaks on shooting
Roof's earlier arrests: Drug possession and trespassing
Police reports show Roof was arrested twice in Columbia, S.C., earlier this year. He was arrested once for drug possession and and once for trespassing, both times at Columbiana Centre mall.
In February, mall security called Columbia police because Roof was dressed in "all black" and acting bizarre inside several stores, according to the reports.
An officer questioned Roof, who consented to a search, and police recovered several strips of Suboxone, a powerful medication used to treat addiction to heroin and painkillers. Roof was arrested a short time later.
Roof was banned from the mall but arrested for trespassing at the facility two months later, court records show.
That awful person, that terrible human being who would go into a place of worship when people were praying and kill them is now in custody, where he will always remain.
Charleston Mayor Joe Riley
Suspect is in custody
Loretta Lynch: 'Heartbreaking and deeply tragic'
"I want to take a moment to address the heartbreaking and deeply tragic events at Emanuel AME Church in Charleston, S.C., a crime that has reached into the heart of that community," Atty. Gen. Loretta Lynch said in a live statement.
"Acts like this one have no place in our country. They have no place in a civilized society. And I want to be clear: The individual who committed these unspeakable acts will be found and will face justice.
"As we move forward, my thoughts and prayers, and those of our entire law enforcement community, here at the Department of Justice and around the country, are with the families and loved ones of the victims in Charleston. Even as we struggle to comprehend this heartbreaking event, I want everyone in Charleston, and everyone who has been affected by this tragedy, to know that we will do everything in our power to help heal this community and make it whole again."
More about Dylann Roof, who was arrested twice this year
(Lexington County)
The 21-year-old is from Eastover, S.C., a suburb of Columbia, S.C., according to Charles Francis, a detective with the Charleston Police Department.
"He's considered highly dangerous, and armed," Francis said.
Francis said Roof was driving a 2000 Hyundai Elantra with the South Carolina tag LGF330.
Roof's Facebook page shows him in a photo wearing a dark jacket with the emblems of two flags from African countries when they were ruled by whites. One is from apartheid-era South Africa and the other is from white-dominated Rhodesia, now Zimbabwe.
Roof has been arrested twice by Columbia, S.C. police this year, once on Feb. 28 and a second time on April 26. It is not clear why Roof was arrested in February, but Lexington County Sheriff's records show he was booked for trespassing in the April incident.
--Richard Serrano and Christine Mai-Duc
Dylann Storm Roof, 21, ID'd as suspect
(EPA via Facebook)
The U.S. Department of Justice's Civil Rights Division, the FBI and the U.S. attorney's office for South Carolina have opened hate crime investigations into the shooting, which are "parallel to and cooperative with the state's investigation," according to a Justice Department representative.
What we know about the suspect
According to a federal law enforcement official, the suspect is believed to be a white man between 21 and 25 years old, and about 5 foot 9.
He was in the church for up to an hour before opening fire.
The official, briefed on the manhunt but unauthorized to speak publicly, said surveillance video indicated that the man may have donned a wig and fake nose, and may have even dyed part of his skin before entering the church.
He was wearing a heavy gray sweatshirt and appeared to be carrying a backpack.
Other surveillance images show what authorities believe was his getaway car: a black, four-door sedan with a front license plate that is white with a dark circle in the center.
Mourning at the South Carolina state house
Official: Gunman may have worn disguise
Charleson Police Department
The young white man authorities believe killed nine people attending a Wednesday night prayer service in Charleston, S.C., may have entered the historic African American church in a disguise, but at one point gave his intentions away with something he told one of the survivors, a federal law enforcement official disclosed Thursday morning.
The official, briefed on the ongoing manhunt but not authorized to speak publicly, said it appeared from a surveillance photo at the Emanuel AME church that the assailant may have entered the church wearing a wig and fake nose, and may even have dyed part of his skin. The official also noted that the man was wearing a heavy gray sweat shirt over a white T-shirt on an extremely warm day in Charleston, and may have been dressed like that to hide a firearm. He also appeared to be carrying a small backpack over his right shoulder which could have contained a weapon and ammunition as well.
"It was really hot," the official said. "Why was he wearing a long sleeved sweat shirt?"
More images released of alleged gunman
Grief and questions
David Goldman, an Associated Press photographer, captured the scene in the hours after nine people were killed Wednesday night at a historic black church in Charleston.
David Goldman / AP
David Goldman / AP
David Goldman / AP
David Goldman / AP
David Goldman / AP
The Rev. Clementa Pinckney, who was among the nine people shot and killed during a Bible study session at his church Wednesday night, was a fourth-generation AME pastor.
Pinckney also had served in South Carolina's legislature since 1997. When he became pastor at Mother Emanuel AME Church in 2010, he told the Post-Courier he believed his two roles were complementary.
"Loving God is never separate from loving our brothers and sisters," he said. "It's always the same."
--Megan Garvey
The senselessly slain parishioners were in a church for Wednesday night Bible study. There is no greater coward than a criminal who enters a house of God and slaughters innocent people engaged in the study of Scripture.
Cornell William Brooks, NAACP President & chief executive
An 'unfathomable' act
Charleston officials on Thursday called on the community to help catch the gunman who invaded a historic black church and pledged to help ease the pain and grief of the attack.
"This is an unfathomable and unspeakable act by somebody filled with hate and a deranged mind," Mayor Joseph P. Riley Jr. told reporters. "We will make sure he pays the price for this act."
Riley also said the city will reach out to the Emanuel AME Church where the attack took place Wednesday night during Bible class.
"We will put our arms around that church and that church family," Riley pledged.
--Michael Muskal
Alleged gunman spent hour in church
Authorities said Thursday morning that the man who shot and killed nine people had spent an hour inside the church with his victims before opening fire.
Chief Greg Mullen said his officers were energized and committed to finding the gunman.
"There's no doubt in my mind that it's a hate crime," Mullen said at a morning news conference.
He described the man "sitting down with people who are praying and exercising their beliefs and murdering them."
Mullen said there were three survivors.
--Megan Garvey
We are committed and we will catch this individual. ...This is a situation that's unacceptable in any society.
Charleston Police Chief Greg Mullen
3 males, 6 females killed in church shooting
In a news conference that began at 7 a.m. local time, Charleston Police Chief Greg Mullen said three males and six females were killed in the shooting Wednesday night at a historic black church. Mullen said eight people were dead at the scene and a ninth person died at a hospital. The first call to police came shortly after 9 p.m., he said.
--Megan Garvey
Police release images of suspected gunman
Authorities in Charleston, S.C., seeking help finding the suspected gunman, have released images taken from surveillance cameras. A news conference is scheduled for 7 a.m. local time
Police release photo of suspect in church shooting
Charleston Police
Charleston Police Chief Greg Mullen released a photo of the church shooting suspect at a morning news conference, WCSC news reported in Charleston. Mullen said the photo was captured by a surveillance camera.
Suspect still at large
Concern about associate pastor
Sharonda Singleton, one of the associate pastors at Emanuel AME, often attends the weekly Wednesday night Bible study session, said Tim Brown, a longtime member of the church.
He's very worried about her. "I texted her and she hasn't responded," Brown said.
Singleton is known for bringing her outgoing, charismatic spirit into her work at the church, which includes leading the children's church, a group for children under 12 who have a separate worship in the church basement during the weekly service.
"She knows how to preach," Brown said. "She's a great asset to the church."
What the police chief and mayor said
Here's the full news conference with Charleston Police Chief Greg Mullen and Mayor Joe Riley, who spoke earlier tonight.
Pastor admired for spiritual and business acumen
S.C. Senate Democratic Caucus/ Ha / EPA
The Rev. Clementa Pinckney threaded themes through his sermons that were "pretty much on target," and his tenure as senior pastor has been marked by physical improvements to the church, said Tim Brown, a member of Emanuel AME since 1989.
He credited Pinckney's training -- the pastor earned a master's degree in public administration from the University of South Carolina -- with blending the church's business and spiritual sides. "He's moved us forward in his thinking," Brown said.
How will the church move forward now?
"I don't know. I honestly do not know," Brown said. "I'm praying we have a good spiritual leader there to help."
Rev. Pinckney was killed, legislator says
A state legislative leader, House Minority Leader Todd Rutherford, said the Rev. Clementa Pinckney was killed in the shooting, according to the Associated Press.
Pinckney, 41, became pastor of Emanuel AME Church in 2010. He also had been serving as a state legislator since his early 20s: He began a stint in the state House of Representatives in 1997 and moved to the state Senate in 2001.
He and his wife, Jennifer, have two children.
-- Lauren Raab
(Associated Press)
The church, which traces its roots back to 1791, is the oldest African Methodist Episcopal church in the South, according to a history of the church on a National Park Service site.
The church was investigated for its involvement with an alleged slave revolt in 1822. During the investigation, its building was burned.
The church was rebuilt and services continued until 1834, when all-black churches were outlawed, according to the site.
The church adopted the name Emanuel in 1865, when the congregation was formally reorganized.
The current church, built in 1891, is a Gothic Revival style building.
-- Ryan Parker
The definition of 'hate crime'
Wade Spees / Post and Courier
Hate crimes have a long history in America, but not until the 1980s did the term officially enter the nation's vocabulary, according to the FBI.
On Wednesday night, it struck yet again. Police in Charleston called the shooting at Emmanuel AME Church (above) a hate crime, with the gunman -- described as a white man in his early 20s -- still at large.
The FBI's definition of a hate crime is simple: any traditional offense such as murder, arson, or vandalism with an added element of bias.
In 2013, 5,928 hate crime incidents were reported to law enforcement -- nearly half of them motivated by racial bias, according to the FBI's annual "Hate Crime Statistics" report. The 2013 total, the most recent available, was down from 2012, when it was 6,573.
-- Kurtis Lee
2016 presidential candidates tweet statements
And Jeb Bush canceled his planned appearances in the state on Thursday.
'Oh, Lord, I want you to help me'
Prayer and 'unimaginable pain'
Sen. Tim Scott (R-S.C.), who grew up in North Charleston, offered words of solidarity.
This church is 'our cathedral,' local church elder says
(Associated Press )
The Rev. Joseph A. Darby, a fourth-generation South Carolina minister, said Emanuel African Methodist Episcopal Church is the "mother church" of African Methodism in the southeastern United States.
"If we had cathedral churches, it would be our cathedral church in South Carolina," Darby, pictured above in an Associated Press file photo, told The Times.
Darby, the presiding elder of a church district south of Charleston, said that after hearing of the shooting, he went to the scene around "Mother Emanuel," as the church is known.
Darby, the former longtime pastor of a church several blocks from Emanuel AME, was at his home in Charleston when a congregant alerted him to the shooting.
Pastor Pinckney's status unclear
Concerns ran high for the church's pastor, the Rev. Clementa Pinckney, who also has been a state senator since 2001.
Several reporters asked whether Pinckney was among the shooting victims, but Police Chief Greg Mullen refused to answer, saying he was not providing any details about victims.
The Rev. Joseph A. Darby, a fourth-generation South Carolina minister, described Pinckney as one of the up-and-coming pastors in the AME church with a simple approach.
"He's a wonderful guy," Darby said, adding that he was at a loss for words. "Prayers are appreciated."
--Lauren Raab and Matt Hamilton
'I do believe this was a hate crime'
"The only reason someone could walk into a church and shoot people praying is out of hate," Charleston Mayor Joe Riley told reporters. "It is the most dastardly act that one can possibly imagine."
"I do believe this was a hate crime," Police Chief Greg Mullen said, adding that it would be investigated as one.
--David Lauter and Lauren Raab
Why police were quiet for hours
"This was a very chaotic scene," Charleston Police Chief Greg Mullen said. As police were tracking the suspect with dogs, he said, they received information that there might be "a secondary explosive device in the scene."
Mullen said that police would provide regular updates but that the priority would be on finding the suspect: "We will use all of our effort, all of our resources and all of our energy to find this individual."
--Ryan Parker and Lauren Raab
Nine dead, police chief says
Eight victims were found dead at the church, and a ninth died after being taken to a hospital, Charleston Police Chief Greg Mullen told reporters.
--Ryan Parker and Lauren Raab
This is an unspeakable and heartbreaking tragedy in this most historic church, an evil and hateful person took the lives of citizens who had come to worship and pray together.
Charleston Mayor Joe Riley, to the Post and Courier
Gov. Nikki Haley issues statement
"Michael, Rena, Nalin and I are praying for the victims and families touched by tonight's senseless tragedy at Emanuel AME Church. While we do not yet know all of the details, we do know that we'll never understand what motivates anyone to enter one of our places of worship and take the life of another. Please join us in lifting up the victims and their families with our love and prayers."
Gunman on the loose
Nearly four hours after a shooting at a church in Charleston, S.C., police were looking for the gunman, and they had not provided information about any victims.
Charleston police said they were searching for a white man, about 21 years old, with a slender build. He was clean-shaven and wearing a gray sweatshirt, blue jeans and boots, they said.
--Ryan Parker and Lauren Raab
---
Must-read stories from the L.A. Times
Get the day's top news with our Today's Headlines newsletter, sent every weekday morning.
You may occasionally receive promotional content from the Los Angeles Times.