West Coast lawmakers seek millions for earthquake warning system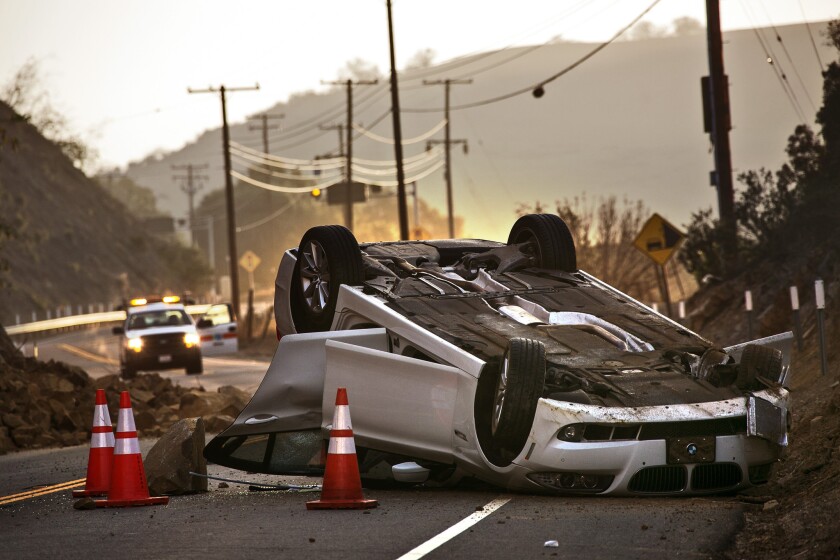 WASHINGTON -- A group of lawmakers is hoping the recent string of Southern California temblors will jolt Congress into funding an earthquake warning system.
The lawmakers are seeking some of the $38.3 million needed to build the system on the West Coast and the $16.1 million a year needed to operate and maintain it.
"Even a few seconds of warning before the next Big One will allow people to seek cover, automatically slow or stop trains, pause surgeries and more -- and the benefits of this small investment now will be paid back many times over after the first damaging quake,'" said Rep. Adam B. Schiff (D-Burbank).
But securing the funding could be difficult at a time when congressional Republicans are determined to reduce Washington's red ink.

No California Republican signed a letter circulated by Schiff's office asking the House Interior appropriations subcommittee to provide $16.1 million next year for the system. The letter was signed by Democrats from California, Oregon and Washington state.
Efforts to secure money also could face resistance from lawmakers from outside California unwilling to spend money on what they view as largely a California problem.
"Even in California, we've been through this long period where things have been pretty quiet,'" said professor Thomas Heaton of Caltech's Earthquake Engineering Research Lab. "We sort of collectively forgot how this is a big problem."
Still, the issue could become one of the first tests of the new clout California gained from Rep. Ken Calvert's recent ascension to the chairmanship of the Interior subcommittee, which oversees funding for the U.S. Geological Survey's earthquake programs.
Calvert, a Corona Republican, said he would consider the funding if convinced the warning system works.
"I felt that earthquake as much as anybody," he said, referring to the magnitude 5.1 La Habra quake that struck Friday.
Calvert said in an interview that he wanted more information. "Sometimes we fund things and we found out later that it doesn't work," he said.
William Leith, senior science advisor for earthquake and geologic hazards at the USGS, noted that the system is in operation in Japan and Mexico City. "This is a proven technology," he said.
A prototype system is being tested by the USGS in the Los Angeles and San Francisco Bay areas and its university partners, delivering warnings to about 75 people, including researchers and emergency management personnel, and a few private companies, Leith said.
"The current test system is still in the development phase, and considerable additional investment must be made to create a robust and reliable operational warning system," Leith told a recent congressional hearing that examined advances in earthquake science on the 50th anniversary of the 1954 Alaskan earthquake.
Deploying a full system of sensors along the West Coast is expected to take about five years. It would detect waves radiating from the epicenter of a quake and give people notice through phones, radio and TV.
Rep. Peter DeFazio (D-Ore.) recently scoffed at the amount of money spent to develop the warning system.
"We've spent $10 million – wow! – since 1999," he said at the hearing on the advances in earthquake science.
The White House's proposed budget for the new fiscal year provided $850,000 for continuing research of the system.
Schiff said he can't understand why the funding has been so hard to secure.
"You only need one really bad earthquake to have the system pay for itself," he said in an interview. "It's surprising that we haven't moved more swiftly. If we wait too long, we'll certainly be kicking ourselves that we didn't."
Twitter: @richardsimon11
---
Must-read stories from the L.A. Times
Get the day's top news with our Today's Headlines newsletter, sent every weekday morning.
You may occasionally receive promotional content from the Los Angeles Times.