Judge in Sept. 11 case confirms FBI is investigating defense lawyers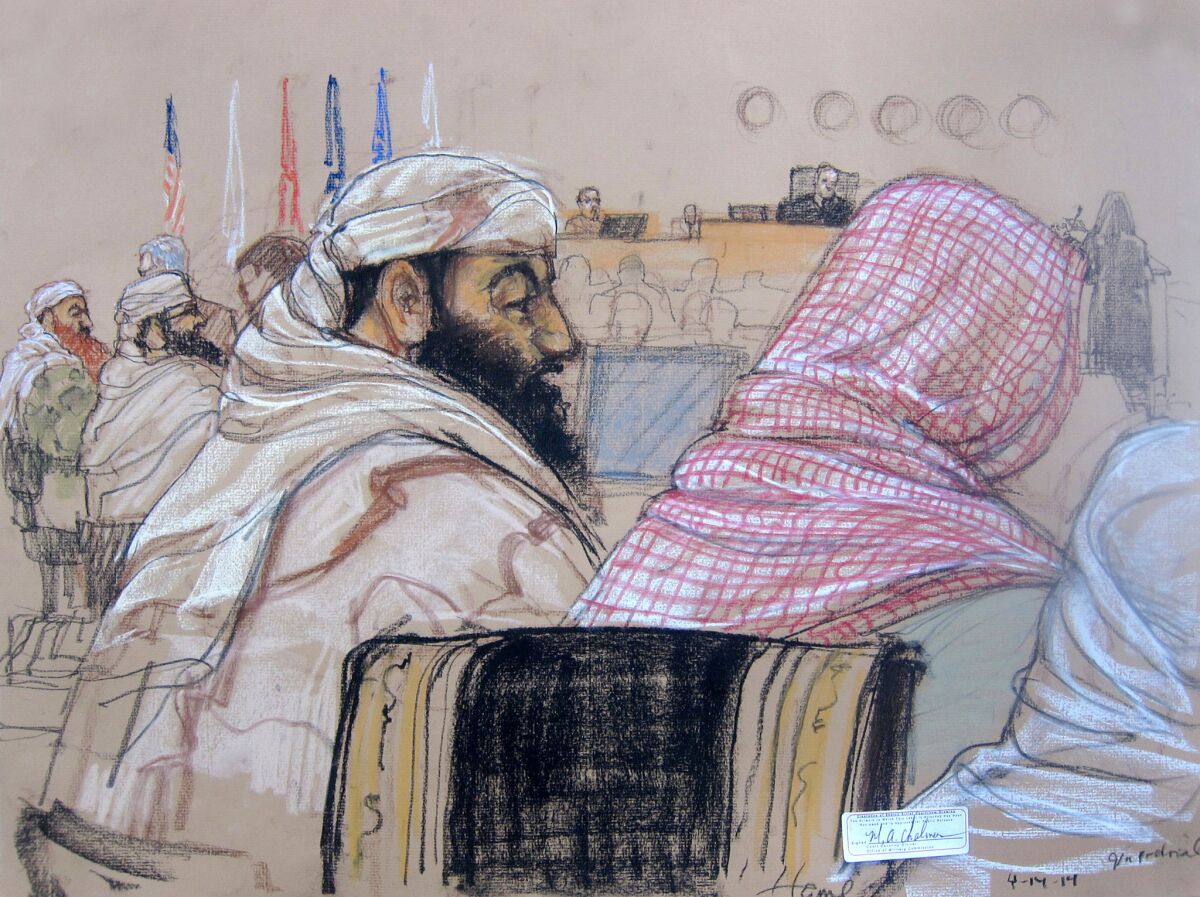 FT. MEADE, Md. — The judge in the Sept. 11 conspiracy case at Guantanamo Bay, Cuba, confirmed Thursday that the FBI is investigating apparent wrongdoing by the defense team for suspected mastermind Khalid Shaikh Mohammed, a complication that has further delayed the complex, slow-moving case.
The sudden turn of events has frustrated prosecutors, who want to move the case closer to trial, and angered relatives of the victims, some them coming away from this week's hearings believing the pretrial process has been "sabotaged."
Mohammed and four others were arraigned nearly two years ago, but the case is deeply bogged down in legal issues. What would be the only trial of those accused of planning, financing and orchestrating the worst terrorist attack in U.S. history is possibly still years away.
Donald Arias, whose brother Adam Arias died in the World Trade Center, said he could not understand why the U.S. government has used drones to kill terrorists abroad and yet is "obsessed" with granting the five Guantanamo Bay defendants, none of them U.S. citizens, every legal right before a trial. All five have pleaded not guilty.
"Let's get on with it," he said.
According to revelations Monday, two FBI agents went to the home of a security analyst working with lawyers representing defendant Ramzi Binalshibh on April 6. They reportedly asked him how a manifesto written by Mohammed had been leaked to some news outlets in January and urged him to serve as an FBI informant. The news put off what was supposed to have been a week of pretrial hearings.
The analyst, a civilian contractor with a top secret security clearance, advised his employer, SRA International Inc. in Fairfax, Va., about the FBI visit and the defense teams for all five alleged conspirators later learned of it as well.
The judge, Army Col. James L. Pohl, is now trying to sort out the status of the FBI investigation and determine how to proceed. But on Thursday he cautioned, "I'm not saying there is any wrongdoing by any members of the defense teams."
Pohl said he wants the analyst to step down and write a formal declaration about the FBI visit, seal it in an "envelope not to be read by anybody," and give it to James Harrington, Binalshibh's lead attorney, who will submit it to the court.
Despite the many delays in the case, with critics complaining it could have been held in a federal court years ago, the chief military prosecutor, Army Brig. Gen. Mark Martins, said he remained hopeful that jury selection can begin in January.
"There has been no waning in the effort underway to get this case to trial," he said. "When each of us was assigned to this important mission, we were prepared for a marathon.
"Of course our hearts go out to the family members of those who were killed on 9/11, and we can certainly understand their frustration."
But James G. Connell III, a lawyer who represents Ammar al Baluchi, also known as Ali Abdul Aziz Ali, said he could not see the trial beginning until after 2016. He said 300,000 pages of legal discovery material have been turned over by prosecutors to the defense, but that more substantial documents, such as where the defendants were first held and possibly tortured before being transferred to Guantanamo Bay, have not been made available.
"We are nowhere near a trial," Connell said.
Harrington, Binalshibh's attorney, said defense lawyers still want to visit a wide selection of countries as part of their pretrial research, but it often takes two months to get Pentagon approval for those trips. He said his team hopes to interview potential witnesses in 17 countries, but has been able to visit only seven.
A group of family members who witnessed the proceedings at Guantanamo Bay this week ended up deeply frustrated.
Gloria Snekszer's sister, Vicki Linn Yancey, was aboard the plane that crashed into the Pentagon. "The process to delay, delay, delay discourages me," she said.
The next pretrial hearings are scheduled for June. They are conducted at the detention center at Guantanamo Bay and simulcast at Ft. Meade.
Twitter: @RickSerranoLAT
Must-read stories from the L.A. Times
Get the day's top news with our Today's Headlines newsletter, sent every weekday morning.
You may occasionally receive promotional content from the Los Angeles Times.