Special prosecutor appointed to investigate Missouri rape case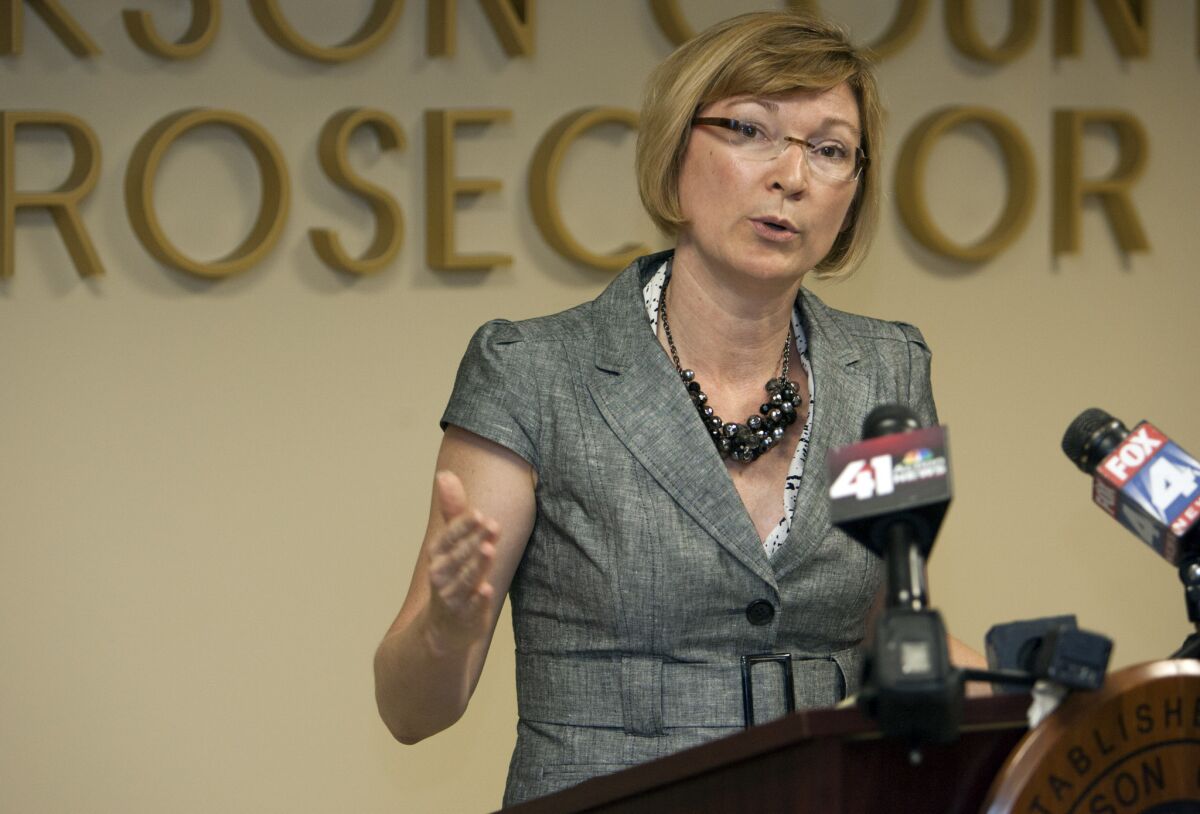 On the heels of pressure from state politicians and a newspaper expose, a special prosecutor in Missouri has been appointed to investigate the alleged 2012 rape of a 14-year-old girl in the small town of Maryville.
Jean Peters Baker, the prosecutor in Jackson County, in the Kansas City area, has been asked by a judge to reexamine the case, which was dropped by the county prosecutor in Maryville even though the girl had identified a 17-year-old high school football player as her attacker.
At a Monday news conference, Baker said her office would "thoroughly review" the case "without fear or favor."
"I can assure you politics, connections … will not play a role in [reviewing] this case," said Baker, a Democrat, who was appointed after insinuations that Nodaway County Prosecutor Robert Rice had dropped the case for political reasons. One suspect's grandfather was a prominent local politician -- a Republican, like Rice.
Baker, who handles one of Missouri's busiest and most intense prosecutor's offices -- and who was appointed by the only Democratic judge in rural Nodaway County -- added that her special victims unit would handle the case.
"This is going to be a process, and for now, this process must be an internal one," Baker told reporters. "My office will not be commenting on this case as we undertake our review. And when the time comes, I promise you … I will announce those charges, whatever those may be."
The case triggered an uproar in Maryville and focused international attention on the town of 12,000. The hacking collective Anonymous has besieged Nodaway County prosecutor Rice and other local officials, tweeting Rice's office phone number to a million or more followers and also targeting the suspect and his family.
Daisy Coleman, now 16, and her mother, Melinda Coleman, have said Daisy was plied with alcohol at the football player's home, sexually assaulted and left on her front porch in freezing weather wearing only a T-shirt and sweatpants. Daisy has said another boy, then 17, videotaped the assault on a cellphone and that her 13-year-old friend was raped the same night by a 15-year-old boy.
The former football star, now in college, was charged with sexually assaulting Daisy, and the other 17-year-old was charged with sexual exploitation. But Rice dropped the charges, saying witnesses had refused to cooperate and that Daisy had twice cited her 5th Amendment rights against self-incrimination while refusing to answer certain questions.
Melinda Coleman told The Times last week that she did not refuse to cooperate and that Daisy had never cited her 5th Amendment rights -- and had refused to sign a document saying she had planned to invoke those rights.
Last week, Rice told reporters that he would ask a county judge to appoint a special prosecutor. The announcement came after two of the state's top Republicans, Lt. Gov. Peter Kinder and House Speaker Tim Jones, requested that the case be reinvestigated. The Kansas City Star published a detailed report, "Nightmare in Maryville,'' that explored the effect of the case on the Coleman family and raised questions about how it was handled by local officials.
"The way the article was written inflamed passions,'' Rice told reporters. "The public trust in our criminal justice system must be upheld at all times.''
Rice said he made his decision, in part, after watching a CNN interview in which Daisy and her mother said they would cooperate with prosecutors. The 13-year-old-girl and her mother also appeared in the interview.
The Times does not normally identify victims of sexual assault, but has done so in this case because Daisy has publicly identified herself.
Daisy's accused attacker, Matthew Barnett, then a defensive end on the high school football team, is from a politically prominent local family. Barnett and Jordan Zech, then 17, were charged as adults. Both pleaded not guilty, saying Daisy had consented to sex.
The 15-year-old boy was sent to the juvenile justice system before the charges were dropped.
The case has been an ordeal for the Coleman family, coming just six years after Daisy's father was killed in a car wreck. In the wake of the incident, Melinda Coleman said she was fired from her job as a veterinarian, and Daisy and the 13-year-old were vilified in social media messages.
After the family moved away to escape the situation, their former home burned to the ground.
Maryville officials say they have been targeted by a hostile phone and email campaign, threats and possible cyberattacks. Barnett's lawyer has said the boy and his family also have been threatened and harassed.
A group on Facebook calling itself "Justice for Daisy'' says it has scheduled a rally Tuesday at the Nodaway County Courthouse. Maryville City Manager Greg McDanel told reporters last week that the town would "remain on high alert,'' increase police patrols and "do everything in our power to protect our citizens.''
ALSO:
Student shooter and teacher dead at Nevada middle school
New Jersey Gov. Chris Christie drop gay-marriage court appeal
Shooting breaks out in Las Vegas after-hours club Bally's, 1 dead
---
Must-read stories from the L.A. Times
Get the day's top news with our Today's Headlines newsletter, sent every weekday morning.
You may occasionally receive promotional content from the Los Angeles Times.