Montana judge to be suspended after blaming sex-assault victim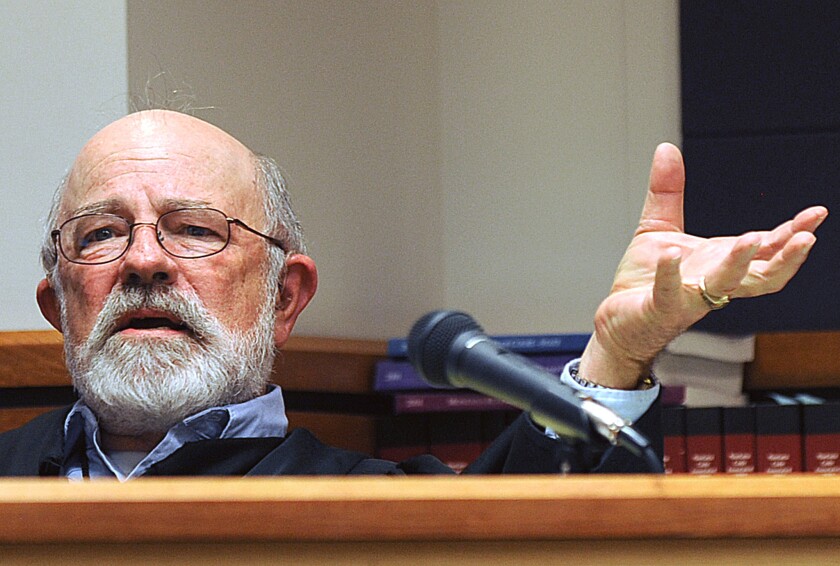 A Montana judge who ignited a nationwide firestorm by saying a 14-year-old sexual assault victim was at least as much to blame as her attacker -- whom he sentenced to 31 days in jail -- has been ordered suspended without pay for one of his last seven months on the bench.
The state Supreme Court's decision on Wednesday went further than the recommendation of the state's judicial ethics panel, which had called for a public censure of Yellowstone County District Judge G. Todd Baugh. The Supreme Court adopted that lesser penalty as well. The 72-year-old judge is expected to be formally scolded July 1.
Baugh, who was first elected in 1984, drew eight formal complaints, hundreds of protesters and thousands of angry comments on social media in April 2013 after he described the teenage sexual victim as "a troubled youth, but a youth that was probably as much in control of the situation as [teacher Stacey Rambold], one that was seemingly, though troubled, older than her chronological age."
The judge also told reporters that the assault "wasn't this forcible beat-up rape."
Baugh sentenced Rambold to a month in jail. In April, the Montana Supreme Court ordered another judge to resentence Rambold as early as this month.
The high court reiterated in its decision Wednesday that Baugh had imposed an "unlawful sentence," made "inappropriate" public comments and "eroded public confidence in the judiciary." Together, those actions violated the state's code of judicial conduct.
"He has caused Montana citizens, as well as others, to question the fairness of our justice system and whether prejudice or bias affected the outcome of the Rambold case," five of six Supreme Court justices wrote in a six-page decision. "There is no place in the Montana judiciary for perpetuating the stereotype that women and girls are responsible for sexual crimes committed against them."
In a 25-page dissent, Justice Laurie McKinnon said the court was wrong to overstep the recommendation of the state's five-member judicial ethics commission -- the first time she believed it has done so. The panel includes two judges elected by colleagues, an attorney chosen by the Supreme Court and two people unaffiliated with the courts who are chosen by the governor.
McKinnon said her colleagues had escalated the punishment without explanation.
"As a result, we have ultimately exacerbated the breach in public confidence initially wrought by Judge Baugh," she wrote.
She said the court was taking the easy route by responding to public outcry with an increased sanction while failing to be "evenhanded and transparent."
Baugh had already agreed to accept a censure, which is a public declaration by the Supreme Court that a judge is guilty of misconduct. But he had not accepted the suspension. Now, he has 15 days to challenge it.
Baugh couldn't be reached for comment through his family or his courtroom.
The worst punishment available would have been a permanent ban from the bench. But Baugh has already declared that he will retire Dec. 31. The Supreme Court said he would be suspended all of December.
Rambold was a 47-year-old high school teacher in Billings when he began having sex with the girl, then 14. He was charged in 2008, and his trial was set for April 2010. Before the trial began, however, the victim killed herself. Rambold and the state reached an agreement that called for him to be in a program for sexual offenders and avoid contact with minors.
Rambold failed to comply with the agreement, according to the court papers. By 2012, the state had moved to prosecute again. Rambold eventually pleaded guilty to a charge of sexual intercourse without consent. The state asked for a prison sentence of 20 years with 10 years suspended. The defense asked for a sentence of 15 years with all but 30 days suspended.
Rambold was sentenced to 31 days. He served his time and was released. His attorneys had insisted in court filings that the original sentence was appropriate, and cited a "lynch mob" mentality after the outcry over the case.
Rambold must serve a minimum of two years in prison under state law, prosecutors said.
---
Must-read stories from the L.A. Times
Get the day's top news with our Today's Headlines newsletter, sent every weekday morning.
You may occasionally receive promotional content from the Los Angeles Times.