Philadelphia abuzz over possible 2015 visit by Pope Francis
Pope John Paul II, President Clinton and First Lady Hillary Rodham Clinton greet cardinals and bishops in Denver after the pope's arrival.
(Marcy Nighswander / Associated Press)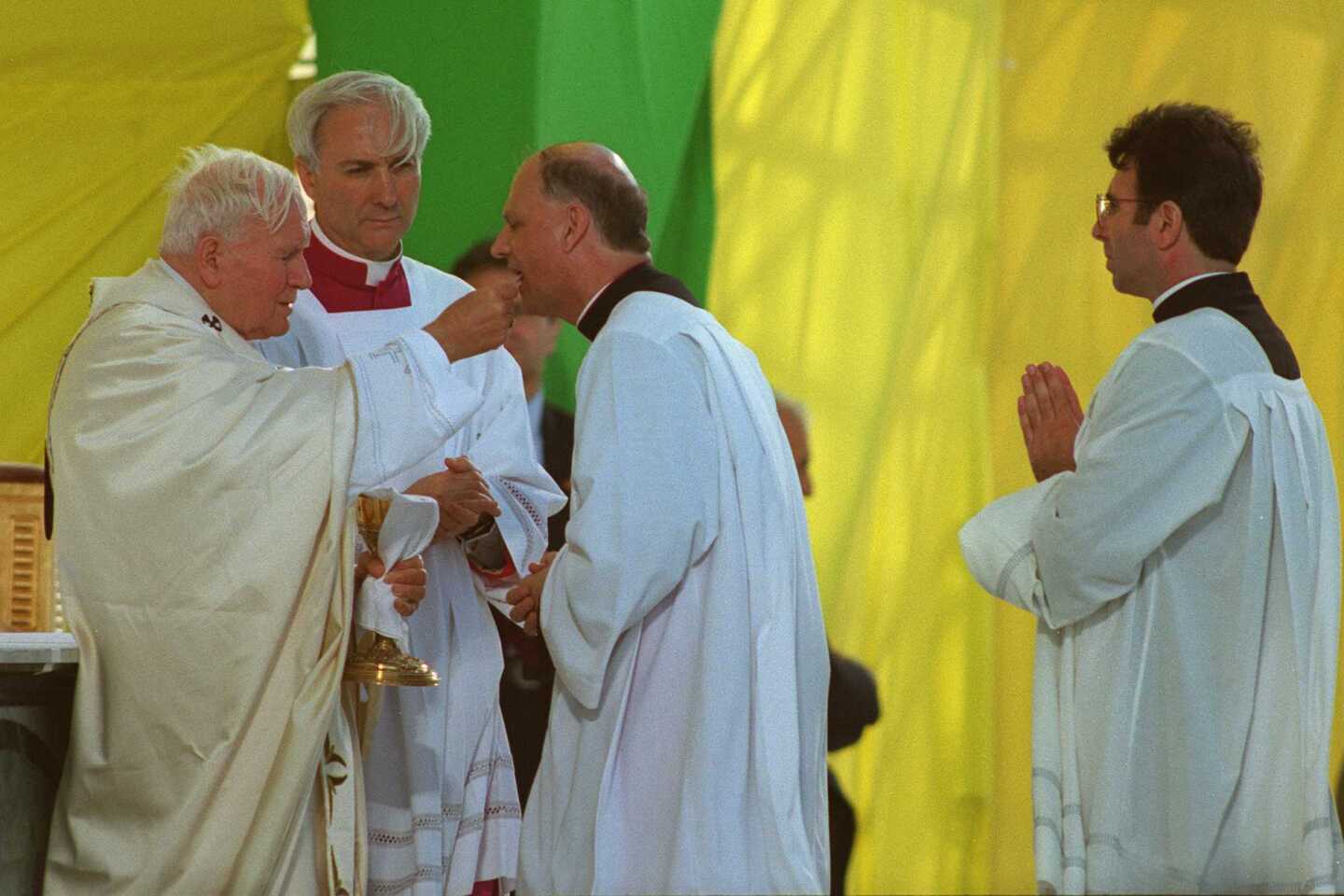 Pope John Paul II presides over a Mass at Aqueduct Racetrack in Queens, N.Y.
(Gary Friedman / Los Angeles Times)
Pope John Paul II waves to the crowd at Aqueduct Racetrack in Queens, N.Y.
(Gary Friedman / Los Angeles Times)
Pope John Paul II arrives at the steps of St. Patrick's Cathedral in New York City.
(Gary Friedman / Los Angeles Times)
Pope John Paul II gives Communion to two girls at New York's Central Park.
(Gary Friedman / Los Angeles Times )
During Pope John Paul II's visit to Baltimore, attendees at a papal Mass in Camden Yards receive Communion.
(Ruth Fremson / Associated Press)
Pope John Paul II and President Clinton clasp hands as they leave the stage after addressing a crowd in St. Louis.
(Ron Edmonds / Associated Press)
Pope Benedict XVI arrives at Andrews Air Force Base in Maryland, where he is greeted by President George W. Bush and First Lady Laura Bush.
(Carolyn Cole / Los Angeles Times)
At St. Joseph Seminary in Yonkers, N.Y., Pope Benedict XVI waves to the crowd during a youth rally.
(Carolyn Cole / Los Angeles Times)
Though the Vatican hasn't made an official announcement, news that Pope Francis may visit Philadelphia in 2015 has generated buzz among the Catholic community and city residents.
Vatican officials told the National Catholic Reporter on Friday that Pope Francis intends to attend the World Meeting of Families, a global Catholic event that aims to "support and strengthen families."
The event is held every three years and is scheduled to take place Sept. 22-27, 2015, in Philadelphia. It has been held in various parts of the world since it was launched under Pope John Paul II in 1994.
The Archdiocese of Philadelphia is "eagerly anticipating" the event, said Kenneth Gavin, director of communications for the archdiocese.
"The World Meeting of Families has traditionally been attended by the Holy Father," Gavin said in an email statement to the Los Angeles Times. "We are planning as if Pope Francis will be with us and have no indication he will not attend."
However, Gavin reiterated that reports "circulating widely today" that Pope Francis is expected to attend "are not official."
Donna Crilley Farrell, executive director of the World Meeting of Families, said excitement for the Philadelphia conference has been building since the end of the most recent meeting of families in Milan, Italy, in June 2012.
The Milan conference had about 12,000 attendees but close to 1 million people showed up for the closing Mass, she said.
"We would expect similar numbers if Pope Francis came to Philadelphia," she said.
The last pontiff to visit the city was Pope John Paul II in 1979.
"There were at least a million people here on the Ben Franklin Parkway for his Mass," she said. "I think there is still an impact on the city from that visit."
If Pope Francis were to come, it would be a "real gift for Catholics" in the area, she said.
Tourism officials at Visit Philly, the region's official destination marketing organization, tweeted: "Big news! Pope Francis is planning to visit Philadelphia in 2015" with a link to an article.
Many people retweeted or replied with responses such as "we'd better get moving on those new hotels!" and "I'm excited but would wait for confirmation from Philly and Vatican officials."
Victoria Harris, 27, took to Twitter to express her enthusiasm. Though she is Christian but not Catholic, she thinks the pope's potential trip to Philadelphia will have a positive influence for the city overall.
"I love the city and I tell everyone I know all the great things about it," she told The Times. "I think having the pope come will be big because a lot of people will come and see him and it will showcase the city."
Mark McDonald, press secretary for Philadelphia Mayor Michael Nutter, said the city, which has a large Catholic and Christian population, would be excited to welcome the Pope. According to Pew Research, 29% of U.S. adults in Pennsylvania are Catholic.
"If and when it is confirmed from the Vatican that the pope will be visiting ... there will be a tremendous welcome for him," he said.
Vatican City announced its decision to hold the meeting in Philadelphia in February 2013, just before Pope Benedict XVI's resignation.
McDonald said city officials were pleased by Pope Benedict's decision to host the next meeting in Philadelphia.
"We've been simply waiting since then to see whether Pope Francis will be able to place it on his itinerary at that point in time," he said. "It would simply be a wonderful event for Philadelphia should he be able to come."
If Pope Francis does attend the 2015 conference, it would be his first official visit to the United States.
ALSO:
40-vehicle pileup snarls snowy I-94 in Indiana
What's at issue in Texas battle over brain-dead pregnant woman
25 dead pilot whales found off Florida: 5 things to help understand it
Twitter: @saba_h
Must-read stories from the L.A. Times
Get the day's top news with our Today's Headlines newsletter, sent every weekday morning.
You may occasionally receive promotional content from the Los Angeles Times.