George Zimmerman's wife: 'I have doubts' about his innocence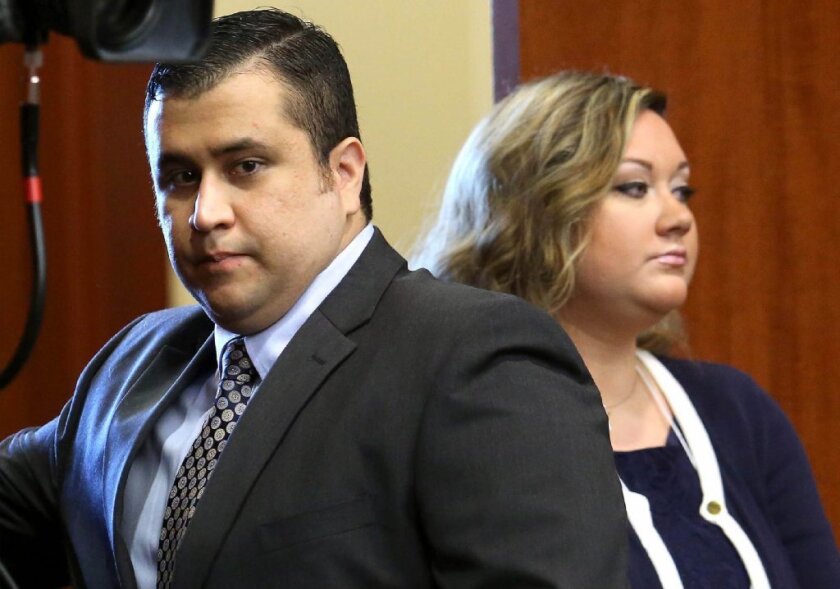 George Zimmerman's wife is raising questions about his innocence in the 2012 shooting of Trayvon Martin, as the couple's marriage continues to publicly go sour.
"I think anyone would doubt that innocence, because I don't know the person that I've been married to," Shellie Zimmerman told NBC's "Today" show on Thursday as her lawyer sat beside her. "I have doubts," she said, yet added, "I also believe the evidence" that led to his acquittal.
The Zimmerman saga took another turn this month when the couple got into a marital spat at George Zimmerman's house in Lake Mary, Fla., a few days after Shellie Zimmerman filed for divorce. She had come to pick up some things, and he reportedly got into a fight with her father.
George Zimmerman told police that his wife had hit him with her iPad; Shellie Zimmerman told the cops that her husband had put his hand on a gun beneath his shirt and said, "Step closer."
Police investigated, but ultimately neither side pressed charges.
"In hindsight, I should have [pressed charges], and I really regret that," Shellie Zimmerman told NBC's Matt Lauer. "But I'm on probation, and the officers made it very clear that day that if I pressed charges, we were all going to go to jail, and I would have been the only one to stay there."
Shellie Zimmerman is on probation for lying to a Florida judge about the couple's finances.
The recent argument at the house, however, led Shellie Zimmerman to reevaluate the man she married, she told Lauer. "I saw a look in his eyes that I've never seen before that day," she said.
She hasn't had a chance to see it again: She and her lawyer, Kelly Sims, said they haven't been able to serve George Zimmerman with divorce papers because they don't know where he is.
If recent history is a guide, the public could learn where George Zimmerman is if police spot him on the roads again: The Orlando Sentinel reported Thursday that Zimmerman had been stopped by police yet again after his acquittal -- this time by the Florida Highway Patrol in Brevard County on Aug. 19.
Zimmerman was stopped "for window tint that was too dark, as well as a tag cover that was placed over his tag," and was issued a warning but not ticketed, patrol spokeswoman Kim Montes told the Sentinel.
Zimmerman has also been pulled over for speeding in Texas and in Lake Mary since his acquittal. He also made news for assisting a family whose SUV crashed in Seminole County.
The Today show reported that Zimmerman did not want to comment on his wife's Thursday appearance, in which Shellie Zimmerman said she'd lost 40 pounds since the trial and was trying to take better care of herself.
"He just kind of treated me like I was disposable," she said of her husband after the trial ended. "After standing by him, he kind of left, and kind of went on a victory tour without me. I thought I was living a life with him, and that we were going to kind of rebuild after all of this, and he had other plans for me."
But Shellie Zimmerman also said that she believed the justice system worked and that her husband had not followed Martin, 17, because he was black.
"I respect the jury's decision. They saw more evidence than I've seen," she said, adding, "He did not profile Trayvon Martin."
ALSO:
Baby Veronica, Cherokee girl, returned to adoptive parents
Could this explorer have found a real pirate treasure trove?
Former President George H. W. Bush witness at same-sex marriage
---
Must-read stories from the L.A. Times
Get all the day's most vital news with our Today's Headlines newsletter, sent every weekday morning.
You may occasionally receive promotional content from the Los Angeles Times.