Judge rules Army command interfered in Sinclair sex assault case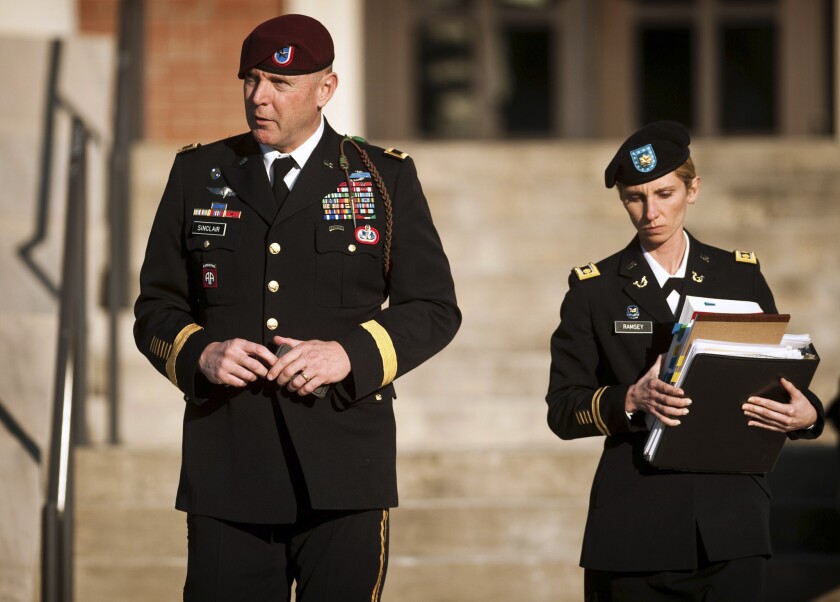 FT. BRAGG, N.C. -- A military judge ruled Monday that the U.S. Army improperly interfered with a decision to reject an offer by Brig. Gen. Jeffrey Sinclair to plead guilty to lesser charges in his sexual assault case.
The judge, Col. James C. Pohl, ruled that Army officials exerted "unlawful command influence'' when a three-star general turned down Sinclair's offer before the trial. He gave defense attorneys the option of renewing Sinclair's original plea offer or a different plea offer; in any case, the judge said, the case must be overseen by a new command authority.
Evidence of command decisions in the case did not come to light until after Sinclair's accuser, a fellow Army officer, testified Friday that Sinclair sexually assaulted her and threatened to kill her and her family if she disclosed their three-year sexual affair.
Defense attorneys learned of the new evidence over the weekend, when Army lawyers turned over emails from Army lawyers and the three-star general.
"We're in a rather unusual place," the judge said Monday.
The defense has contended that the Army trumped up charges against Sinclair in response to intense political pressure to show that it is cracking down on sexual abuse. Sinclair was charged at a time of heightened political and public concern about a surge of sexual violence in the military.
Pohl last week dismissed an earlier defense motion to drop all charges because of unlawful command influence. But that was before the incriminating emails were aired in court Monday morning.
The emails appear to show that there was concern among Army officials about the accuser's truthfulness -- in addition to similar concerns cited by the lead prosecutor before he quit the case last month after failing to persuade the Army to drop the most serious charges against Sinclair.
Sinclair, 51, the former deputy commander of U.S. troops in southern Afghanistan, pleaded guilty Thursday to adultery, inappropriate relationships with two other female officers; attempting an inappropriate relationship with a third; impeding an investigation, and viewing pornography while on duty. That was a tactical move by the defense to avoid salacious accounts of philandering and pornography, and to focus instead on attacking the accuser's credibility.
Sinclair remains charged with sexual assault, sodomy, groping the captain against her will, "open and notorious'' sex, and abusing his government credit card in pursuit of trysts with the captain.
His original plea offer presumed that some of the more serious charges would be dismissed.
In court Monday, Pohl discussed with defense and Army lawyers how to proceed in light of the fact that a jury panel of five male two-star generals has already heard testimony by the accuser -- and that Sinclair's guilty plea last week occurred only after his earlier offer to plead guilty and see dismissal of some of the more serious charges had been rejected.
Sinclair's lead defense lawyer, Richard Scheff, told the judge, "This panel has been tainted. This process has been tainted.''
He added: "The remedy has to be dismissal of those [sexual] assault charges.''
The lead Army prosecutor, Lt. Col. Robert Stelle, suggested having a new "command authority'' -- a senior commander who decides whether to proceed with charges -- consider whether to consider Sinclair's original plea offer or a new, revised offer. The judge agreed that a new command authority would be required, but asked why he should give the Army more time with the case after prosecutors were late in turning over crucial evidence.
The judge made it clear he was troubled by testimony earlier Monday morning by Lt. Gen. Joseph Anderson. The "convening authority" who decides whether to pursue charges was questioned by the judge by phone from Afghanistan. The three-star general's testimony conflicted with an email he wrote in December, when Anderson said he had decided to reject an offer by Sinclair to plead guilty to lesser charges.
At issue is a letter sent to Anderson by the special victim's advocate for Sinclair's accuser, a 34-year-old Army captain. In the letter, the advocate wrote that accepting Sinclair's offer "would have an adverse affect on my client and the Army's fight against sexual assault.''
In a Dec. 20 email, Anderson wrote: "I have read the letter and made my decision'' to reject Sinclair's plea offer. But in testimony Monday, speaking by phone from the Swedish embassy in Kabul, Anderson said he did not recall reading the letter.
"I saw it but did not read it word for word,'' Anderson testified.
He said he wasn't interested in the advocate's position but wanted instead to know what the accuser thought. When he learned that the accuser strongly objected to the plea, Anderson said, he decided to reject it.
Stelle suggested to the judge that Anderson's Dec. 20 email referred to a cover letter on a package of legal documents sent to Anderson by the defense team. But in a Dec. 18 email, Anderson's military legal advisor strongly suggested that he showed the advocate's letter to Anderson -- and that it made it "an easy decision'' to turn down Sinclair's plea.
Anderson did not formally reject Sinclair's plea until Jan. 16 but refused to accept Scheff's offer to meet and discuss the plea. Scheff said Anderson decided to reject the plea after reading the letter from the victim's advocate.
The defense contends that Anderson's email, coupled with emails from top Army lawyers expressing doubts about the accuser's truthfulness, constitute "unlawful command influence,'' or political interference.
The judge in his ruling said "the record supports he [Anderson] did see" the letter and used it in deciding to reject the plea. He said Anderson's explanation "does not seem to make any sense."
Pohl made it clear he was annoyed by the prosecution's late production of the crucial emails.
"Do we have to wait two months in the middle of the trial before we get these?'' Pohl asked, his voice rising.
"When does it end?'' the judge asked the lead government prosecutor. "You dribble discovery to the defense.... We have hearing after hearing ... and then a little more comes out.''
Scheff told the judge that he had been deceived and "stonewalled'' by prosecutors regarding the emails. When asking for emails in pre-trial discovery, Scheff said, prosecutors accused him of going on "a fishing expedition.''
"Every time, we catch fish,'' he said, referring to the emails received over the weekend, and other emails provided earlier.
Scheff described unlawful command influence and political interference as "a cloud hanging over this case.''
"How can anyone have confidence in this process?'' he asked the judge, who did not contradict him.
The accuser previously testified during a preliminary hearing Jan. 7 about a cellphone she said she found while unpacking boxes on Dec. 9, long after evidence in the case was supposed to be turned over. Forensic analysis indicated that the woman lied about when she found the phone and what she did with it. The phone contains messages to and from Sinclair.
"It is possible that she was not truthful,'' Col. Michael Lacey, a senior military lawyer at Ft. Bragg, wrote in an email to Anderson on Jan. 8, the day after the accuser testified.
Lacey wrote of the accuser: "The forensic analysis of the phone indicates she accessed the phone before 9 December, which brings her credibility into question.''
Anderson's testimony was important because the email from Lacey told him that the accuser appeared to have lied on the stand.
ALSO:
Immigration detainees on hunger strike in Washington state
Chicago rapper, known for 'Shooters' song, charged with murder
Dozens of revelers arrested at 'Blarney Blowout' in Amherst, Mass.

---
Must-read stories from the L.A. Times
Get the day's top news with our Today's Headlines newsletter, sent every weekday morning.
You may occasionally receive promotional content from the Los Angeles Times.