New York Mayor de Blasio reaches agreement on stop-and-frisk reforms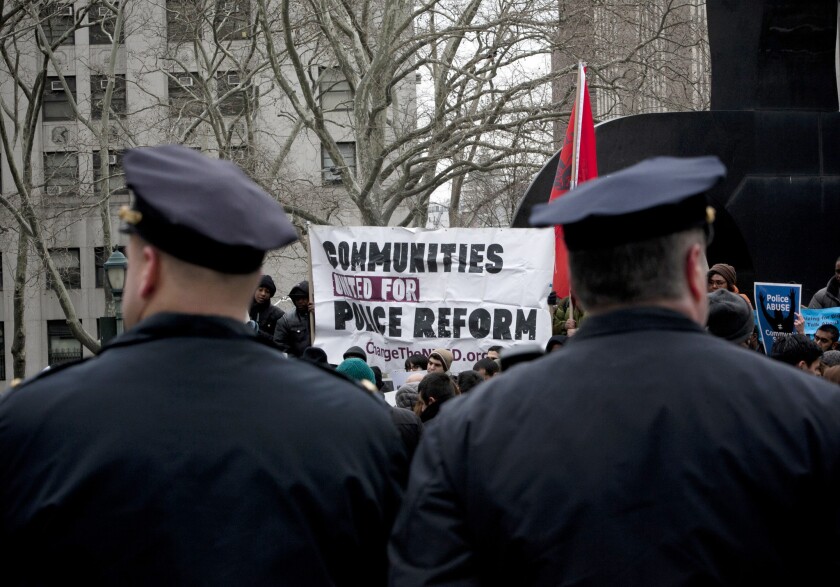 NEW YORK -- Following a long-fought legal battle over the New York Police Department's stop-and-frisk tactics, Mayor Bill de Blasio announced Thursday that the city has reached an agreement with civil rights attorneys that will bring about major reforms of the policy.
Under the agreement, a court-appointed monitor will oversee for three years the NYPD's reform efforts aimed at ending discrimination, de Blasio said at a press conference. Groups that have been affected by the policy will have input in the reform process.
Once the agreement has been confirmed by the court, the city will immediately move to withdraw its appeal launched by former Mayor Michael Bloomberg. Mayor de Blasio, the first Democrat elected mayor in New York since 1989, made reforming the stop-and-frisk policy a cornerstone of his campaign.
"This is a defining moment in our history," de Blasio said. "It's a defining moment for millions of our families, especially those with young men of color. And it will lay the foundation for not only keeping us the safest big city in America, but making us safer still. This will be one city, where everyone's rights are respected, and where police and community stand together to confront violence."
In August, U.S. District Judge Shira A. Scheindlin wrote that NYPD had turned a "blind eye" toward the constitutional implications of its long-running strategy of proactively stopping and searching city residents who were often black or Latino.
The policy allowed police to use the "stop-and-frisk" tactic if they had a "reasonable suspicion" that a person has committed a crime or is about to commit a crime.
"The goal of deterring crime is laudable, but this method of doing so is unconstitutional," Scheindlin wrote, noting that in 98.5% of 2.3 million frisks "no weapon was found" and that blacks were 30% more likely than whites to get arrested for the same suspected crime.
Bloomberg filed an appeal, arguing "nowhere in her 195-page decision does [Scheindlin] mention the historic cuts in crime or the hundreds of lives that have been saved." On Oct. 31, the U.S. 2nd Circuit Court of Appeals removed Scheindlin from the case and blocked a lower court order requiring changes to the police policy.
De Blasio said that the reforms will not lead to a increase in crime.
"We believe this will make us all safer," said De Blasio, insisting it would free up officers to focus on community policing and improve relations between the police and communities hit hard by stop-and-frisk. "The partnership will be there. We're convinced this is the pathway forward."
Newly appointed Police Commissioner William J. Bratton agreed, citing his years as Los Angeles police chief as evidence that improving community relations would reduce crime.
"I've seen it work in another city, and it can work here," he said.
The NYPD "will not break the law to enforce the law," Bratton said. "We are committed to fulfilling our obligations under this agreement as we protect and serve this great city," he said.
Many, including local activists, plaintiffs and lawmakers, commended the reform.
"Today is the beginning of a long-overdue process: the reform of the NYPD to end illegal and racially discriminatory policing," Center for Constitutional Rights Executive Director Vincent Warren told reporters. "We are glad to have reached an agreement with the city and commend Mayor de Blasio for promising to drop the appeal and embracing reform."
Lead CCR attorney Darius Charney echoed the sentiments.
"We look forward to working with the communities directly affected on the streets every day to come up with solutions that protect the rights of all New Yorkers," he said.
One of the plaintiffs in the class-action suit, Nicholas Peart, also addressed reporters.
Peart, who is black, was stopped several times under the stop-and-frisk law.
"You carry that burden of being illegally stopped and frisked into your adulthood," he said. "I decided to take part in the … case because I was tired of seeing the same scenario of my parents stopped and frisked."
Times Staff Writer Tina Susman contributed to this report.
ALSO:
Maryland mall shooter wrote in journal that he was 'ready to die'
Atlanta storm traffic like zombie movie, driver stuck 22 hours says
Cruise ship back home in N.J.: Tales of quarantine after 684 fell ill
Twitter: @saba_h
---
Must-read stories from the L.A. Times
Get all the day's most vital news with our Today's Headlines newsletter, sent every weekday morning.
You may occasionally receive promotional content from the Los Angeles Times.