Rain pounds Texas: A sign the drought is ending?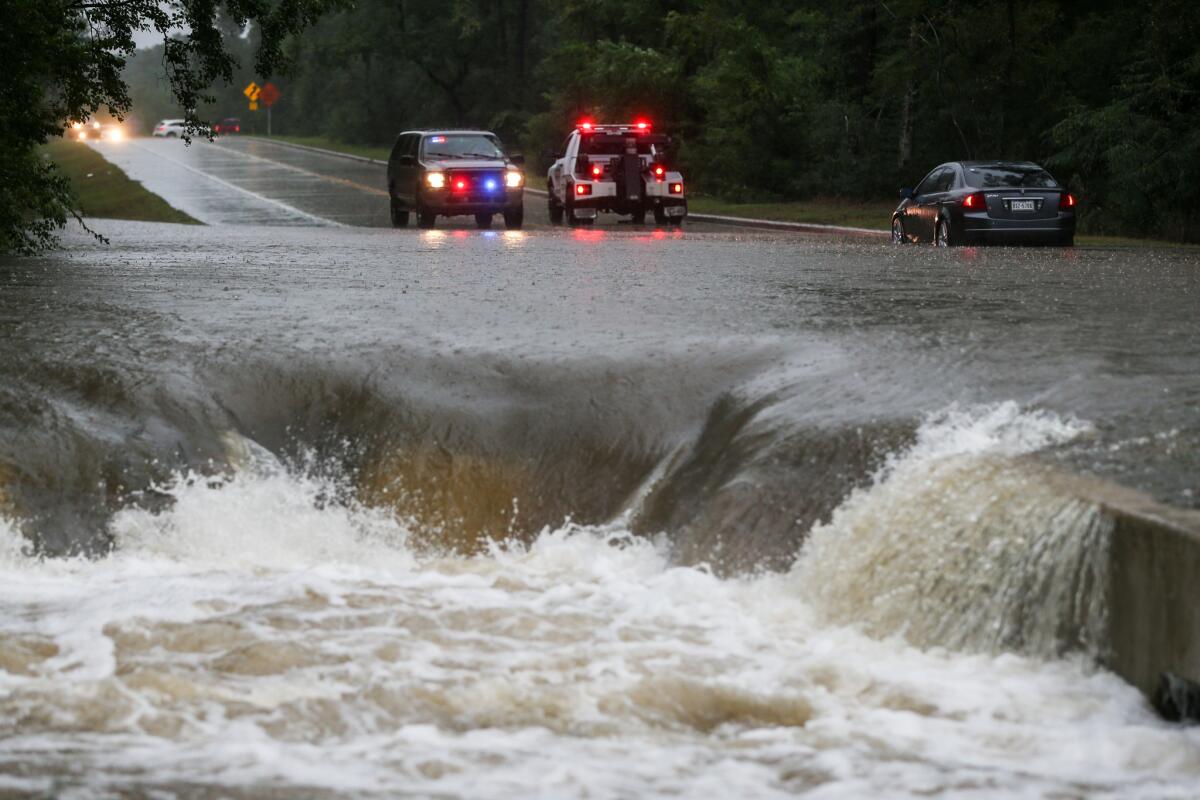 Reporting from Houston —
In Texas, where the governor once urged the public to pray for rain, this week's torrential storms might finally be a sign of lasting relief for the state plagued by years of drought. Or maybe not.
"This could be the start of the end of the drought," said state climatologist John Nielsen-Gammon, a professor of atmospheric sciences at Texas A&M University.
Ken Rainwater, former director of the Water Resources Center at Texas Tech University in Lubbock, is more skeptical.
"We've been behind on rainfall for several years in West Texas. We have thirsty watersheds," said Rainwater, a professor of civil, environmental and construction engineering. "We need multiple, wetter years."
This week's storm system, driven by the remnants of Hurricane Odile, brought rain to East, West and Central Texas starting Thursday, up to 8 inches in places.
In the Austin area, flooding Thursday was so severe that a Travis County sheriff's deputy was washed away and officials were still searching for her Friday afternoon.
In the Houston area Friday, more than two dozen drivers were stranded by flooding, and nearly a dozen crashes with injuries occurred before noon, according to a spokesman for the Harris County Sheriff's Office. Rainfall slowed during the afternoon, but a flood watch remained in effect through the night.
In West Texas, flash flood watches were issued through Saturday morning for areas surrounding Lubbock and Midland.
"That's desert country out there, so it only takes an inch or to and they've got some serious flooding," said Ted Ryan, a meteorologist with the National Weather Service in Fort Worth.
Flash flooding is the leading cause of weather-related fatalities in Texas, he said, in part because drivers often can't spot a washed out road until it's too late.
"You can't see that it dips down and that's where you get in trouble. Many times the road is washed out and it's much deeper than you think it is," he said.
He noted that many West Texas reservoirs are nearly empty, leading to concern about dwindling water supplies in urban areas such as Lubbock and Midland. This storm, he said, "will hopefully provide much more water for them to fill up those lakes."
Nielsen-Gammon, the state climatologist, said many Texas reservoirs are below 20% capacity, lower than those in California.
Texas has been coping with severe drought conditions longer than California has, he said. And unlike California, where Sierra Nevada snowmelt is transported throughout the state, rainwater in Texas is used where it lands, leading to regional gains and losses.
"Unlike California, where you can get one individual event helping most reservoirs, the weather doesn't work that way here," he said. "We still have the majority of the state in drought, although that could change once we do the accounting of this period of rainfall. It could potentially change the drought from a statewide drought to a few local droughts."
Statewide water storage in reservoirs, usually 79% of capacity this time of year, are down to 63.7%. That's a fraction of a percent fuller than two days ago, with an added 62,000 acre feet of water, according to Robert Mace, deputy executive administrator for water science and conservation at the Texas Water Development Board.
Reservoirs near Midland in West Texas are worse than that, usually about 30% full, they are down to 8%, he said. One reservoir outside nearby San Angelo is at 1.5%. But with more rain in the forecast there next week, Mace said, there is hope they might be replenished.
"You could argue these recent rainfalls have primed the pump, they've put some moisture into the soil. With more rain coming, hopefully that will saturate the soil and we'll get more runoff that will put more water in our rivers and reservoirs," he said. "The prognosis looks good for continuing recovery."
But Austin Keesee, 28, of Wichita Falls, called this week's rainstorms "a Band-Aid on a bullet wound."
Keesee's father was a cotton and peanut farmer in West Texas and so was he, until recently. They moved and started a stone and monument company.
He worries that recent rain will give other local farmers a false sense of hope that the drought is ending when in reality "it hasn't been enough."
"It would be scary to see the type of rain it would take to break the drought, just because we are so behind," he said. "What it would take to refill reservoirs — you're talking almost a biblical flood."
Twitter: Follow mollyhf for national news.
Sign up for Essential California for news, features and recommendations from the L.A. Times and beyond in your inbox six days a week.
You may occasionally receive promotional content from the Los Angeles Times.