West Virginia spill criticism grows amid new fear over tainted water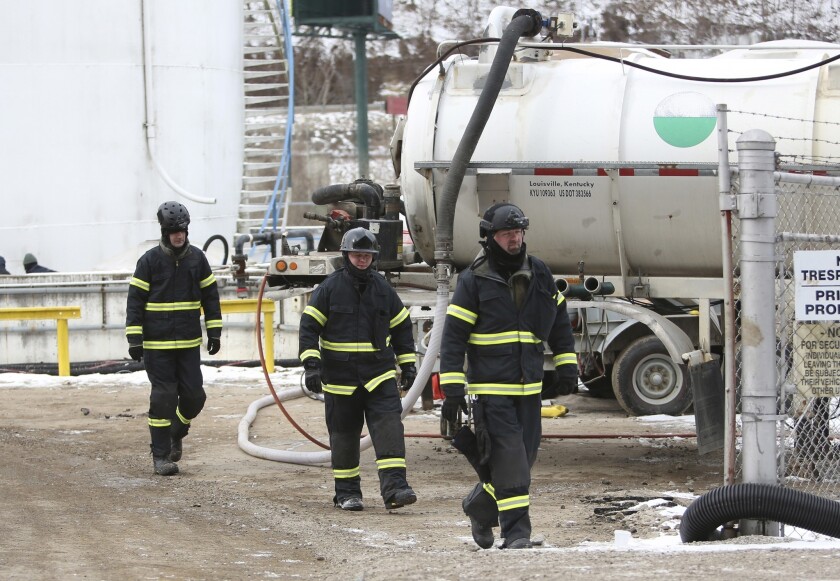 The top public health official in Charleston, W. Va., has added to widespread criticism of the decision to declare drinking water safe despite a critical lack of scientific data about the coal-washing chemical that spilled into the Elk River on Jan. 9.
Dr. Rahul Gupta, director of the Kanawha-Charleston Health Department, the largest in West Virginia, said in an interview Friday that the water can't be considered completely safe because scientists don't know the possible health effects of exposure to the chemical. He said officials have confused the 300,000 residents whose water was tainted by first declaring it safe, then resuming distribution of bottled water Thursday.
"If you weren't confused before, welcome to our world of confusion here," Gupta said in a telephone interview. "People are naturally confused when they are told on the one hand that the water is safe, and on the other hand they [officials] are now redistributing water."
Further complicating matters, Gupta said, three local schools on Friday reported low but elevated levels of 4-methylcyclohexane methanol, or MCHM. Kanawha County school officials said the schools' water systems would be flushed again over the weekend.
These reports come as local doctors are recommending, almost unanimously, that their patients in affected areas not use their tap water, Gupta said.
Gupta said he and his wife -- a physician -- and his two teenage sons are not using tap water at home, which he says still emits an odor. "It's difficult for people to drink water that still has a licorice smell and has an aftertaste," he said.
State and federal officials are doing the best they can with limited data, Gupta said. But the lack of information about the health effects of MCHM, plus conflicting messages to the public, have raised serious doubt about the water's safety nearly three weeks after it was declared safe.
For public health officials, the situation is untenable, Gupta said. Residents are still visiting doctors and hospitals to complain of skin rashes, eye irritation, nausea and vomiting that they blame on their tap water, he said. But there is no monitoring program to determine whether those conditions are caused by the water or something unrelated.
"It's very difficult to calm people's concerns, especially when the water continues to smell and have an aftertaste," he said. He tried drinking the water at Charleston's town hall, he said, but stopped because of the odor and aftertaste.
Gupta said there is "deep distrust" among public health officials about the limited data relied on by federal officials to determine safety standards for MCHM. He said about 95% of the residents he has spoken to in town meetings and elsewhere have told him they are not using their tap water.
Responding to complaints from residents worried about safety, Gov. Earl Ray Tomblin on Thursday asked West Virginia American Water, the company whose water treatment plant was tainted by the spill, to provide bottled water to residents in nine counties, including Charleston, the capital. The water company immediately began distribution, despite the fact that officials had declared the water safe.
"My staff continues to receive calls from constituents and organizations requesting bottled water be made available in their communities," Tomblin wrote in a letter to the water company president. The governor noted that the state had spent $890,000 to distribute 17.5 million bottles of water before Tomblin lifted the "do not use" order Jan. 13, saying extensive testing had determined that the water was safe.
The governor's "State of Emergency" page on his website offers information on where residents can pick up free bottled water. It's the same site that announced the lifting of the "do not use" order.
Independent scientists have criticized state and federal officials for declaring the water safe, despite what they say is a lack of testing of MCHM for the chemical's health effects on humans. They have challenged the federal safety standard of 1 part per million set by the Centers for Disease Control and Prevention, saying it was based on faulty or incomplete data.
"Absolutely no data are available on the chemical [MCHM] with respect to exposure through inhalation," Richard Denison, a senior scientist at the Environmental Defense Fund, wrote Thursday in a blog post titled "Should we be holding our breath waiting for more information on risks of the chemical spilled?"
"Yet officials did not hesitate to tell residents the 1 ppm would be safe not only for drinking the water, but also for bathing and showering," Denison wrote. He has accused state and federal officials of an "epic fail" in their handling of the crisis.
On Wednesday, an environmental scientist on West Virginia's Environmental Quality Board stirred more public fear when he told a legislative committee in Charleston that area residents were at risk of breathing in formaldehyde by showering in the tainted water.
"I can guarantee you that citizens in this valley are, at least in some instances, breathing formaldehyde," Scott Simonton, a Marshall University scientist, told the panel.
"It's frightening, it's really frightening," Simonton said. He said he and his family are not drinking or cooking with the water.
Formaldehyde is listed by the Environmental Protection Agency as a likely human carcinogen that has caused cancer in animals. The EPA says the colorless, pungent gas can cause nausea, burning sensations in the eyes and throat, and breathing difficulties in exposure to elevated levels, defined as above 0.1 ppm. It can also trigger severe allergic reactions.
Formaldehyde is used in plywood, paneling, particleboard and furniture, and as an adhesive and a preservative in paints.
The West Virginia Department of Health and Human Resources criticized Simonton's testimony as "totally unfounded." In a statement, the department said formaldehyde occurs naturally in the air, is produced in small amounts by the human body, and could be released from MCHM only if the chemical were heated to 500 degrees.
The statement said Simonton was not part of the multiagency team testing the water. "His opinion is personal but [he] speaks in no official capacity," the department said.
Simonton's testimony came a week after Freedom Industries, the company responsible for the spill, belatedly announced that a second chemical containing ether was also dumped into the Elk River just north of downtown Charleston. The company violated the law by not immediately reporting the leak, and did not take effective measures to stop it, according to the West Virginia Department of Environmental Protection.
Freedom Industries downplayed the size of the spill on Jan. 9. Initial estimates put it at 5,000 gallons. The company later said 7,500 gallons had been released. On Jan. 27, it revised the total, saying 10,000 gallons had spilled.
Gupta said Friday that he has recommended "from Day One" that people make their own decisions about using tainted tap water because of uncertainty over the health effects of the chemicals.
"We're talking about the safety of 300,000 people," Gupta said. "This is unfamiliar territory."
ALSO:
Feds to help pay for tracking devices for autistic children
Good Samaritan in a helicopter helps the snow-stranded in Birmingham
Government to seek death penalty for Boston Marathon bombing suspect
Twitter: @davidzucchino
---