Trump plans to halt subsidies to health insurers, further undermining Obamacare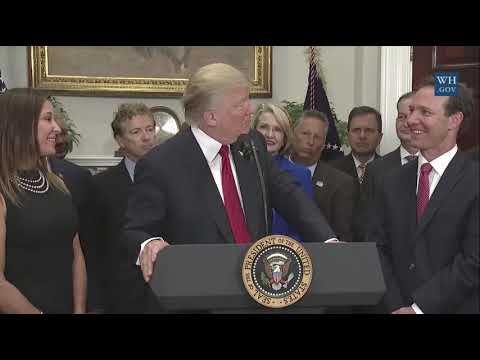 President Trump moved Thursday to scale back rules on health insurance across the country in the administration's most ambitious effort to date to use its regulatory powers to undermine the Affordable Care Act.
Reporting from Washington —
The federal government will cease crucial federal payments to health insurers that provide coverage to low-income Americans, the White House announced late Thursday in a move that threatens to send health insurance premiums skyrocketing for millions of Americans and destabilize markets across the country.
The surprise announcement marks the Trump administration's most direct assault on the Affordable Care Act.
And it appears likely to spark a new high-stakes battle over the 2010 law, which Trump has signaled he will try to roll back administratively following the collapse of multiple efforts by congressional Republicans to repeal it through legislation.
The move to cut off the payments — known as cost-sharing reduction, or CSR, payments — drew swift condemnation from congressional Democrats and consumer advocates across the country.
"This shocking action is several steps beyond the sabotage of our health system, but more the equivalent of Trump swinging a baseball bat wildly in a china shop," said Anthony Wright, head of Health Access California. "This decision is deliberately destructive and destabilizing for the coverage of millions of Americans."
Several states, including California, have already joined litigation in a bid to force the federal government to make the payments
But Trump administration officials said ceasing CSR payments is necessary because government lawyers concluded they were not legal.
"Based on guidance from the Department of Justice, the Department of Health and Human Services has concluded that there is no appropriation for cost-sharing reduction payments to insurance companies under Obamacare," the White House press secretary said late Thursday.
The payments — an important tool in the law — help insurers reduce co-pays and deductibles for low-income consumers who get plans on marketplaces.
They mean that someone who would normally face a deductible of $2,000 or more would potentially have no deductible.
This additional assistance can be especially important because many low-priced health plans force consumers to pay very high deductibles before their medical care is covered.
This year, the CSR payments will cost the federal government about $7 billion, according to the nonpartisan Congressional Budget Office.
The payments have been the subject of an ongoing legal dispute.
The Obama administration maintained it did not need to seek congressional approval for the payments, and since 2014 made CSR payments to lower deductibles for millions of low-income consumers.
Congressional Republicans have argued that the Obama administration should have sought congressional approval for the payments in a spending bill. Last year, a federal judge agreed with them, though the order was suspended while the case was being appealed.
The Trump administration has continued to make the payments, though the president has repeatedly threatened to cut them off, calling them a "bailout."
That has prompted many health insurers around the country to raise premiums by double digits in 2018 to account for uncertainty over the fate of the payments.
Insurers, state regulators from both political parties and consumer advocates had hoped that Congress would step in and appropriate the money so rate increases could be scaled back next year.
Senate Health Committee Chairman Lamar Alexander (R-Tenn.) and Sen. Patty Murray (D-Wash.) have been working on a compromise to do that.
Lawmakers from both parties have expressed concern about how the rate increases will affect their constituents. And some Republicans fear they will be blamed if markets collapse.
Alexander and Murray have not reached a deal to provide the funding. And it remains unclear now whether Republicans and Democrats will be able to find a compromise.
In a statement Thursday night, Senate Minority Leader Charles E. Schumer (D-N.Y.) and House Minority Leader Nancy Pelosi (D-Calif.) lamented Trump's move.
"The president is walking away from the good faith, bipartisan Alexander-Murray negotiations and risking the healthcare of millions of Americans," they said.
But the White House kept up its attacks on the healthcare law.
"The bailout of insurance companies through these unlawful payments is yet another example of how the previous administration abused taxpayer dollars and skirted the law to prop up a broken system," the press secretary said. "Congress needs to repeal and replace the disastrous Obamacare law and provide real relief to the American people."
noam.levey@latimes.com
ALSO
Trump issues order to deregulate health insurance, promising relief from Obamacare
White House Chief of Staff John Kelly says he's neither quitting nor getting fired
Sen. Dianne Feinstein is running for reelection again, but 'the resistance' thinks she's too bipartisan
---
UPDATES:
10:10 p.m.: The story was updated with Times staff reporting.
The story was originally published at 8:55 p.m.
Sign up for Essential California for the L.A. Times biggest news, features and recommendations in your inbox six days a week.
You may occasionally receive promotional content from the Los Angeles Times.