Sen. Dianne Feinstein is running for reelection again, but 'the resistance' thinks she's too bipartisan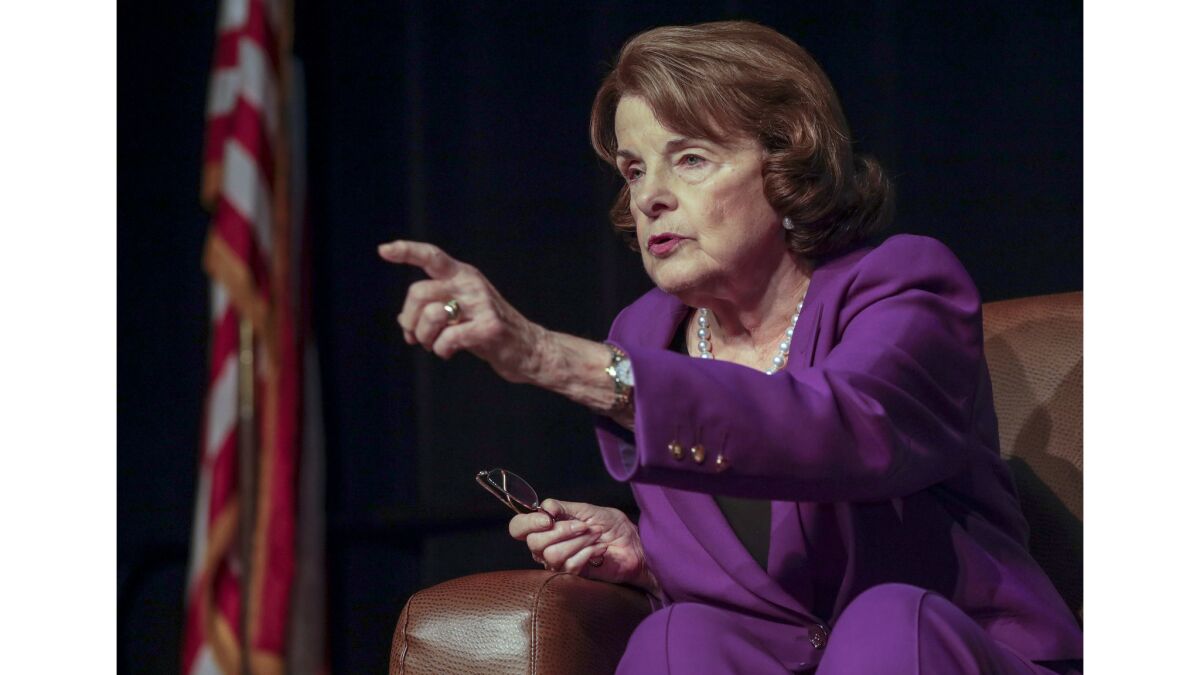 Sen. Dianne Feinstein kept many in suspense for months over her decision to seek reelection, but since announcing her plans Monday to pursue a fifth full term, she's made clear there will be no more waiting.
As she kicks off what could be her most difficult campaign since 1994, some members of her party are saying Feinstein's measured approach to politics no longer fits in a state that has grown markedly more liberal since she was first elected.
Her allies immediately pushed back at such a notion: Feinstein's announcement was followed by a fundraising letter written by California's junior senator, Kamala Harris, whose vocal opposition to President Trump's policies have made her an increasingly popular figure on the left. Then there was a significant union endorsement, and a Beverly Hills fundraiser Tuesday night with Los Angeles Mayor Eric Garcetti, who warned against a "cannibalistic" intra-party fight.
Wednesday found Feinstein in her element, updating a Riverside business group about foreign, domestic and state policy issues, including dealing with an increasingly aggressive North Korea, the effect on California of Trump's tax reform proposal and the devastating wildfires in the state.
But as recently as last week, Feinstein, 84, told reporters on Wednesday and donors on Tuesday, she was debating what to do. She thought to herself that she has had a good run representing California in the Senate for a quarter-century. She has worked her entire adult life. Maybe it would be good to take some time off to enjoy her sunset years?
A conversation last week with a close friend in Washington clinched her decision.
"I came to the conclusion that this is how I'm meant to spend my life."
Feinstein's decision comes as she faces challenges she hasn't encountered in previous elections.
State Senate President Pro Tem Kevin de León and billionaire environmental activist Tom Steyer are strongly considering challenging her, according to confidantes to both men. They could be driven by a restive and vocal liberal faction that is arguing that Feinstein is too moderate to represent the state that has become home base for "the resistance" against Trump's agenda. Meanwhile, the nation's capital is gripped by polarization and gridlock. The ability to work across party lines to solve the nation's problems — a skill Feinstein has long prided herself on — seems less common every day.
Protesters have dogged Feinstein all year, speaking out about her opposition to single-payer healthcare, her call for "patience" with Trump's presidency and her bipartisan efforts. Outside her fundraiser Tuesday, a demonstrator held a sign that read "Retire Dianne the DINO," or Democrat in Name Only, a twist on an insult that Republicans usually hurl at others in the GOP who are deemed to lack solidly conservative credentials.
One freshman California congressman and fellow Democrat went further: He called for a primary challenge.
"On the big issues of our time, she's been on the wrong side of history," Rep. Ro Khanna (D-Fremont) said Tuesday on SiriusXM's "The Dean Obeidallah Show," citing Feinstein's vote for the Iraq war and support for the Patriot Act.
But on most issues, the California senator has voted with her party, though her record is not as liberal as those of Sens. Elizabeth Warren of Massachusetts or Bernie Sanders of Vermont.
Rep. Barbara Lee, an Oakland congresswoman whom Khanna urged to run, quickly said she had no plans to challenge Feinstein.
There already are several long-shot candidates running against Feinstein. California political watchers are particularly waiting to see what De León decides to do, given his interest in the job and need for a next step as his time in the state Senate ends because of term limits. De León has not ruled out a primary challenge to Feinstein and is one of the few high-ranking Democrats in the state who have not commented on her reelection campaign.
Steyer, a major Democratic donor, inserted himself into the speculation on Tuesday when he sent a letter to the Democratic Congressional Campaign Committee saying that candidates must support Trump's impeachment. He added that now is "not a time for 'patience.'"
"It is clear for all to see that there is zero reason to believe 'he can be a good president,'" he wrote, highlighting statements Feinstein made in August that caused a fiery backlash from progressives.
Any challenger would face significant obstacles going after someone with such a storied career and deep ties to the state. Moments after Feinstein announced her 2018 campaign, Harris emailed her supporters seeking to raise money for Feinstein.
"Since joining the Senate in January, I have found few better allies in our fight to stop the radical agenda of Donald Trump than Dianne. She's joined with us in every major fight," Harris wrote.
The next day, the United Farm Workers announced their endorsement of Feinstein, the first in a long list of labor groups likely to support California's senior senator. That evening, Hollywood studio executives and philanthropists raised money for Feinstein's campaign, with guests spending up to $5,400 to attend a poolside reception at a Beverly Hills mansion hosted by Garcetti and Hollywood power players including Michael Eisner and Sherry Lansing.
As Garcetti introduced Feinstein, he warned the crowd that any primary challenge would be a grave mistake.
It would be "wrong for Democrats and what California should be doing right now," Garcetti said, ticking off Trump policies that the state needed to fight. "We have a lot of work to do."
In Riverside on Wednesday, Feinstein emphasized the importance of seniority. She talked about pushing the bump-stock legislation she introduced in the Senate in the aftermath of the mass shooting in Las Vegas. She demonstrated her fluency in issues overseas (the Iran nuclear deal) and local (the runway requirements for large cargo aircraft to land at nearby March Air Force Base).
And she looked back fondly to the ways of Washington when she first joined the Senate, recalling bipartisan groups going to a senator's personal retreat to discuss healthcare policy.
"It was congenial. We listened to one another. You'd be surprised how much people of your opposite party know, and if you really are able to talk to them [and] have an open mind, who knows what you can come up with," Feinstein said, later adding that was her goal for her remaining time in the Senate.
"God knows this is a hard time for the country. I want to do everything I can to bring people together, past the partisan divide, so we really as Americans have a common purpose."
For the latest on national and California politics, follow @LATSeema on Twitter.
California's Sen. Dianne Feinstein says she'll run for a sixth term: 'There's still so much work left to do'
It's time for Pelosi and other long-timers to leave House Democrats' leadership, California's Sanchez says
Live coverage of California politics
---
UPDATES:
5:30 p.m.: This article was updates with additional details about Feinstein's potential challengers.
This article was originally published at 4:20 a.m.
Get our Essential Politics newsletter
The latest news, analysis and insights from our politics team.
You may occasionally receive promotional content from the Los Angeles Times.