'Bridgegate' scandal: 2 former allies of Gov. Chris Christie plead not guilty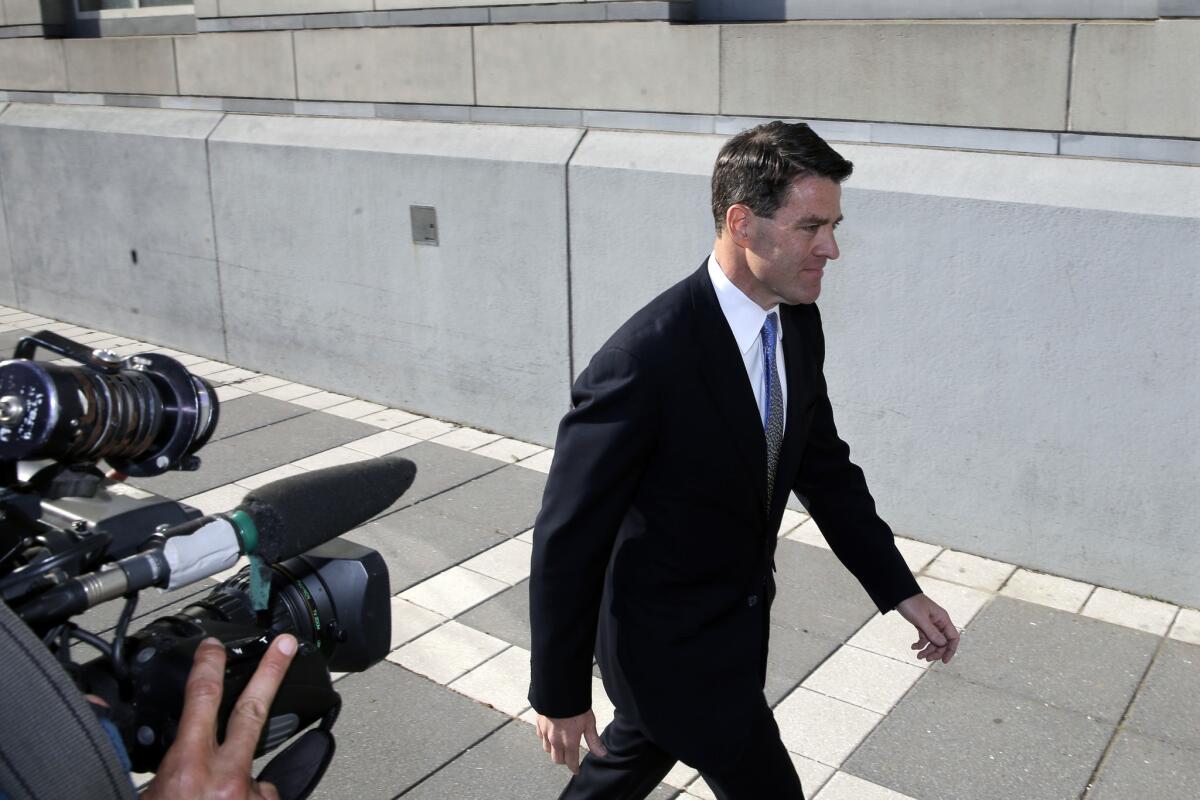 Two former allies of New Jersey Gov. Chris Christie have pleaded not guilty to charges involving an alleged political retribution scheme that closed access lanes of the George Washington Bridge.
Bridget Anne Kelly, Christie's former deputy chief of staff, and Bill Baroni, Christie's former top appointee at the Port Authority of New York and New Jersey, which operated the bridge, appeared in federal court in Newark on Monday to answer to federal charges that they conspired to close the lanes to punish the governor's political foes.
It was their first appearance on a nine-count indictment unsealed on Friday.
Baroni and Kelly entered pleas before U.S. District Judge Susan D. Wigenton and were each released on $150,000 bond, according to court documents. Both have been barred from leaving the country and will be required to surrender their passports, court documents say.
Their trial is scheduled to begin July 7.
"I am an innocent man," said Baroni, speaking to reporters outside the courthouse after the arraignment. "That is why I turned over thousands and thousands of pages of my own documents to both the prosecutors and the legislature, and that is why I will testify on my own behalf."
Kelly's attorney, Michael Critchley, said Monday that he was prepared to subpoena "anybody who I feel necessary to establish my client's innocence." Asked whether that included the governor, Critchley replied, "That could include anybody."
Christie has not been charged in the scheme, which has become known as "Bridgegate." The indictments come just as Christie has been trying to revive his campaign for the Republican presidential nomination in a crowded field of about 20 expected contenders.
Baroni, in a dark suit, arrived at the courthouse first, waving to reporters, about 8:30 a.m.
Kelly and her attorneys arrived about half an hour later, according to television images from the scene. Wearing sunglasses and carrying a pink handbag, Kelly walked directly beside her attorney and spoke with him as the two entered the courthouse.
Baroni and Kelly greeted each other in the courtroom, smiling and shaking hands, the AP reported. The arraignment lasted about 10 minutes.
Kelly, 42, and Baroni, 43, were named in a nine-count indictment that accuses them of orchestrating the lane closures as part of a "political vendetta" aimed at punishing Fort Lee Mayor Marc Sokolich for his reluctance to back Christie in Christie's 2013 re-election bid.
On Friday, David Wildstein, who went to high school with Christie and later became a top official in the Port Authority, pleaded guilty to two criminal counts. He is scheduled to be sentenced Aug. 6 and is expected to be a key witness against Kelly and Baroni.
In entering his plea, he admitted that he helped in the plan to close the lanes near Fort Lee, N.J., which sits at the foot of the New Jersey side of the bridge that carries traffic over the Hudson River and into Manhattan.
Attorneys for Baroni and Kelly have called Wildstein a liar.
"If David Wildstein was willing to repeatedly lie to settle a petty political grudge, nobody should be surprised at his eagerness to concoct any story that he thinks will help him stay out of federal prison," Baroni's lawyer Michael Baldassare said last week. "We're confident that everyone will see this desperate ploy for exactly what this is."
Kelly last week told reporters that Wildstein was "a liar" and vowed she would not back down.
"I will fight relentlessly to clear myself from these charges," she said.
Each defendant faces prison terms of 20 years or more if convicted.
The charges include conspiring against civil rights and misusing the property of an organization that receives federal funds, namely the Port Authority.
Sign up for Essential California for news, features and recommendations from the L.A. Times and beyond in your inbox six days a week.
You may occasionally receive promotional content from the Los Angeles Times.