Senate to postpone confirmation hearing for Jackson to head Veterans Affairs, White House is told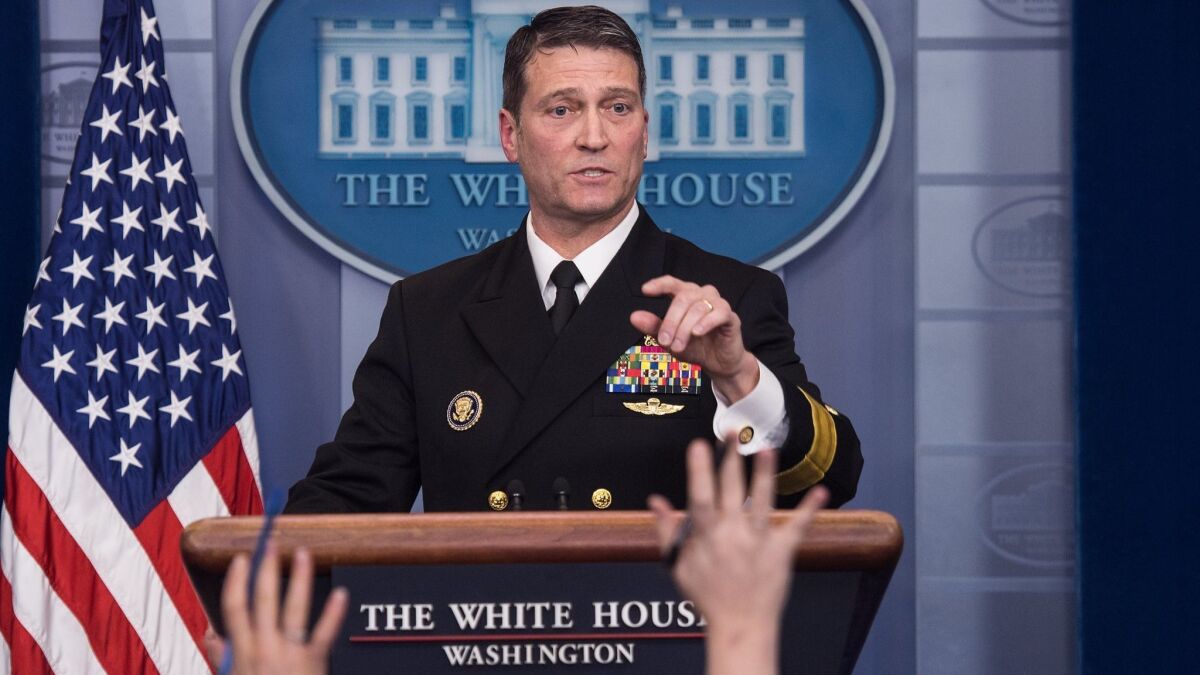 Reporting from WASHINGTON —
Senators have postponed the confirmation hearing for Ronny Jackson, President Trump's nominee to lead the Department of Veterans Affairs, after top Republicans and Democrats raised concerns about his qualifications and oversight of the White House medical staff, White House and other administration officials were told Monday.
The development came just two days before Jackson, the White House physician, was scheduled to testify before the Senate Committee on Veterans' Affairs and threw what was looking to be a difficult confirmation process into further jeopardy.
In addition to Jackson's lack of management experience, the former combat surgeon had come under fire for his glowing appraisal of Trump's health following his annual physical in January. Jackson said then that the president might live to the age of 200 with a healthier diet. In recent days, fresh concerns arose about Jackson's management of the White House medical office, said the officials, who declined to provide details.
"I can tell you we're vetting out Jackson," said Sen. Jon Tester of Montana, the committee's ranking Democrat. "I can't get into specifics, but we're doing our job to make sure he's fit for the job."
Aides to committee Chairman Johnny Isakson (R-Ga.) declined to comment.
Sen. Jerry Moran (R-Kan.), another committee member, said he had raised concerns about Jackson's lack of management background to the White House and requested to speak with Chief of Staff John Kelly on the matter.
"This job is so difficult," Moran said Monday. "Nothing about this is easy, and it takes a very unique person to be able to lead an organization that is so difficult to lead, and I need to be convinced that's the case regardless of the sense of his experience."
The White House also is assessing whether questions that have been raised about Jackson have validity, officials said.
Committee Democrats gathered Monday evening to discuss the issues surrounding Jackson's nomination. Following the meeting, Sen. Richard Blumenthal (D-Conn.) said in a brief interview that "there is a need for a very serious and exacting scrutiny, as with any presidential nominee."
It's unclear whether lawmakers have chosen an alternate date for Jackson's hearing, or whether it will be postponed indefinitely. Three White House officials said Monday that they worried the nomination was in peril.
In recent days, Isakson called the White House to express his concern that Jackson was unqualified, White House officials said, and vouched instead for his ally and former top aide Thomas Bowman, the VA's deputy secretary.
Jackson was a surprise nominee to succeed David Shulkin, an Obama-era holdover and once a favorite of Trump's who was fired by the president March 28. While Shulkin was an experienced hospital executive who had run VA's massive health system, his support from the White House waned following an internal investigation into his business travel and clashes over his commitment to outsourcing veterans' healthcare, which is among the administration's priorities.
From the start, Jackson had little support from Democrats and Republicans on Capitol Hill, where lawmakers were taken aback by the president's choice to run the government's second-largest agency. An admiral, Jackson has served three administrations as White House physician. But his résumé shows little management experience. VA's sprawling health, benefits and cemetery system has 360,000 employees and an annual budget of $186 billion.
Few Republicans on the committee have committed publicly to backing Jackson, although Senate Majority Leader Mitch McConnell (R-Ky.) has said he would support him. Senate aides have said Jackson's testimony at the hearing would be crucial to showing them whether he was up to the job of running the agency.
Democratic senators oppose the administration's push to outsource more medical care out of concern that it will strip the agency of funding. Jackson has tried to assuage those concerns by pledging privately that he would oppose such efforts, but Democrats want him to say that publicly.
In recent weeks, the White House sent senior career and political officials from different VA offices to brief Jackson on issues confronting the agency. But the process seemed poorly coordinated, according to current and former administration officials.
Jackson is well liked among senior White House officials, who had worked with him on a daily basis. But the administration has not put its full weight behind his nomination, according to people familiar with the matter, appointing midlevel aides to oversee Jackson's briefing by VA experts and sending a junior media aide from the White House to help him make the rounds on Capitol Hill. With the recent departure of Darin Selnick, the White House's most seasoned expert on veterans' issues, Trump has few aides with deep knowledge of how the agency works.
"He was walking into an ambush," a veterans' advocate close to the White House said of the Senate hearing. "He is just not ready."
---
Must-read stories from the L.A. Times
Get the day's top news with our Today's Headlines newsletter, sent every weekday morning.
You may occasionally receive promotional content from the Los Angeles Times.