Democrats, women candidates score big in Texas primaries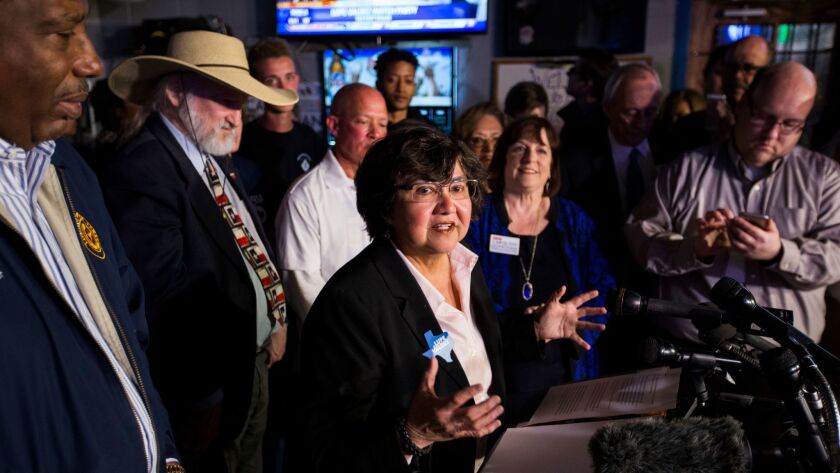 Reporting from AUSTIN, Texas —
Women running for Congress surged to big wins and Democrats smashed recent turnout levels Tuesday in Texas' first-in-the-nation 2018 primary elections, giving Republicans a potential glimpse of what's ahead in the first midterms under President Trump.
Energized and angry Democrats in Texas, where the GOP has dominated for decades, came out in force to surpass 1 million voters Tuesday and eclipse midterm primary participation totals unseen since 1994, when the party was in full slide toward wilderness after long being the top political dog.
Equally striking was the showing by women on the ballot: Of the nearly 50 women running for Congress in Texas, more than half won their primaries outright or advanced to runoffs. What's more, at least three of those runoffs in May will feature women going head to head, including a key race for Democrats in their bid to take control of the U.S. House this fall.
"It's Trump. It's Trump," said Veronica Escobar, who won her Democratic primary and is now poised to become one of the first Latinas to represent Texas in Congress.
"I've spoken to innumerable senior citizens, retirees, parents of disabled children, people who understand what this administration means to their families. And they're afraid."
Not all women fared so well. Kathaleen Wall, a Republican megadonor in Houston who pumped $6 million of her own money into her race for Congress, failed to survive a crowded nine-person field despite outspending all other candidates and having the backing of Republican Gov. Greg Abbott.
Wall's failure was also a potential warning sign of the limits of Republicans going all-in on Trump this election year. She partly staked her candidacy on TV ads that told voters there was little daylight between her and the president, who remains popular among GOP voters despite his rough edges and low approval ratings nationwide.
For all the talk of renewed Democratic energy heading into 2018, however, Texas Republicans also set a new benchmark for turnout in a midterm election. More than 1.5 million people voted Tuesday in the Republican primary for U.S. Senate, won by incumbent Ted Cruz. That beats the previous record of 1.48 million in 2010, during President Obama's first term.
Democratic turnout for the Senate primary — 1,036,950 voters, — was higher than in any nonpresidential-year primary in 24 years. Democrats haven't won a statewide office in Texas since 1994, the nation's longest streak. But the party's conservative wing dominated state politics in the 1970s and '80s, and 1994 marked a key point, when party fortunes flipped.
Texas' population has also boomed over the same period, though, meaning the percentage of voters turning out for either party's primary remains low.
Still, Democrats showed up despite the long odds this November of ousting Republicans such as Cruz, who released a radio ad after clinching the GOP nomination Tuesday night, telling voters that the Democratic nominee Beto O'Rourke "wants to take our guns."
O'Rourke, a congressman from El Paso, has called for banning assault-style rifles in wake of last month's mass shooting at a Florida high school that killed 17 people.
Neither that tragedy nor a mass shooting at a Texas church last fall played as dominant campaign issues in Texas, but with the GOP's majority in Congress on the line this fall, Democrats turned out in force.
The party had its sights on flipping three GOP-controlled congressional seats that backed Hillary Clinton over Trump in 2016, including a Houston district where liberal favorite Laura Moser forced a runoff with Lizzie Pannill Fletcher. Another is a sprawling district that runs along the Texas-Mexico border, where Gina Ortiz-Jones advanced to a May runoff and another woman, Judy Canales, was battling to join her.
"I think that a Congress that is only 20% women is not where we need to be," Ortiz Jones said.
The women's success comes against the backdrop of the #MeToo movement and a reckoning with allegations of sexual misconduct by powerful figures in entertainment, media and politics, including Trump's treatment of women.
Many women ran in a record eight open congressional races this year in Texas — two of which are up for grabs after longtime GOP incumbents abandoned plans for reelection amid scandal.
For Republicans, the primary was a vivid exhibition of the Trump effect on GOP politics. George P. Bush, the Texas land commissioner, won a contested primary after he cozied up to a president who once called his dad, Jeb, a pathetic person.
Trump won Texas by nine points in 2016. It was the smallest margin of victory by a Republican presidential candidate in Texas in 20 years, but Cruz dismissed talk of a Democratic takeover this fall.
"Left-wing rage may raise a bunch of money from people online, but I don't believe it reflects the views of a majority of Texans," he told reporters.
Democrats will have a tough time winning statewide races in November despite the "Trump effect" because they have fielded little-known candidates against top Republicans, such as Abbott, who will face either Lupe Valdez, who was Texas' first Latina, lesbian sheriff, or Andrew White, who opposes abortion and whose father, Mark, was governor in the 1980s.
---
Must-read stories from the L.A. Times
Get all the day's most vital news with our Today's Headlines newsletter, sent every weekday morning.
You may occasionally receive promotional content from the Los Angeles Times.