Growing Spokane, Wash., sheds its sleepy city image
Reporting from SPOKANE, Wash. —
Ramsey and Amy Pruchnic lived in the Seattle area for five years before deciding they wanted to escape the Puget Sound rat race and move closer to family on the opposite side of the state.
Now they own their own businesses and live in a 1928 farmhouse on 10 rural acres they bought just south of Spokane, near the Idaho border, where they are raising three children and 18 chickens.
"The honeymoon phase of Seattle wore off," said Amy Pruchnic, 31, who just opened a specialty doughnut shop in a hip development downtown. "Why not work in a town like Spokane?"
The Pruchnics are among a wave of new residents in Washington's second-largest city, which is experiencing a growing population thanks to more jobs and an influx of people leaving larger West Coast cities.
They include young families like the Pruchnics — many in search of cheaper housing, easier commutes, good schools and a work-life balance — and retirees with disposable income.
"We are getting both ends of the spectrum," said Todd Mielke, chief executive of Greater Spokane Incorporated, the region's chamber of commerce. The trend is also visible in other midsize western cities like Boise, Idaho, as people flee soaring housing costs up and down the West Coast.
Spokane has long been known as a sleepy place with slow growth that chugged along in the shadow of much larger and richer Seattle, 280 miles west. But the country's economic recovery has finally trickled down to the city of nearly 220,000.
Spokane doesn't have a dominant employer like Boeing or Microsoft. But it does have a lot of smaller companies, plus a growing number of good-paying jobs in government, higher education and medicine. Fairchild Air Force Base remains the region's largest single employer.
It's good news for a city that suffered during the Great Recession.
"We've exceeded the job level at the peak of the last expansion," said Grant Forsyth, chief economist for Avista Corp., the region's electric and gas utility. "We have recovered all of the lost jobs and then some."
Numbers tell the story.
The Spokane Metropolitan Statistical Area, consisting of Spokane and adjacent Stevens and Pend Oreille counties, had 232,500 jobs in 2007, just before the recession. In March the area reported 244,700 jobs.
A big mystery project proposed near the Spokane International Airport was recently revealed to be an Amazon fulfillment center. The building will be more than 2.5 million square feet, have more than 1,500 full-time employees and cost $181 million. Construction has already started.
"Amazon will be one of the largest businesses in the Spokane region," Mielke said, and it might lure others.
Meanwhile, the Spokane metro area's population grew from 470,000 in 2000 to 556,000 in 2016. Throw in the 150,000 residents of adjacent Kootenai County, Idaho, and the combined statistical area has 710,000 residents.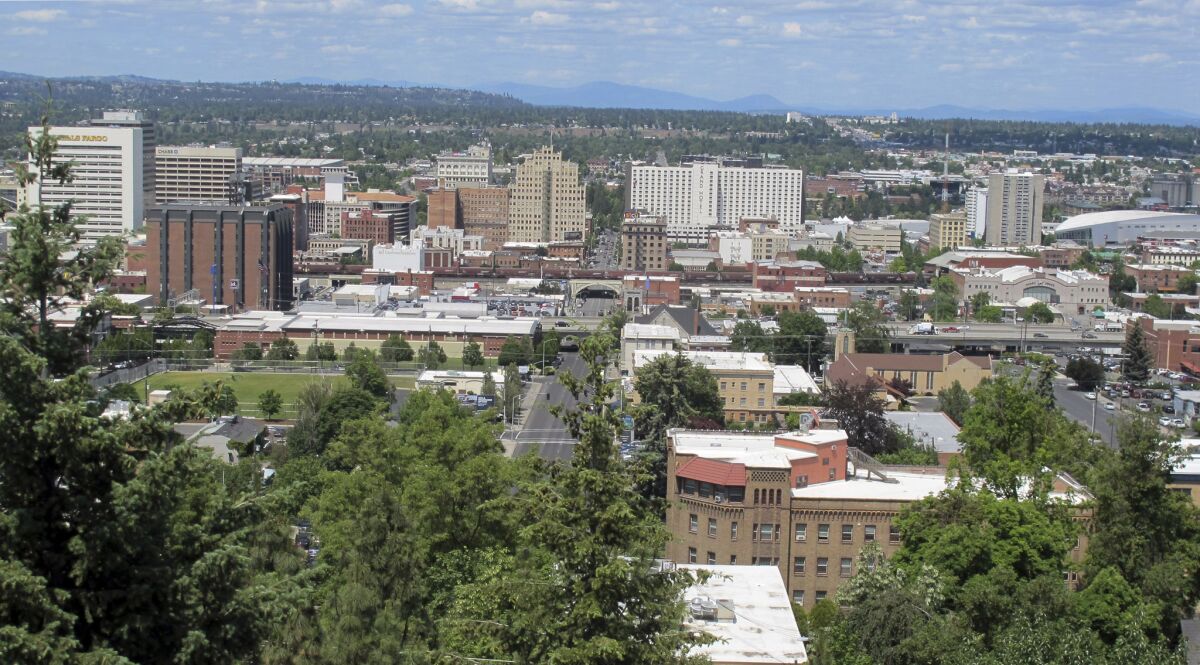 The state estimated Spokane County added 7,270 residents in 2016, the most in nearly a decade.
The rising population has jolted the housing market.
The median sale price of a home in Spokane County was $240,000 in May, up $32,000 from May 2017, the Spokane Assn. of Realtors said. Demand for homes outstrips supply. Still, Realtor.com recently named Spokane first among "10 Affordable Midsize Cities."
Spokane is surrounded by large lakes, five ski areas, mountains and rivers, and outdoor recreation has always been a draw. It also has a lively nightlife and literary scene and lots of new upscale dining choices.
National Geographic Traveler magazine recently named Spokane one of 29 "Cities on the Rise," noting the region is "hipster friendly" and "caffeinated." Spokane has shown up on numerous other rankings of cool cities in recent years.
That has local newspaper columnist Shawn Vestal thinking it might be time for locals to retire the whole "Spokane doesn't suck" attitude when talking to outsiders.
"There's no reason to go around insisting that something doesn't suck when it truly doesn't suck," Vestal, also an award-winning fiction writer, opined.
Mielke said Spokane's secret weapon might be higher education. The area is home to Eastern Washington, Gonzaga and Whitworth universities, plus a large branch campus of Washington State University that includes one of the nation's newest medical schools. There are also two large community colleges.
Enrollment is growing rapidly. About 40,000 college students live in the immediate Spokane region, and more than 70,000 within a 100-mile radius, Mielke said, providing an educated workforce.
People in bigger cities are noticing.
The Seattle Times reported that in recent years more than 2,000 people per year move from King County to Spokane County. That's more than move to Phoenix or to Portland, Ore., the newspaper reported.
For the Pruchnics — trying to juggle jobs and children in the booming and crowded Seattle area — the move was a no-brainer.
Ramsey Pruchnic worked for Microsoft when the family lived in suburban Issaquah. Now he runs an advertising agency.
His wife looked around for a fun business to start and settled on doughnuts, despite having no professional baking experience. Her shop, called Hello Sugar, is packed with customers — in yet another sign that Spokane is flourishing.
The Pruchnics have become ambassadors for their new home.
"We're trying to convince our friends in Issaquah to come over here," Amy Pruchnic said.
---
Must-read stories from the L.A. Times
Get the day's top news with our Today's Headlines newsletter, sent every weekday morning.
You may occasionally receive promotional content from the Los Angeles Times.