Texas death row conviction overturned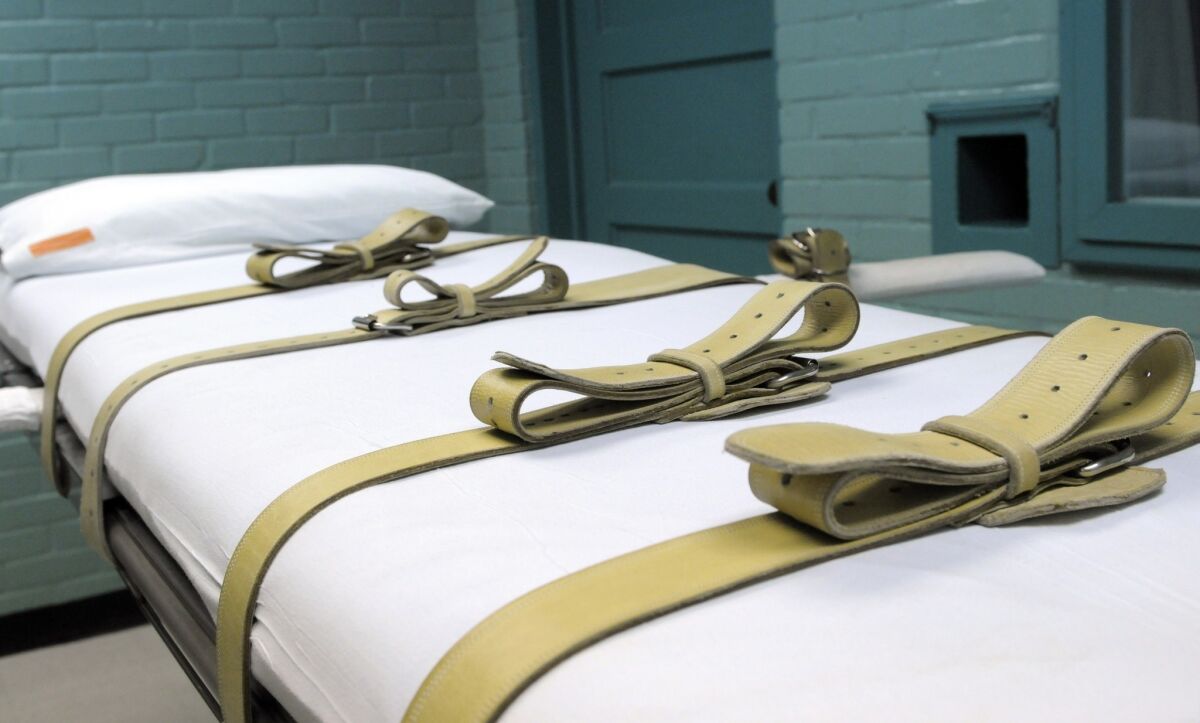 Reporting from Houston —
A Houston man sentenced to death a decade ago for a fatal police shooting has won a new trial in a case that raised questions about the system used for selecting grand juries in Texas and California.
Alfred Dewayne Brown, 32, has always claimed he was innocent of the 2003 shooting of Houston police Officer Charles Clark during a robbery at a check cashing store that also resulted in the death of a clerk. Another man, Elijah Joubert, is also on death row for the killings.
Brown's attorneys did not immediately comment Wednesday.
They had argued that crucial evidence was withheld during his 2005 murder trial, and that the grand jury that indicted him had intimidated Brown's girlfriend, an alibi witness, into changing her story. A Houston Chronicle series noted that the grand jury included a police booster and that the foreman was an active duty Houston police officer.
Grand juries in Texas, as in California, can be selected using a "key man" system in which the judge picks one or more people to serve as commissioners, who then choose from a pool of volunteer grand jurors. Critics fault the system for producing grand juries more sympathetic to law enforcement. The rest of the states as well as federal courts randomly select grand jurors.
On Wednesday, a year and a half after Brown's trial judge recommended a new trial, the Texas Court of Criminal Appeals overturned his conviction and sent the case back for potential retrial. The appeals court found that telephone records bolstering Brown's case were withheld at trial, records that apparently surfaced last year when a homicide investigator cleaned out his garage.
Former Harris County Dist. Atty. Mike Anderson had said a new trial was warranted. Anderson died last year, and his widow, a former judge who was appointed to replace him then elected on Tuesday, said she was still deciding Wednesday.
"I will now carefully review and evaluate the case to determine the appropriate proceedings," said Dist. Atty. Devon Anderson, his widow.
Anthony Graves, another Texas death row prisoner whose conviction was overturned in 2010, had tried to help Brown win a new trial, speaking with Brown's girlfriend about the case and to the Houston Chronicle.
Graves, 48, who served a dozen years on death row for a series of murders he did not commit, has successfully pursued an ongoing inquiry into whether there was misconduct by the prosecutors in his case. He questioned why the court ruled in Brown's case the day after the election, and said their cases "highlight the flaws of the death penalty."
"If these flaws do not make us conscious that we are sending people off to murder them, shame on us. Shame on us that we don't want to make our system better," Graves told The Times, "What are the safeguards that are now being put in place to stop this from happening? We've got a justice system going awry. I'm just hoping that he receives a fair trial."
Must-read stories from the L.A. Times
Get the day's top news with our Today's Headlines newsletter, sent every weekday morning.
You may occasionally receive promotional content from the Los Angeles Times.