Houston area submerged after 16 inches of rain in 24 hours
Reporting from HOUSTON —
More than a foot of rain fell Monday in parts of Houston, submerging scores of subdivisions and several major interstate highways, forcing the closure of schools and knocking out power to thousands of residents who were urged to shelter in place.
Sylvester Turner, mayor of the nation's fourth-largest city, told residents to stay home to fend off a weather system he called "stubborn." More rain was projected over the next two to three days.
Rain gauges in parts of Harris County, which includes most of Houston, showed water levels approaching 20 inches since late Sunday night.
The Harris County Flood Control District reported 13 bayous and creeks out of their banks. Turner said seven bayous within Houston were topped.
No deaths or injuries were immediately reported.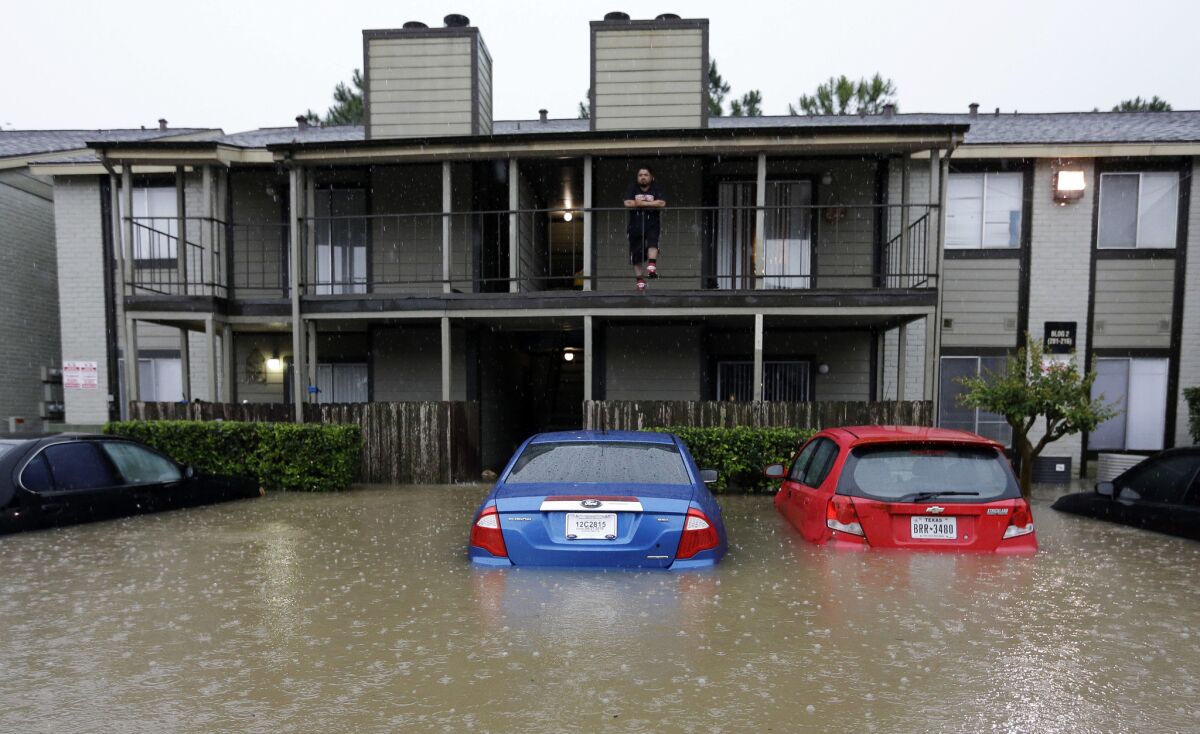 Several shelters were established for people forced from their homes. At least 100 people taken from apartment complexes in the north part of the city were being sheltered at a shopping mall.
"There are areas of the city that have not flooded for a long period of time that have flooded," Turner said.
Harris County Judge Ed Emmett, the county's chief administrator, said more than 1,000 homes were flooded.
"This is a rain event that's very significant, no question about it," he said. "Many of those homes haven't flooded before."
Classes were canceled for the Houston Independent School District's 215,000 students, Texas' largest public school district, and most other schools throughout the metropolitan area.
MORE: Get our best stories in your Facebook feed >>
National Weather Service meteorologist Tom Bradshaw said about 70 Houston subdivisions flooded. At least two interstates — I-10, the main east-west freeway, and I-45, the major north-south freeway — were underwater near downtown.
"We've seen those go under water before and they're under water again," Emmett said.
Other major freeways, plus some feeder roads leading to the highways, were shut off by high water.
Emmett warned drivers that even if they were able to get through on the highways, "when it's time to get off, you may not be able to."
The storms were part of a wide weather system in Texas that left warnings and watches through Tuesday morning for Houston, Austin, San Antonio, Dallas, Ft. Worth, Tyler-Longview and as far east as Texarkana.
One TV reporter in Houston helped to rescue a man who drove his car into a flooded underpass.
In the incident captured on video Monday, KTRK reporter Steve Campion yells, "Dude, you've got to get out of the car!"
The man opens the passenger door and crawls out into the water as the reporter yells: "Leave the car! Swim!"
The driver swims toward Campion, who wades out into the waist-deep water and extends his hand.
As the car slowly sinks under water, the driver tells Campion that he's OK and that he didn't think the water was so deep.
Houston, at near sea level and known for its "gumbo" soft soil, is no stranger to flooding from torrential rains, tropical storms and hurricanes. Last Memorial Day, heavy rains caused severe flooding in the southwest parts of the city. Bayous there were quickly rising and the mayor urged residents to prepare for another round of floods.
"We have had a lot of rain to fall in a short period of time and it is taxing our system," he said. "If you're not presently flooded along one of these bayous, I can tell you things remaining as they are, if conditions do not change, that those areas more than likely will be flooded."
The city reported more than 115 emergency water rescues by mid-morning Monday and evacuation of at least 30 apartment complexes.
CenterPoint Energy said nearly 110,000 of its customers were without power.
George Bush Intercontinental Airport in Houston reported more than 410 flights canceled. William P. Hobby Airport, the city's other major airport, canceled more than 135 flights.
"This situation will remain around for much of the day," the mayor said. "We're asking people to exercise caution and common sense."
ALSO
Supreme Court appears deadlocked over Obama's immigration plan
At least 350 dead, thousands homeless after 7.8-magnitude earthquake in Ecuador
Heat records smashed over the weekend in SoCal; steady cool-down predicted
---
Must-read stories from the L.A. Times
Get the day's top news with our Today's Headlines newsletter, sent every weekday morning.
You may occasionally receive promotional content from the Los Angeles Times.