Former Mexican governor extradited from Italy to U.S.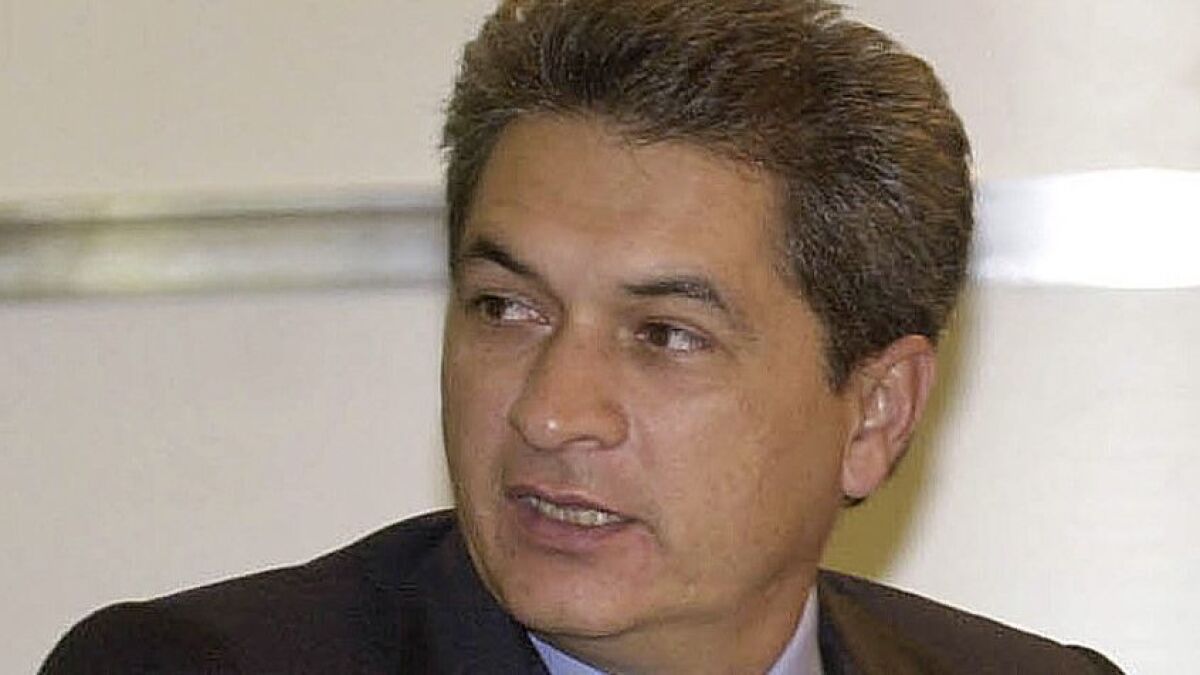 The former governor of the Mexican border state of Tamaulipas has been extradited from Italy to the United States to face charges of racketeering, drug smuggling, money laundering and bank fraud.
The U.S. attorney's office in Brownsville, Texas, announced Friday that Italy had extradited 61-year-old Tomas Yarrington Ruvalcaba after detaining him in April 2017. At the time of his capture in Italy, Yarrington was traveling under an assumed name with a false passport, authorities said.
"This extradition sends a global message that those accused of leveraging their political positions to conduct drug trafficking and other criminal activity will be brought to justice," Special Agent in Charge Will R. Glaspy of the Drug Enforcement Administration said in a statement.
From 1999 to February 2005, Yarrington was governor of Tamaulipas, which is one of Mexico's most violent states and borders Texas to the north and the Gulf of Mexico to the east.
A May 2013 indictment returned by a federal grand jury in Brownsville accused Yarrington of accepting huge bribes from major drug traffickers operating in his state, including the Gulf Cartel. In return, he's accused of allowing the traffickers to operate freely, smuggling tons of narcotics into the United States. He's also accused of involvement in cocaine smuggling from 2007 to 2009.
Federal officials have said that Yarryington's criminal activities dated to at least 1998.
The indictment alleged that Yarrington accepted bribes as he campaigned for governor and continued to receive them through his six-year term and after. He was able to acquire numerous "valuable assets," mostly across Texas, including homes, airplanes, bank accounts, vehicles and other real estate worth about $7 million, the indictment said.
Authorities allege that Yarrington was aided by a conspirator, Fernando Alejandro Cano Martinez, the owner of a Mexican construction firm. In a statement released Friday, authorities said Yarrington and Cano used front names and business entities to disguise the true ownership of the assets.
The assets allegedly included bank accounts, residences, airplanes, vehicles and real estate in Bexar, Cameron, Hidalgo and Hays counties, many of which were acquired via allegedly fraudulent loans from banks in Texas.
Cano is still wanted by authorities. Yarrington is scheduled to appear in federal court in Brownsville on Monday.
Yarrington is one of several Mexican governors or former governors to face criminal charges. In July the former governor of Veracruz state, Javier Duarte, was extradited to Mexico from Guatemala to face a wide variety of corruption charges. Duarte, who was once a rising star in Mexico's ruling political party, was arrested in Guatemala last April.
Cesar Duarte, former governor of Chihuahua from 2010 to 2016, is wanted on corruption charges. He is no relation to Javier Duarte, and authorities have said it's likely that he fled across the border to Texas.
---
Must-read stories from the L.A. Times
Get the day's top news with our Today's Headlines newsletter, sent every weekday morning.
You may occasionally receive promotional content from the Los Angeles Times.