Former governor of Mexico's Veracruz state extradited from Guatemala to face corruption charges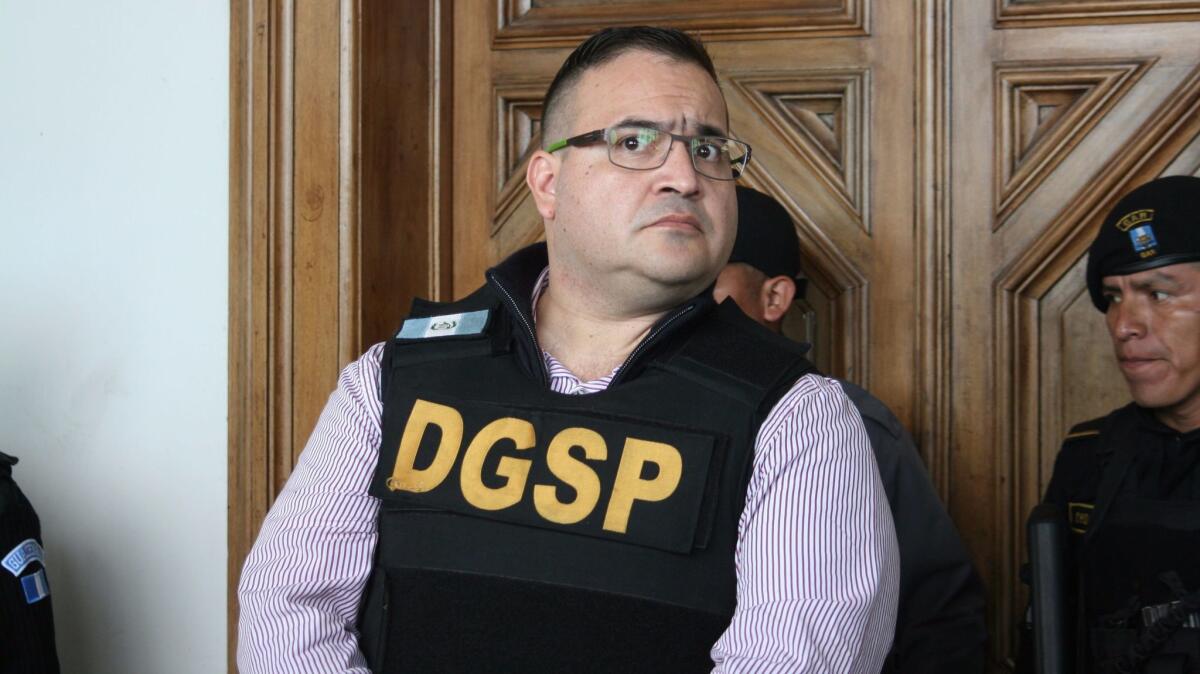 Reporting from Mexico City —
A one-time rising star of Mexico's ruling party who became the public face of suspected egregious corruption afflicting the country's political system was extradited Monday from Guatemala to face a wide range of criminal charges.
Javier Duarte, former governor of Veracruz state, had been arrested in April while a fugitive from Mexican justice.
Prosecutors charged Duarte with setting up shell companies to divert millions of dollars for himself and his political cronies and for having links to the criminal gangs that have made Veracruz among the country's most violent states. Illegally obtained funds were allegedly used to purchase properties in Mexico, the United States and Spain, prosecutors said.
Authorities have hinted that the pilfering of public money during Duarte's almost six-year term in Veracruz could reach "historic" levels, perhaps in excess of $3 billion.
Duarte faces up to 55 years in prison if convicted of the various charges facing him, prosecutors say. He left office last year six weeks before his gubernatorial term ended, vowing to defend himself against mounting allegations and defiantly declaring that he had not stolen "one cent." But Duarte went on the run and was a fugitive until detained in April at a Guatemalan mountain resort town.
Several of Duarte's former colleagues in Veracruz are also facing criminal corruption charges or are on the run.
While in custody in Guatemala, Duarte declared his innocence and was pictured in televised images appearing to smirk during extradition hearings.
The burly Duarte, in handcuffs but shorn of the shaggy beard he sported in Guatemala, was shown on television Monday being led by heavily armed federal officers on the tarmac of the Mexico City airport after emerging from an official jet that transported him from Guatemala City. A police convoy flanked by cameramen on motorbikes later whisked Duarte to the capital's Reclusorio Norte prison.
His lawyer, Pablo Campusano, told journalists who mobbed the attorney's car that Duarte was "tranquil," despite the many legal problems he faces.
Duarte's case has become infamous in a country where a cascading series of official corruption scandals has drawn widespread outrage and become a profound embarrassment for the country's political class — especially for President Enrique Peña Nieto's Institutional Revolutionary Party, or PRI.
At least eight former governors, including Duarte, are facing criminal charges or have already been convicted. Most served under the banner of the ruling party, which hopes to hold on to the presidency in next year's national elections.
The scandals are indicative of what many call runaway corruption. State administrations in Mexico are often rife with graft, allowing governors to amass great wealth and dole out patronage to relatives and supporters, critics say.
Duarte, 43, who served as governor of oil-rich Veracruz state from 2000 to 2016, is a former PRI stalwart who was among a number of young ruling-party governors once viewed as the face of a makeover for a party seeking to revamp its tarnished image as a "dinosaur" institution.
Now, Duarte has become the poster boy for kleptocratic governance in Mexico.
The ex-governor's reported excesses — and the chaotic state of affairs under his leadership in Veracruz, where killings and disappearances have reached alarming levels — were too much for authorities to ignore. Duarte's unpopularity contributed to the ruling party losing control of Veracruz state for the first time in elections last year.
Under Duarte, the state became a place of extreme danger for human rights activists, journalists and others. Drug cartels, often working in cahoots with police and local politicians, fight for territory in a key trafficking corridor.
At least 17 journalists were killed and three others "disappeared" — vanished without a trace — during Duarte's term as governor of Veracruz, according to the free-press group Articulo 19. The charges against Duarte do not include allegations linking him to any killings.
Duarte's successor as governor of Veracruz, Miguel Angel Yunes of the opposition National Action Party, has accused his predecessor of leaving the state a looted and crime-ridden mess.
"It is unfortunate that someone who left the state in a financial and security crisis is shown laughing saying he is innocent, that he's a victim and soon he will be free," Yunes said in a television interview in June. "It's a joke not only on the people of Veracruz, but on all Mexicans."
Yunes has also accused his predecessor's administration of leaving state hospitals without medicine to treat cancer patients.
Mexican authorities painted Duarte's extradition and the cases against other ex-governors as examples of official dedication to combat graft.
"With actions like this, the government of Mexico is fulfilling its commitment to obtain concrete results to shut the spaces of impunity," Mexico's Foreign Ministry said Monday in a statement announcing Duarte's extradition.
But many in Mexico remain skeptical, viewing the cases against Duarte and other ex-politicos as exceptions involving figures who are already widely discredited. Some Mexican observers also voice fears that Duarte and others may ultimately be acquitted.
"Now all we need is that they give him [Duarte] legal protection, that he has a VIP trial, that a nice judge decides his faults are not grave and declares him innocent," wrote one reader to the newspaper Reforma, reflecting a widespread sense of skepticism. "That we ask [Duarte] for forgiveness and compensate him for psychological damage."
Twitter: @mcdneville
Cecilia Sanchez of The Times' Mexico City bureau contributed to this report.
Sign up for Essential California for news, features and recommendations from the L.A. Times and beyond in your inbox six days a week.
You may occasionally receive promotional content from the Los Angeles Times.