Trump pushes to sharply cut the number of legal immigrants and move U.S. to a 'merit-based' immigration system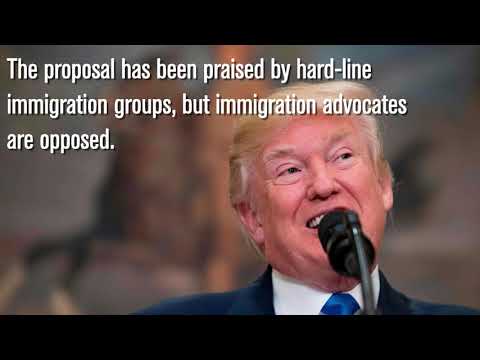 President Trump is pushing forward with his promise of a harder line on legal immigration, endorsing on Wednesday a Senate proposal to slash the number of immigrants admitted to the United States while favoring those with certain education levels an
President Trump is pushing forward with his promise of a harder line on legal immigration, endorsing a proposal to slash the number of immigrants admitted to the United States while favoring those with certain education levels and skills.
Trump announced his support for such an overhaul of immigration law during an event Monday at the White House with conservative Republican Sens. Tom Cotton of Arkansas and David Perdue of Georgia.
The changes proposed in their bill, called the RAISE Act, would be the "biggest change in 50 years" to the immigration system, Trump said, and reflect the Trump administration's "compassion for struggling American families that deserve an immigrant system that puts their needs first."
The bill faces dim prospects in Congress, where nearly all Democrats and a sizable number of Republicans oppose its key provisions. But it reflects a central promise of Trump's campaign and the renewed emphasis the White House has made in recent weeks to appeal to the president's core supporters.
White House staff have been working closely with Cotton and Perdue for weeks on the legislation, which would restrict how the U.S. admits immigrants and to move to what Trump has described as a "merit-based" system similar to that used in Australia and Canada.
The proposal "ends chain migration," Trump said, referring to the preference for uniting family members in the current immigration system. It would implement a points-based system for awarding lawful permanent residency, or green cards.
Foreign applicants would receive a higher score if they "speak English," can financially support themselves and have skills that "can contribute to our economy," Trump said.
The proposal has been praised by groups that advocate reduced immigration, including NumbersUSA and the Federation of Immigration Reform.
Immigration advocacy groups are opposed, as are many economists who say the nation, with an aging population and low fertility rate, should be encouraging an influx of younger workers to spur economic growth.
The current U.S. immigration system favors uniting family members with relatives already in the country. It was built on the premise that any person, regardless of how much education or money they have, can come to the United States and create a productive life for themselves.
Any changes along the lines of the proposed bill would require support from moderate Republican senators such as Sens. John McCain of Arizona and Lindsey Graham of South Carolina, and many Senate Democrats oppose making partial changes to immigration law without creating a pathway to legal status for immigrants who arrived in the country illegally and put down roots.
Trump repeatedly has said he doesn't want to reduce the total number of immigrants admitted each year, yet the proposal by Cotton and Perdue would cut legal immigration by more than half.
At the same time, Trump during his campaign called for returning the level of foreign-born Americans to their historic norm. The level is currently higher than at most periods in U.S. history. Immigration experts said at the time that Trump's goal could only be achieved by sharply reducing legal immigration levels.
Trump has also been reluctant to end the Deferred Action for Childhood Arrivals program, started by President Obama, which provides work authorizations to immigrants brought to the U.S. illegally as children. Trump called the program "unconstitutional" during the presidential campaign, but also has expressed sympathy toward people who are in this country illegally through no fault of their own and were raised here.
At a rally in Ohio last week, Trump praised Cotton and Perdue and said he was working with the senators to replace "today's low-scale system, just a terrible system where anybody comes in."
"We want a merit-based system, one that protects our workers, our taxpayers, and one that protects our economy. We want it merit-based," Trump said.
Sign up for Essential California for news, features and recommendations from the L.A. Times and beyond in your inbox six days a week.
You may occasionally receive promotional content from the Los Angeles Times.