Tulsa officer acquitted in man's shooting death is returning to the police force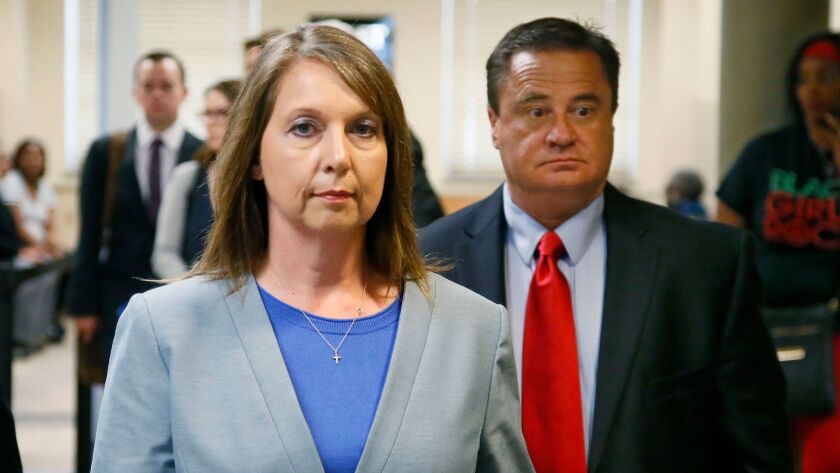 Reporting from TULSA, Okla. —
A white Oklahoma police officer acquitted in an unarmed black man's shooting death will be back on the force next week, even as jurors who declared her not guilty of manslaughter unanimously agreed she should never return to patrol.
Tulsa police Chief Chuck Jordan issued a one-sentence statement Friday saying that Betty Jo Shelby had been reinstated. It came a day after black community leaders rallied, urging city leaders to block the 43-year-old officer from getting back her job. She had been on unpaid leave since Sept. 22, when she was charged in the death of Terence Crutcher, 40.
Some leaders were taken aback by Shelby's quick reinstatement.
"The decision today was obviously a slap in the face, and I think that's how a lot of the black community feels," said Anthony Scott, pastor at First Baptist Church North Tulsa. "It's like pouring salt on a wound."
Shelby's attorneys said she would rejoin the force Monday, but in a limited capacity. The 10-year law enforcement veteran is barred from street patrol while an internal affairs investigation into Crutcher's Sept. 16 shooting death plays out.
Shortly before the announcement of Shelby's reinstatement, the foreman of the jury that acquitted her Wednesday said in a court filing that if Shelby had thought to use her stun gun before Crutcher reached his stalled sport utility vehicle, the decision "could have saved his life."
"Many on the jury could never get comfortable with the concept of Betty Shelby being blameless for Mr. Crutcher's death," the foreman wrote. The jurors didn't identify themselves in the memo filed in court.
Another member of the jury told the Frontier, a local news site, that various jurors thought Shelby could work a desk job or perhaps be another type of emergency responder — just not an officer on street patrol.
"I don't think she's a bad person," he told the publication, speaking on condition of anonymity because jurors didn't want to be associated with the highly charged case. "She just shouldn't be a cop."
The jury of eight women and four men, including three blacks, deliberated for about nine hours before reaching its verdict late Wednesday, prompting about 100 residents gathered outside the courthouse to protest the outcome.
Shelby's attorney, Shannon McMurray, acknowledged Friday that Shelby could have deployed her stun gun instead of a firearm, but said the officer had to make a "split-second" decision because she thought Crutcher was armed. No weapon was found.
"Could she have used a Taser? Yes. Might she be dead? Yes," McMurray said. "It's a classic law school exam: All the answers are right, but which ones are the most right?"
Shelby's partner, Officer Tyler Turnbough, deployed his stun gun at the same time she fired her handgun. Turnbough told a national police aid group last month that Shelby had no way of knowing what Crutcher was reaching for and that "to take a chance could be deadly."
A spokesman for the Crutcher family didn't return calls seeking comment on Shelby's reinstatement.
McMurray said Shelby's return to the force means "she's getting the due process she wasn't afforded when [prosecutors] jumped the gun and charged her."
Tulsa County Dist. Atty. Steve Kunzweiler, who filed the first-degree manslaughter charge six days after the shooting, declined to comment Friday.
Crutcher was shot after Shelby approached him in a city street where his SUV had broken down.
Shelby said she fired her weapon out of fear because Crutcher ignored her commands to lie down and kept reaching into his pockets.
But prosecutors said she overreacted, arguing that Crutcher had his hands in the air and wasn't combative — part of which was confirmed by police video that showed him walking away from Shelby with his hands above his head.
MORE NATIONAL NEWS
Exhumed priest's DNA does not match evidence from Baltimore nun's slaying scene
NAACP will oust its president and revamp to better combat 'an uncertain era' under Trump
Former Rep. Anthony Weiner pleads guilty to sexting with teen; wife files for divorce
---
Must-read stories from the L.A. Times
Get the day's top news with our Today's Headlines newsletter, sent every weekday morning.
You may occasionally receive promotional content from the Los Angeles Times.