NAACP will oust its president and revamp to better combat 'an uncertain era' under Trump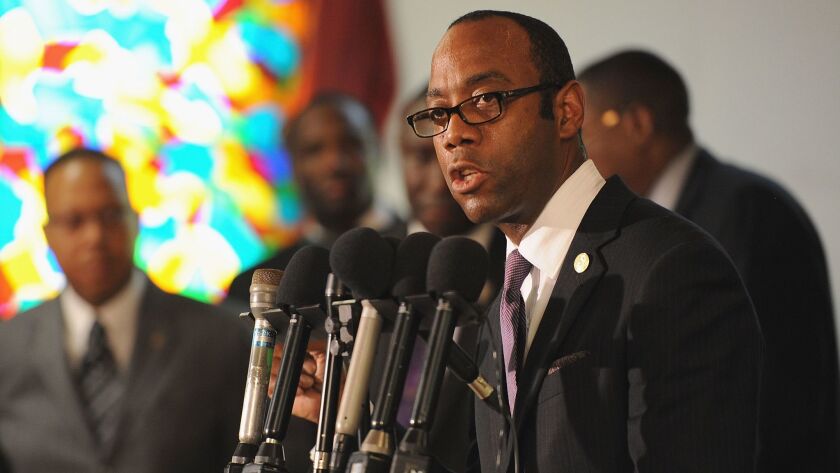 Saying it needed "the right leadership," the nation's most prominent African American advocacy group announced on Friday that it was ousting its president and embarking on a period of soul-searching to reposition itself in an "uncertain era" in the fight for civil rights.
The move from the National Assn. for the Advancement of Colored People comes as the group has been seen in some circles as taking a back seat to both longstanding and newer civil rights groups and movements that have risen to prominence in battles over police shootings, immigration and LGBT rights.
These groups and movements include the American Civil Liberties Union, which recently gained wins against President Trump in federal courts, and Black Lives Matters activists, who won private meetings with President Obama as they grew a youth-centered grassroots movement against racism and police violence.
For the the venerable NAACP, its new mission involves modern branding techniques and greater outreach.
"We believe as an organization, we need to retool to become better advocates, better at educating the pubic, better at involving them," Derrick Johnson, vice chairman of the NAACP board of directors, said in a conference call announcing the change.
Johnson said the group would embark on a national "listening tour" as part of its re-branding. That kind of tour, which is a common strategy among politicians as they seek to gain public support, has never been done in the NAACP's 108-year history, Johnson said.
"These changing times require us to be vigilant and agile, but we have never been more committed or ready for the challenges ahead," NAACP board chairman Leon W. Russell said in a statement. "We know that our hundreds of thousands of members and supporters expect a strong and resilient NAACP moving forward, as our organization has been in the past, and it remains our mission to ensure the advancement of communities of color in this country,"
Johnson said current president and CEO, Cornell W. Brooks, will end his position after nearly three years. Brooks will serve out his term in the Baltimore-based organization until his contract expires on June 30.
Russell and Johnson will run the organization during the search for a successor. They said there was no firm deadline to install new leadership. On the call with reporters, they declined to explain why they needed to remove Brooks.
"We are not looking to correct something that is wrong, we are looking to improve," Russell said.
Brooks told American Urban Radio Networks on Friday that he was surprised by the decision and said he disagreed with it.
"The stated reason is that they are reimagining the NAACP. Beyond that, I can't point to any substantive reason," he said. "What I can point to this: The NAACP over the course of the less than three years [he has been president] is more visible, more vocal, growing in members, donors, presence in the courts and in communities across the country."
Brooks is known as a soft-spoken attorney with a history of working in civil rights organizations. Before the NAACP, he was president of the New Jersey Institute for Social Justice and executive director of the Fair Housing Council of Greater Washington.
His tenure at the NAACP included several court wins against state voting restrictions that group said discriminated against minorities. The group also filed a lawsuit against Michigan state officials over the water crisis in Flint.
More recently, Brooks was arrested during a sit-in this year at Mobile, Ala., office of then-Sen. Jeff Sessions as he protested Sessions' civil rights record ahead of his confirmation as attorney general. Among some NAACP members, the move was hailed as a new turn for an organization better known for less aggressive tactics. But it was also criticized by others.
Some civil rights leaders on Friday praised Brooks' civil rights record and the group's attempt to revamp itself.
"Cornell Brooks has been a strong partner in the racial justice movement and a great colleague. I've been proud to stand with him to resist and combat injustice," said Kristen Clarke, president of the Lawyers Committee for Civil Rights Under Law.
Nekima Levy-Pounds, the former president of the Minneapolis chapter of the NAACP, said she was surprised by Brooks' ouster but was pleased to see the group pushing itself to adapt.
"I would like to see the NAACP be more nimble when it comes to civil rights challenges," said Levy-Pounds, an attorney and leader in the Black Lives Matter movement, who is now campaigning for mayor of Minneapolis. "It was a challenge to be both an NAACP president and somebody who was engaged in the streets."
Randolph M. McLaughlin, a law professor at Pace University who has studied civil rights movements, said he hoped the organization — founded in 1909 when Jim Crow was still rampant throughout the South — would thrive.
"It is critical that the NAACP has the most dynamic and creative activist leadership during the Trump era," said McLaughlin. "The threats to civil rights and civil liberties demand no less from the oldest civil rights organization in the United States."
Jaweed Kaleem is The Times' national race and justice correspondent. Follow him on Twitter, Facebook and Instagram.
---
UPDATES:
3:15 p.m.: This article was updated with additional background and comments from Nekima Levy-Pounds, Kristen Clarke and Randolph M. McLaughlin.
This article was originally published at 10:05 a.m.
---
Must-read stories from the L.A. Times
Get the day's top news with our Today's Headlines newsletter, sent every weekday morning.
You may occasionally receive promotional content from the Los Angeles Times.