As Joe Biden resumes official work, so does talk about a 2016 run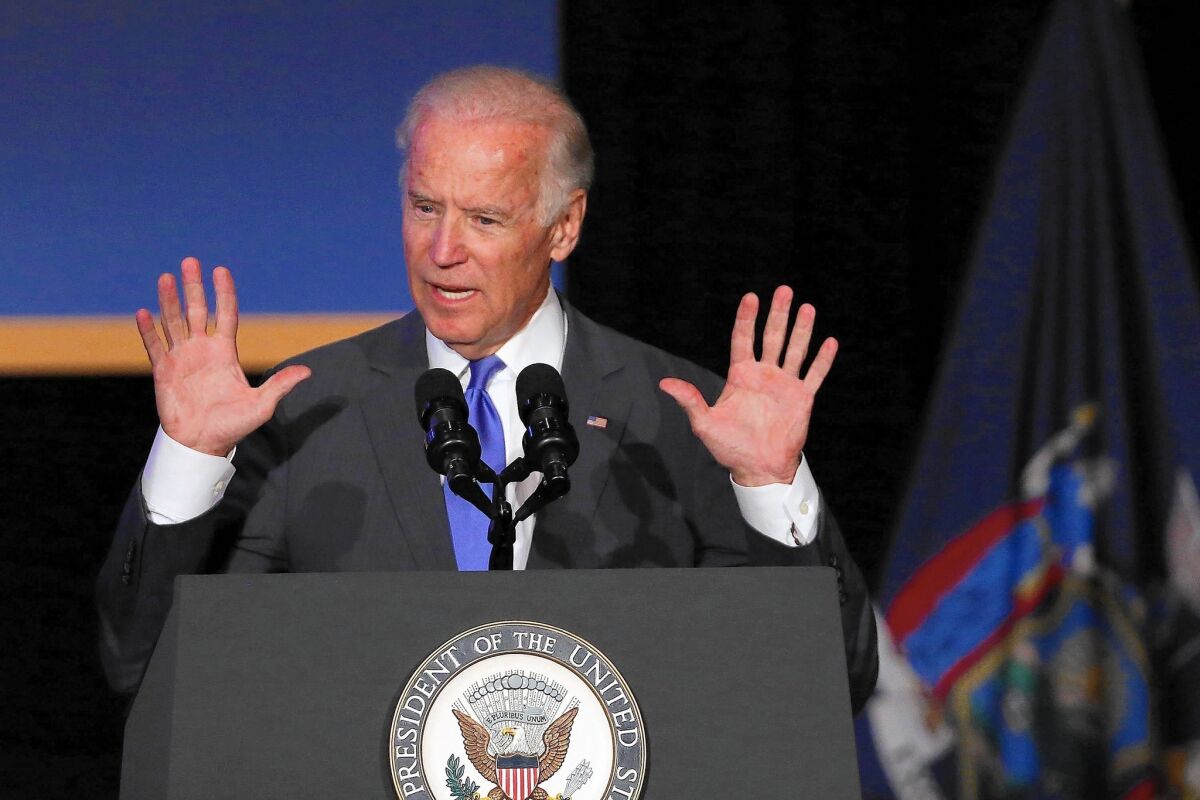 Reporting from WASHINGTON —
Amid heightened speculation about whether he will seek the Democratic presidential nomination, Vice President Joe Biden remains at least a month from a decision and has largely left preparatory work to a small circle of trusted longtime aides.
Biden has returned to full involvement in political and official work after a period of mourning the death of his son Beau. As his schedule has become more active, and as he's continued to return the hundreds of condolence calls and messages, conversations have inevitably turned to 2016 — either to ask the vice president about his plans, or to encourage him to run.
How Biden's family views a potential candidacy will weigh most heavily in his final decision. The vice president has spent almost every weekend since May in Wilmington, Del., particularly focused on his grandchildren. He and his wife will take some time for vacation in the coming weeks.
A campaign seemed more likely years ago than it does now, primarily because of Beau's death. But it is still a possibility, and those close to him see the political climate as more favorable to him than perhaps at any time in his career.
As Beau's condition became increasingly grave, any significant preparatory work was left to his closest aides. Ted Kaufman and Mike Donilon, two longtime advisors, rejoined the office to work along with Chief of Staff Steve Ricchetti to plan for any contingency.
TRAIL GUIDE: All the latest news on the 2016 presidential campaign >>
A decision is expected in September; aides had eyed Labor Day as the optimal time but don't rule out that it could stretch later. Washington will be consumed by an array of congressional battles, including government funding ahead of a possible shutdown and votes related to the Iran nuclear deal. Biden will also be involved in preparations for visits by Pope Francis and Chinese President Xi Jinping.
Soon the political calendar will force a decision, with one obvious point being potential Democratic candidate debates as early as October.
Biden's consideration of a run is complicated by two extraordinary situations. First, that he's a second-term vice president who is not his party's presidential front-runner, owing to Hillary Rodham Clinton's significant political clout. And second, the searing personal loss his family continues to grapple with.
The last two weeks have been the busiest period for Biden since Beau's death May 30 at age 46 after a battle with brain cancer. He traveled to Colorado and California for official and political events.
This past week he has participated in meetings with members of Congress over the Iranian nuclear deal and helped announce two major initiatives in New York, including plans for a new LaGuardia Airport that were spurred in part by Biden's famously blunt criticism of the facility as "Third World."
While in New York, the vice president's chief of staff was spotted having breakfast with Lou Susman, a major Democratic donor. Fox News reported that the encounter stirred unease in the Clinton campaign at the prospect Biden was taking a campaign more seriously. Ricchetti and Susman are longtime acquaintances who have met periodically, and Susman denied it was related to any campaign preparation.
The Clinton campaign declined to comment on Biden's potential plans.
Clinton's candidacy on its own has never been seen as a deterrent to a Biden run. He ran against her, and Obama, in 2008 when his political standing was less than it is now after nearly seven years in national office. To the extent her candidacy has faltered because of lingering controversies like her use of a private email server that is now the focal point of a Republican-led congressional inquiry, it could fuel Biden's interest.
At the moment, Biden's priority continues to be his family's well-being.
"As the Biden family continues to go through this difficult time, the vice president is focused on his family and immersed in his work," said Kendra Barkoff, the vice president's press secretary. "In recent weeks, the vice president has worked on the nuclear deal with Iran, traveled across the country to highlight the administration's economic priorities and more."
The only active work being done for a Biden candidacy is an unauthorized "Draft Biden" movement, being run out of a small office in Chicago by a former Biden advance staffer in his mid-20s. The "super PAC" raised just $80,000 in the most recent fundraising quarter, but have generated email contacts they hope to turn over to a Biden campaign. A fundraiser is planned in Los Angeles next weekend at the home of Dr. Howard Mandel, a prominent Democratic donor.
"He's not going to have the time to put an infrastructure, put an operation out there, so we just believe that from Day One he should have his army ready to go," said Will Pierce, Draft Biden's executive director.
Though aides say the conversations about 2016 have largely been one-way, they readily acknowledge Biden may be doing more personally than he is signaling to even those closest to him.
One day this week, a senior aide approached Biden about an inquiry from one media outlet who heard Biden would be announcing his candidacy this weekend.
"Yeah, I am! I just forgot to tell you," Biden joked.
ALSO:
Salma Hayek on Donald Trump's immigration stance: 'I'm not dumb, so I see through the manipulation'
MSNBC opens daytime hours for breaking news; Brian Williams will helm
Hunting suspended in Zimbabwe as rumors fly that Jericho, Cecil's brother, is killed
---
Life is stressful. Our weekly mental wellness newsletter can help.
You may occasionally receive promotional content from the Los Angeles Times.