Don't be like a sighing Al Gore. Here are some GOP debate don'ts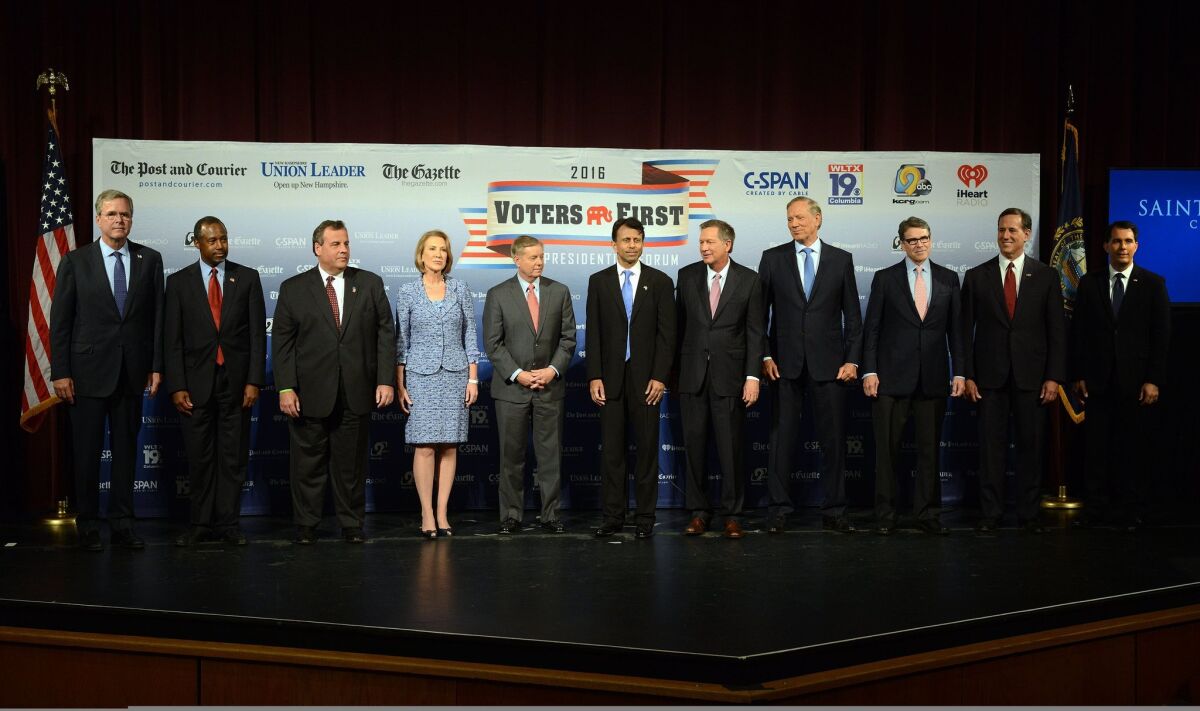 Reporting from Washington —
Republican candidates are hand-wringing over how to handle Donald Trump in Thursday's first presidential primary debate, but they might do better to worry about their own potential weak spots.
The top contenders all have the potential to be their own worst enemy when they take the stage in Cleveland -- not due to Trump's bombastic style but because of their own quirky qualities. Those traits can be assets or liabilities as the candidates struggle for the spotlight in the unwieldy GOP field.
TRAIL GUIDE: All the latest news on the 2016 presidential campaign >>
Here's a look at what the top Republican candidates need to remember not to do as they try to survive -- or win -- this first debate round.
Jeb Bush -- The former Florida governor intends to rise above the fray, but can't come off as above it all. Portraying himself as the adult in the room, Bush must be careful not to appear impatient or dismissive. This has happened before. Bush brushed off early questions about whether the Iraq war launched by his brother, former President George W. Bush, was a good idea, bungling what should have been a ready response.
Scott Walker --The Wisconsin governor earned high marks for his ability to chat affably, sans teleprompter, at his announcement speech. The likable guy-next-door image can be valuable, to a point. American voters also want capability in the White House. And Walker will need to show he has studied up, and mastered foreign and domestic policy. No more cheese-gate mishaps, as happened when he toured England earlier this year and talked up the parochial export.
Marco Rubio -- The Florida senator is always in a hurry, so much so that when he turned 45 years old earlier this year, he said he felt like 46. His quick wit has been an asset -- joking during a foreign policy interview that if Cuban leader Raul Castro is considering a return to Catholicism, it's going to require a long confessional. But that sharp tongue can also make the youthful-looking Rubio, who confesses being a "brat" as a child, appear less mature for commander-in-chief.
Ted Cruz -- The brainy Texas senator needs to remember this is live TV, not a conservative legal argument he might have made before the Supreme Court in a past profession. No filibustering allowed.
John Kasich -- The Ohio governor has a been-there-done-that demeanor as a swing-state executive, but he has to be mindful not to be impatient and to keep his anger in check.
And then there's Donald Trump. The billionaire is expected to dominate the debate, and in doing so he mainly needs to remember that this is not a reality show, but a chance to become the leader of the free world. Act accordingly.
For the latest from Congress and 2016 campaign follow @LisaMascaro
MORE ON GOP DEBATE:
Trump on top, Christie squeaking by, GOP top 10 takes shape for debate
---
Must-read stories from the L.A. Times
Get the day's top news with our Today's Headlines newsletter, sent every weekday morning.
You may occasionally receive promotional content from the Los Angeles Times.