Hillary Clinton says she opposes Keystone pipeline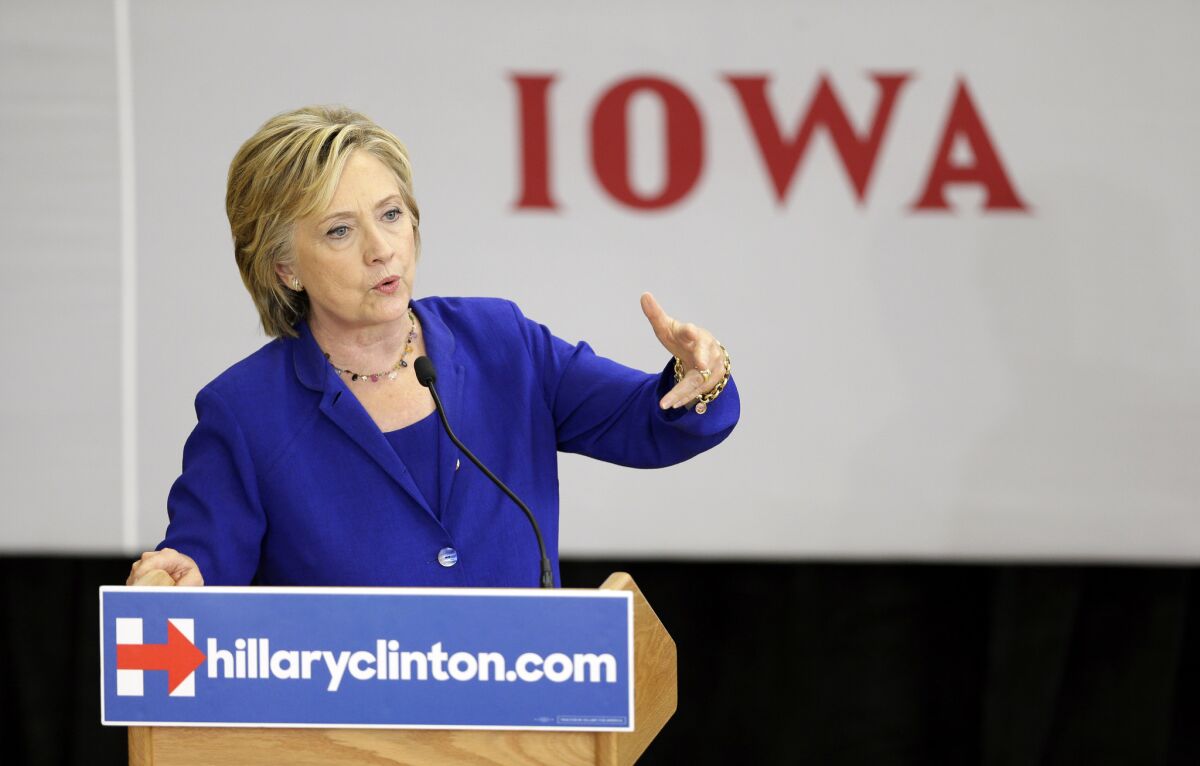 Reporting from Washington —
After sidestepping for months one of the most contentious environmental issues of the presidential campaign, Hillary Rodham Clinton waded into the debate over the Keystone XL pipeline, declaring Tuesday that she would stand with activists seeking to block it.
"I oppose it," Clinton said in response to a question from a voter at a forum in Des Moines. "I don't think it is in the best interest of what we need to do on climate change."
The proposed pipeline that would ship oil from the Canadian tar sands to refineries on the Gulf Coast has been a rallying point for climate change activists, who warn it would accelerate global warming by boosting fossil fuel production and undermining demand for renewable fuel projects.
Prominent Democratic activists have been pressuring Clinton to oppose the project, but she had demurred, saying her role in reviewing the project while secretary of State would make it inappropriate until the Obama administration made a decision on the application.
But Clinton said she grew tired of waiting.
"I feel now I've got a responsibility to you and other voters who ask me about this," she said to the voter in Iowa. "I think it is imperative that we look at the Keystone pipeline for what I believe it is: a distraction from the important work we have to do to combat climate change and, unfortunately from my perspective, one that interferes with our ability to move forward."
An aide said that while Clinton wanted to give the president and Secretary of State John F. Kerry the space to make their own decision, she did not expect it to take so long. The campaign briefed the White House on her position before the Iowa event. The aide said Clinton had already made her opposition to the pipeline known to labor leaders in recent weeks during conversations about energy infrastructure and jobs.
Clinton's Democratic primary rivals, who vowed opposition to the pipeline months ago, mocked the hand-wringing that went into her decision.
"As a senator who has vigorously opposed the Keystone pipeline from the beginning, I am glad that Secretary Clinton finally has made a decision, and I welcome her opposition to the pipeline," said a statement from Sen. Bernie Sanders of Vermont. "Clearly it would be absurd to encourage the extraction and transportation of some of the dirtiest fossil fuel on the planet."
Former Maryland Gov. Martin O'Malley had harsher words about the front-runner's tortured decision-making process.
"On issue after issue – marriage equality, driver's licenses for undocumented immigrants, children fleeing violence in Central America, the Syrian refugee crisis, and now the Keystone pipeline, Secretary Clinton has followed – not forged – public opinion," he said in a statement. "Leadership is about stating where you stand on critical issues, regardless of how they poll or focus group."
But the pipeline issue could prove to be a challenging one for the eventual Democratic nominee in some swing states. Supporters of the project say it would generate more than 42,000 jobs, a number critics say is way overblown. Clinton started laying the groundwork Tuesday for confronting the jobs argument.
She said a lot more jobs could be created by moving forward with a robust clean-energy partnership with Canada than "we would ever get from one pipeline crossing the border."
The pipeline has become a litmus test of sorts for environmentalists, even as its relevance in the global energy debate rapidly fades. Plunging oil prices have lately prompted analysts from key investment and bond rating firms to question whether the project pencils out.
Extracting oil from tar sands is difficult and costly. Prices need to be relatively high to make the extra effort profitable. Market conditions have turned gloomy as world oil prices have dropped to the lowest point in five years.
By some estimates, the price of oil already has dropped below what investors in Keystone would need to break even, and some analysts believe further drops are in store.
Even at the Manhattan Institute, a free-market-oriented think tank with little patience for the arguments made by pipeline opponents, questions are emerging about whether Keystone still deserves star billing in the energy debate.
Yet it is still viewed on both sides as a key indicator of the direction the United States and Canada will head on energy. Lawmakers in favor of the project have grown so impatient with the Obama administration's lengthy application review process that they pushed a measure through Congress this year intended to force its approval. It was vetoed, and an attempt to override the veto fell just a few votes short in the Senate.
"Hillary Clinton's decision to oppose Keystone is a missed opportunity to seize the true potential of our energy renaissance," said a statement today from Jack Gerard, chief executive of the American Petroleum Institute.
Life is stressful. Our weekly mental wellness newsletter can help.
You may occasionally receive promotional content from the Los Angeles Times.