Obamacare loses some of its campaign punch for Republicans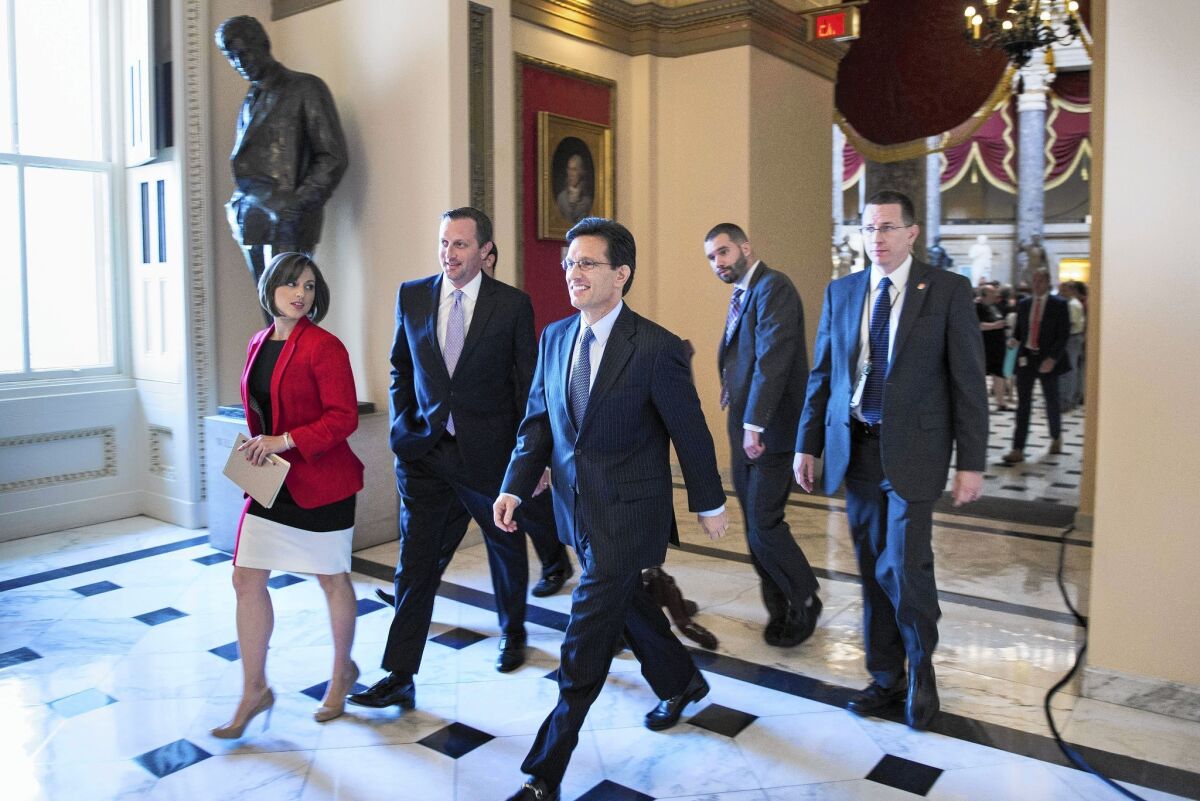 Reporting from Washington —
Six months ago, a House Republican campaign official listed the top three issues that would propel the party's candidates to victory in the midterm election: "Obamacare, Obamacare, Obamacare."
It was a strategy that worked well in 2010, when GOP electoral gains were fueled primarily by a high-profile campaign to repeal the newly passed Affordable Care Act.
But now, months removed from the political storm that resulted from the botched rollout of the law and as more Americans begin receiving healthcare under the program, many Republicans have a more nuanced view of its importance.
House Republicans are broadening their once-singular focus on the healthcare law and headed into an extended summer break without delivering on their promise to advance an alternative.
For much of the summer, in fact, the issue has receded as both a topic of daily assaults in Congress and on the campaign trail. The once-common House votes to repeal Obamacare have been replaced by a probe into improper Internal Revenue Service targeting, hearings into treatment delays for veterans and a Republican push to sue or even impeach President Obama on allegations of overstepping his constitutional bounds.
Republicans "are not finding as much traction" on Obamacare as they'd like among voters, according to Democratic strategist Stanley Greenberg. New polling from his firm found that voters in the states that will determine control of the Senate were evenly split between whether to implement and fix the health law or repeal and replace it.
Perhaps the most obvious sign of the shift has been what is seen, or not, in television advertising in key states. The percentage of broadcast television ads focused on Obamacare dipped in the spring, according to a study conducted by Kantar Media/CMAG, a nonpartisan media-tracking firm, for the Cook Political Report. The study found, however, that the percentage of Obamacare ads rose again in July.
"Back in 2010, Republicans were quite upfront about their plans to hang Obamacare around the necks of Democratic incumbents," wrote Elizabeth Wilner, a senior vice president for Kantar. "They're still running with the issue. They're just not necessarily promoting it."
Republican strategists and congressional aides predict Obamacare will again be a major topic of discussion this fall, particularly as the next enrollment period approaches for 2015 coverage.
"Voters don't like Obamacare," said Liesl Hickey, executive director of the National Republican Congressional Committee. "That has not changed in any district that we have seen."
But, she added, "Our challengers and incumbents are going to be talking about a lot of other things, too."
Republicans are all but certain not to make good on a January promise by then-House Majority Leader Eric Cantor of Virginia to develop and vote on a Republican plan to replace the president's signature legislative accomplishment.
The No. 2 Republican, who was defeated in a May primary, was hopeful he could find consensus among his fractious rank and file. House Speaker John A. Boehner of Ohio insisted those discussions continue, though an alternate plan is "not there yet."
Instead, Republican leaders voted last week to initiate a lawsuit against Obama — ironically for failing to fully implement the health law they want to repeal. Boehner says the suit will focus on Obama's executive decision to delay for about one year an implementation deadline set under the law.
But some Democrats insist that public approval for Obamacare is growing, and some candidates have even begun to tout the law. A campaign ad from a "super PAC" supporting Alaska Sen. Mark Begich featured a cancer survivor thanking him for making sure she could get insurance. "He fought the insurance companies, so that we no longer have to," the woman, Lisa Keller, says in the spot.
"I think that this has largely been removed as a political issue, and I think that's why Republicans are scrambling to figure out an alternative wedge issue for the fall, whether it be [the 2012 terrorist attack in] Benghazi or the VA," said Sen. Christopher S. Murphy (D-Conn.), who has led an effort in the Senate to promote the law's benefits. "I think it's remarkable that all of our incumbents are running toward, not away from, the Affordable Care Act."
But GOP members predict the healthcare law will prove to be a vulnerability for first-term Democratic senators. Republican attack ads have portrayed several of them as having provided the 60th vote necessary to pass it.
"There's still a lot of toxicity, I think, for members here who voted for the healthcare bill, and a lot of explaining that they'll have to do about why they voted for it in light of what's happened with regard to premiums and deductibles and lost coverage," said Sen. John Thune (R-S.D.).
Sen. Ted Cruz (R-Texas), who wants to repeal the law, said Democrats are misreading voter sentiment.
"It has become a Democratic Party talking point to say, 'Don't talk about Obamacare anymore,'" Cruz said. "Perhaps that's because, as they assert, it's working. Well, I would encourage every Democratic senator: Go out and campaign on Obamacare. That's a really good idea. Stand up and say, 'I'm a Democrat and I voted for Obamacare. If you like it, reelect me; if you don't, don't.' I can tell you this: Republicans would be very happy with the outcome of that election."
---
Must-read stories from the L.A. Times
Get the day's top news with our Today's Headlines newsletter, sent every weekday morning.
You may occasionally receive promotional content from the Los Angeles Times.