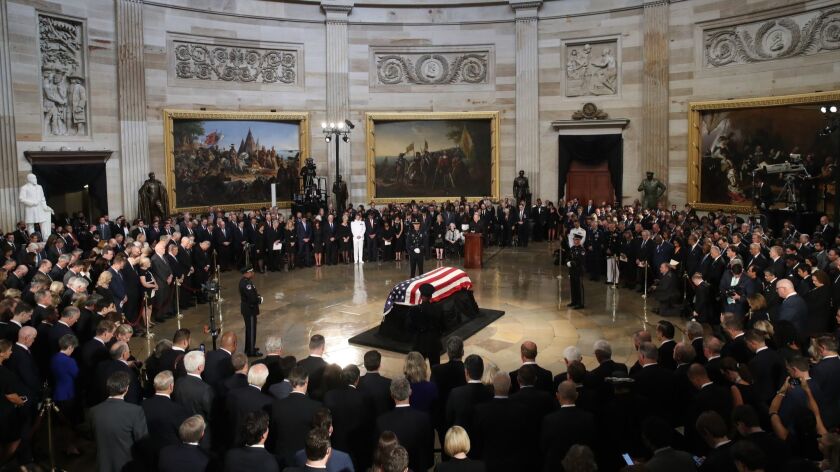 Sen. John McCain's body has arrived to lie in state in the U.S. Capitol rotunda, beginning three days of Washington-area memorials that will trace McCain's long career in reverse — from the halls of the Senate to the grounds of the U.S. Naval Academy in Annapolis.
An honor guard of soldiers, sailors, airmen and Marines carried McCain's flag-draped casket up the Capitol's east steps about 10:45 a.m., as heavy rain fell.
A memorial service began at 11 a.m. Leaders of the House and Senate and Vice President Mike Pence were scheduled to speak.
Watch live: Memorial service for Sen. John McCain as his body lies in state at Capitol »
McCain, a former Republican nominee for president, died Aug. 25 from brain cancer. He was 81.
At 1 p.m. Friday, after the conclusion of the Capitol service for McCain, the public will be allowed in to file past his casket — beginning a viewing that will last until 8 p.m. An honor guard of U.S. Capitol Police will stand vigil overnight.
By 10 a.m. Friday, hours before doors opened for the public viewing, people had already begun to line up in sweltering August heat.
Billy Endress, a 71-year-old Vietnam veteran from New Jersey, was among those in line. "I'm here to pay respects to a hero," Endress said.
Inside the Capitol, other senators and dignitaries had already begun to arrive, sharing memories of McCain's six terms in the Senate.
"Today I'll be remembering friendship. We'd sometimes get into big arguments on the floor. Two minutes we'd be in the backroom with our arms round each other laughing our heads off," said Sen. Patrick J. Leahy (D-Vt.).
"I remember very much the day I said goodbye to him. It was very emotional," Leahy said. "It was here, we met quietly, just the two of us. We knew he wasn't coming back. We talked about old times."
The ceremony Friday comes after two days of tributes for McCain in Arizona. A memorial service will be held at Washington National Cathedral on Saturday with eulogies from former presidents Barack Obama and George W. Bush and a private burial will take place on Sunday at the Naval Academy.
---