'Shut up and step up.' This senator's message to men in the wake of the Kavanaugh accusation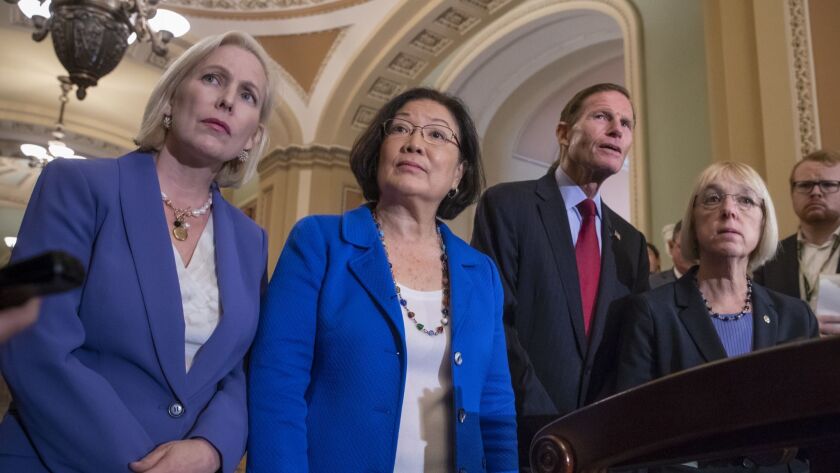 Washington Post
Many Democrats in congress have said they support Christine Blasey Ford, the professor who this week publicly accused Supreme Court nominee Brett M. Kavanaugh of sexually assaulting her decades ago when they were teenagers.
But few have made as big a splash as Sen. Mazie Hirono of Hawaii, whose statements at a news conference Tuesday drew headlines across the mediasphere.
Speaking alongside fellow Democratic Sens. Richard Blumenthal of Connecticut, Kirsten Gillibrand of New York, and Patty Murray of Washington, Hirono harshly criticized the way Republicans are dealing with Ford's accusation. "I expect all of the enlightened men in our country, cause there must be millions of men out there who are enlightened who also will rise up to say we cannot continue the victimization and the smearing of someone like Dr. Ford," Hirono said. "And you know what, she is under no obligation to participate in the Republican efforts to sweep this whole thing under the rug, to continue this nomination on the fast track and to participate in a smear campaign and basically a railroad job. This is what they did to Anita Hill."
But it was what Hirono said in response to a reporter's question that turned the most heads. The reporter, who was not identified in video of the news conference, asked whether the four women on the Senate Judiciary Committee — who are all Democrats — could impact its deliberations over Kavanaugh. But Hirono said it shouldn't just come down to the women.
"Guess who is perpetrating all of these kinds of actions? It's the men in this country," Hirono said. "I just want to say to the men in this country: Just shut up and step up. Do the right thing for a change."
The blunt force of Hirono's comments reverberated around the internet Tuesday afternoon as the political debate around Kavanaugh's nomination and the hearing planned for Monday generated wide discussion.
"You can see that I'm a little upset by this, the unfairness of it," Hirono said.
Hirono on Tuesday also reportedly told Senate Majority Leader Mitch McConnell (R-Ky.) to "do the right thing!" after he passed her outside the Senate chamber.
She had been the senator who asked Kavanaugh during his confirmation hearing if he had ever committed sexual harassment or assault as a "legal adult," to which he replied, "No."
"I started asking these questions about sexual harassment because it's so hard to hold lifetime appointees to the federal bench accountable and because I did not want the Me Too movement to be swept under the rug," she told him.
In an interview with the Washington Post, Ford alleged that Kavanaugh corralled her into a bedroom during a gathering in Maryland when she was in high school, and pinned her to a bed, groped her over her clothes and attempted to pull off the clothing she was wearing. She said he held his hand over her mouth when she tried to scream. Kavanaugh has denied the accusation, saying in a statement Monday he'd never done anything like what she described "to her or to anyone."
In an interview with Politico's "Off Message" podcast this week, Hirono said Kavanaugh's denial during his nomination hearing "stretches credulity."
She said that if Kavanaugh is not nominated — and Democrats win the Senate in November — Republicans should nominate a more moderate judge or the seat could be held open until the 2020 election, a tactic Republicans deployed with Antonin Scalia's seat in 2016.
"I think we've had those kinds of vacancies before, and we certainly had over a one-year vacancy with Merrick Garland," said Hirono. "So the world does not come to an end because we don't fill all of the nominees."
Politico described Hirono's presence on the judiciary committee, saying that her modest height and quiet demeanor betrayed her fortitude:
She told Politico that Ford "has a very credible story."
"I believe her," she said. "And now we have to do more than say, 'Well, look at the timing!' and 'Well, it's all politically motivated!' This has to be taken seriously."
She is calling for another hearing on top of the one scheduled Monday, Politico reported.
The only immigrant in the Senate — Hirono was born in Japan, leaving with her mother for Hawaii to escape a father who gambled excessively and beat her mother, Politico reported.
In her interview with Politico, Hirono declined to comment on criticism that Sen. Dianne Feinstein (D-Calif.) did not disclose a letter written by Ford about the allegation until last week.
---
Get our Essential Politics newsletter
The latest news, analysis and insights from our bureau chiefs in Sacramento and D.C.
You may occasionally receive promotional content from the Los Angeles Times.