So far, Marco Rubio's suburban strategy isn't adding up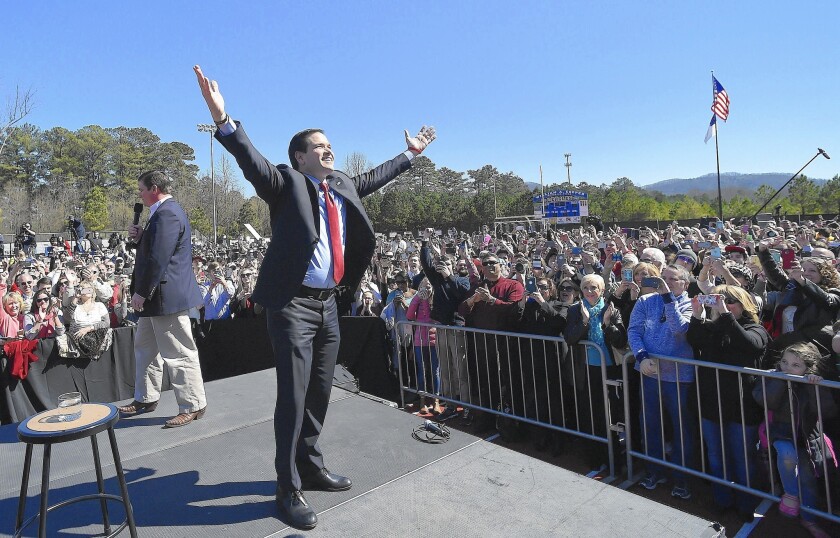 Reporting from KENNESAW, Ga. —
Sen. Marco Rubio's mounting list of primary losses points to the limits of what some call his Starbucks-voter strategy, a campaign that has banked heavily on winning upwardly mobile, young suburban families.
But as Rubio's third-place and fourth-place finishes on Saturday show, the Florida senator's attempt to court white-collar Republicans is being vastly overshadowed by Donald Trump's success in energizing angry blue-collar conservatives.
If the trend continues, it raises serious doubts about whether Rubio can emerge as the establishment alternative to Trump.
TRAIL GUIDE: All the latest news on the 2016 presidential campaign >>
The Rubio campaign has dominated in well-heeled conservative enclaves like Kennesaw, with a Chick-fil-A next to a Starbucks and a Whole Foods market under construction. Voters here and at Rubio rallies elsewhere are highly educated, ethnically diverse and embrace Rubio as an optimistic new face for the Republican Party.
"We just relate to him," said Robin Harris, a schoolteacher from Athens, Ga., who took her daughters out of class for the day to attend a recent Rubio event in the Atlanta suburb of Buckhead.
She and her husband were particularly heartened to hear Rubio's own stories of paying down his college loans and, as a young dad, balancing the checkbook.
"We feel like he understands young families," she said.
Rubio has used a similar strategy in places like Virginia and Kentucky, hoping votes from wealthier suburbs would counter Trump's populist support.
But in Georgia, Virginia and South Carolina, it brought Rubio only a second-place showing. And he was a distant third in Kentucky behind Trump and Sen. Ted Cruz, who increasingly look as if they are in a two-man race. On Saturday, Trump joined Cruz in saying it's time for Rubio to drop out.
Rubio's best hope now is to sweep his home state of Florida, and on Sunday that was exactly what he promised to do.
Rubio will campaign almost nonstop in Florida ahead of March 15 voting, when the Sunshine State's winner-take-all 99 delegates are at stake.
"I have never based my campaign on one state, but I can tell you this: We will win the state of Florida," he said on CNN. "I have experience beating people who portray themselves to be one thing but are actually something else, and you're going to find that out on March 15 in Florida."
At the start of this election season, Rubio's candidacy offered the Republican Party a new narrative — a bright, young immigrant son who could appeal beyond the GOP's dwindling base of older, white Americans.
The voters of "Rubio Country" — actually, it's more like "Rubio Suburbs" — provided what many in the GOP had hoped would be the face of the party in 2016: college-educated thirtysomethings and high earners who consider themselves "somewhat" rather than "very" conservative, according to polls. They are less angry with the workings of government and the economy. And in some states they include the nonwhite voters the GOP has for years tried but largely failed to reach.
They are voters like Marietta, Ga., attorney Joel Pugh. "To be successful and to have a chance to win a national election, we have to be inclusive of all," he said, his school-age daughter, Caroline, at his side during a Rubio event in Kennesaw, near a Civil War battlefield just outside Atlanta. "He is the new generation. He has lived the American dream — it's still alive and well."
In selected counties where such voters live, Rubio has trounced Trump, sometimes winning more than 40% of the vote.
But overall, the effort fell short. Despite pouring resources into the suburbs around Des Moines; Charleston, S.C.; Atlanta; and northern Virginia outside Washington, Rubio has won only Minnesota and Puerto Rico. His delegate count is well below half that of Trump.
In an interesting twist, Rubio, the son of working-class Latino immigrants, is doing best among voters earning above $100,000 a year. Meanwhile, Trump, the Ivy League-educated billionaire with an inheritance, is sweeping up the lower-income electorate that on average earns half of what Rubio supporters do.
Trump voters appear less interested in a promising new face than simply improving their lot — in Georgia, just 22% of Rubio voters were "very concerned" about the economy. For Trump voters, it was nearly twice that — 40%.
The disconnect shows the challenges ahead for Rubio as his tries to catch up to the Trump phenomenon.
"There are a lot of candidates who have missed this: The political discourse for a lot of people in this country has been very dissatisfying," said David Winston, a veteran Republican pollster who is not aligned with any candidate this year. "Rubio's challenge here is he's got to present his economic policies to the people in a way that says: This is a huge deal that's going to make a difference to you."
Join the conversation on Facebook >>
The Rubio team argues that the early voting map of Southern states was not as welcoming as the coming contests in the Northern, Midwestern and Western states. They continue to invest in the suburban landscapes in those states.
They call it the "Ankeny strategy" — after the Des Moines suburb, with a median household income of $75,000 a year, where Rubio campaigned so heavily before the Iowa caucuses that critics cracked that he was running for mayor.
"Florida is filled with Ankenys," said Rubio spokesman Alex Conant, "which is why we're so confident we'll win there."
MORE ON CAMPAIGN 2016
How would a Donald Trump presidency affect the stock market?
Delegate tracker: Who's winning the race to the nomination?
Sanders, not going away quietly, puts Clinton on defensive in Democratic debate
Trump's trade and immigration stances are partly right and partly wrong, economists say
---
Must-read stories from the L.A. Times
Get the day's top news with our Today's Headlines newsletter, sent every weekday morning.
You may occasionally receive promotional content from the Los Angeles Times.