Jerry Brown gets out of the gate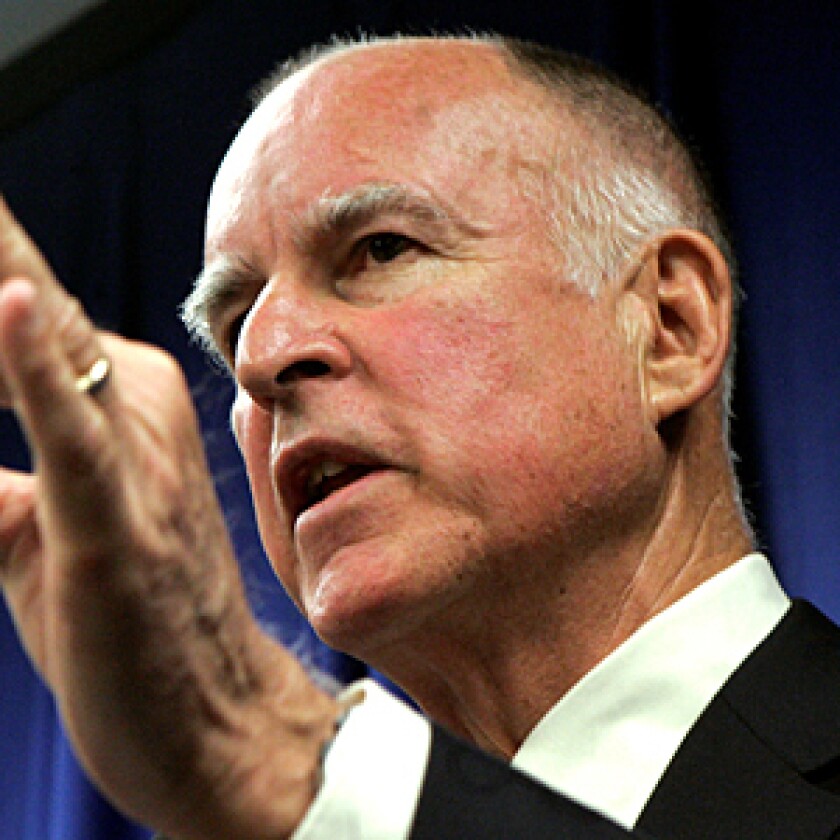 Much of the country may still be suffering from electoral and inaugural exhaustion, but a substantial section of politically involved Hollywood has rediscovered the wisdom of the late, great Tip O'Neill --"All politics is local."
Not surprisingly, Topic A on that agenda is California's 2010 gubernatorial race, where the industry is already beginning to choose sides and raise money.
There is even a story line in play of the kind Hollywood loves: a sequel with a comeback for the leading man.
Atty. Gen. Jerry Brown will be in town Tuesday to raise money for his gubernatorial race, featuring a cast of players whose names frequently were linked with his during his two terms as governor. It's a bit like one of those '70s revival concerts. (And before you laugh, take a look at the Eagles ticket sales.)
Irving Azoff, the legendary music rep whose clients included REO Speedwagon and the New Kids on the Block, will host the Brown event along with his wife, Shelli, at their Beverly Hills manse. (Music was very good to Irv.)
The list of co-hosts looks a lot like the A-list from the days when vintage cowboy boots, shag haircuts and L.A. cool were all the rage. The group includes Cindy and Glenn Frey, Sharon and Don Henley, Jena and Michael King, Deborah and Jeff Wald, and Ellen and Ken Ziffren. (Entertainment lawyer Ziffren -- affectionately known as the "Pope of Hollywood" -- is the inheritor of one the city's most distinguished Democratic legacies, one almost as eminent as Brown's.)
The upcoming gubernatorial election is likely to split Hollywood in interesting ways. Arnold Schwarzenegger was one of those rare Republicans (if that's what he really is) who had support in the industry that ran deep and wide. That was less a testament to his bipartisan appeal than to the fact that, in this town, relationships are everything. It's doubtful that anyone like him will run in this cycle. That means that the entertainment industry will only have Democratic candidates knocking at its checkbook this time around.
Brown is first out of the gate. But don't expect him to be the last Sacramento hopeful looking for places to stage fundraisers west of La Cienega. San Francisco Mayor Gavin Newsom, who won loyalty in the gay community for his forthright support of same-sex marriage, will find a strong base south of the Santa Monicas.
Expect activist and documentary filmmaker Rick Jacobs and his Courage Campaign to take a lead role on gay rights issues. They recently staged a weekend event called Camp Courage in which they schooled activists in one-on-one campaigning for marriage equality. As a veteran of Howard Dean's campaign in California, Jacobs also knows what a powerful electoral tool the Internet has become. Look for him and others to take cyber-campaigning to even a higher level in the next statewide election.
"It's going to be an exciting year for Democracy in California, a year in which the people will lead the politicians," Jacobs wrote in a missive to his supporters.
Jacobs is hardly the only entertainment industry activist with an eye fixed on the Net's potential. Hip-hop heavyweight Russell Simmons -- an avid campaigner for President Obama -- returned from the inauguration determined to turn the popular hip-hop culture site Global Grind into a multinational news and organizing powerhouse.
"The global hip-hop community is helping to reshape and transform the worldwide landscape of public dialogue and debate concerning critical issues and challenges in the 21st century," Simmons blogged on the site. "President Barack H. Obama in his inaugural address affirmed, 'We are in a new era of responsibility.' And as we take back the responsibility to fight poverty, ignorance and intolerance, we can and will make a difference."
With midterm elections in mind
The federal midterm elections may still be two years away, but Hollywood already has begun to stir on that front too. Local activists expect, for example, that there will be a great deal of fundraising in the coming months on behalf of Senate Majority Leader Harry Reid of Nevada, who appears to be headed for a difficult reelection campaign.
Reid's name may be the most prominent, but it won't be the only one circulating in the near future.
"The Democrats have tasted blood," said longtime publicist and author Howard Bragman. "We've come very close to having a filibuster-proof majority in the Senate. We see a great opportunity and we will continue to aggressively support our candidates."
That sort of thinking will get a big boost if the battle over the president's new economic stimulus plan continues to break down along purely partisan lines.
On second thought, Hollywood may be deciding that politics isn't just local -- it's everywhere.
---
Must-read stories from the L.A. Times
Get all the day's most vital news with our Today's Headlines newsletter, sent every weekday morning.
You may occasionally receive promotional content from the Los Angeles Times.