11 Images
The making (up) of the next president
Makeup artist Kriss Soterion, left, gets Sen. John McCain, R-Ariz., ready for an appearance on "Meet the Press" earlier this month. Soterion's routine for preparing a male candidate begins with a camouflage concealer to cover any trouble spots, followed by a cream foundation. "With men you're just matching skin tone — creating a blank canvas," she says.
(Eric Thayer / Associated Press)
Kriss Soterion recalls her first time working with Sen. Hillary Rodham Clinton, before a June 3, 2007, debate: "As I was starting to do her makeup, her assistant held up a bright red lipstick. I looked at it, and my gut just said: 'No way.' It looked too political — the lipstick equivalent of a red necktie. What I wanted to do was soften and feminize her look and make her someone women can totally relate to. She is already powerful, and I didn't think she needed to have powerful makeup to get her message across."
Here, the New York Democrat's look Jan. 5 in New Hampshire.
(Donna Svennevik / ABC)
"I know [Sen. John] McCain's skin tone, [former New York Mayor Rudolph W.] Giuliani's skin tone and [Sen. Barack] Obama's skin tone so well I can grab a compact out of my kit without even looking," Kriss Soterion says.
Here, Illinois Democrat Obama at one of the Jan. 5 debates televised from New Hampshire.
(Donna Svennevik / ABC)
"The ideal is to have a high-energy, invigorating appearance, which suggests you are action-oriented and likely to be a doer, not a talker," says Shanto Iyengar, who teaches political science and communications at Stanford University and has written several books about media and politics. "You don't want to be seen as sedentary, weak or passive." Too made up and a candidate risks alienating the people who are inclined to vote for him or her, and leaving an opening for criticism about superficiality.
Democrat John Edwards' TV-ready look at the Jan. 5 debate in New Hampshire.
(Donna Svennevik / ABC)
Former Massachusetts Gov. Mitt Romney rarely has a hair out of place and usually exudes an enviable degree of perfection. This year's presidential candidates span a remarkable range, separated in age by nearly 25 years, with white hair, gray hair, colored hair and no hair, and the first serious female and African American presidential contenders. With the primary races running as close as they are, the pressure is on to look good.
Here, Romney speaks his mind at the Jan. 5 Republican debate in New Hampshire.
(Donna Svennevik / ABC)
"It's never good for a candidate when you are talking about their makeup the next day," says Alan Schroeder, author of "Presidential Debates: Forty Years of High-Risk TV" and a professor at Northeastern University.
Former Arkansas Gov. Mike Huckabee, a Republican, didn't have that problem after this Jan. 5 appearance, televised from Anselm College in Manchester, N.H.
(Donna Svennevik / ABC)
On camera, sometimes the smallest things are the most glaring. Like lint, for example. "Almost all of the guys have some kind of crud on their jackets that needs taking care of," makeup artist Kriss Soterion says.
Former New York Mayor Rudolph Giuliani appears lint-free under the bright lights Jan. 5 in New Hampshire.
(Donna Svennevik / ABC)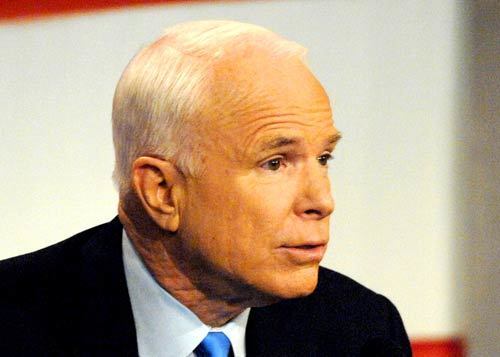 Lighting is so crucial to the way a candidate will look, Kriss Soterion says, that she makes a point of attending technical rehearsals. "If it's a small theater where they can't bring the lights back and down, it'll cause shadows. And the best makeup application in the world can't fight shadows; dark areas sink in, the lines look deeper and everything looks more pronounced."
Sen. John McCain, R-Ariz, here at the Jan. 5 New Hampshire debate, is among those with prior experience in the presidential campaign spotlight.
(Donna Svennevik / ABC)
Bags were noticeable under the eyes of former Tennessee Sen. Fred Thompson on Jan. 5 at during the most recent televised exchange among candidates. Stylist Soterion and two assistants knew they wouldn't be able to mask the puffy bags that made the onetime "Law & Order" actor look old and tired.
"At that point all you can really do is hit him with the light," she says, "but if you light one guy, you light them all."
(Donna Svennevik / ABC)
"There's almost always ruddiness on their faces which can come from nerves or heat," makeup artist Soterion says of her experience working with male candidates. "It's a bigger problem in the presidential and vice presidential debates. And it really shows up on high-definition television."
New Mexico Gov. Bill Richardson, who has since ended his presidential campaign, took part in the Jan. 5 Democratic debate.
(Donna Svennevik / ABC)
As politics becomes more digitized (HDTV) and disseminated (YouTube and Facebook), candidates face even more scrutiny for their appearance -- and stylists like Kriss Soterion will likely play an increasingly important role in the making of the president.
Rep. Ron Paul, R-Texas, makes a point at a Jan. 5 debate.
(Donna Svennevik / ABC)